Client
The client is a world-known transport and logistics company. AsstrA provides transportation and logistics services meeting the unique needs of their clients from across the globe. The company has made a good reputation on the logistics and transportation market. It has delivered over 180, 000 orders and has 6,000+ corporate clients.
The client has contacted InData Labs for smart freight & transport optimization solution development. They often do multiple orders, and it's very important for them to make data-driven decisions on taking on an order to support business efficiency.
They needed to improve their existing freight predictive rates solution with the latest technology. Their existing solution considered less specific information concerning transportation, and the predictions needed a few rounds of reviews. The company's forwarding agents spent too much time on freight rate prediction and analysis and partnership feasibility.
So the goal was to eliminate these manual activities and make the most of the forwarding agents' time.
Challenge: make accurate freight rate prediction
The tech challenge was to make accurate freight rate predictions with predictive analytics for the forwarding agents to rely on the system's analysis and cut time on thorough analysis. To solve it, we focused on finding hidden patterns in data; using alternative data sources; filtering data from outliers.
Solution: machine learning for freight rate prediction
Before the development stage, we made a comprehensive analysis of the client's case and came up with possible machine learning-based solutions. We also examined the client's data to see if it was enough for data mining.
Our solution suggested the following flow of tasks: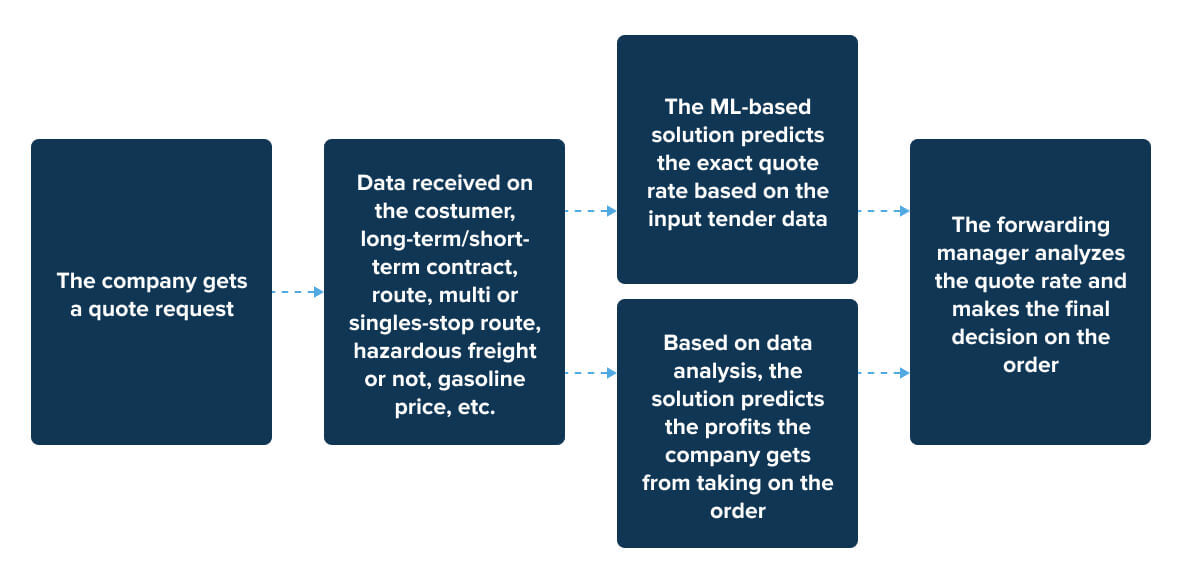 To accomplish this, we:
used the framework that processed data, made predictions and retrained the model if necessary;
developed a system to extract data from the client's TMS (transport management system), provide insights on freight predictive rates and place it backwards.
As a result, forwarding managers can analyze the quote rate and decide on the projects to take on.
Result: freight rate intelligence: automated freight quote prediction
InData Labs, an AI company, with experience in logistics software development, has improved the client's existing freight predictive rate software significantly. The client's recognized our deep expertise in predictive analytics software development, commitment to excellence, and timely delivery.
Key benefits of the collaboration: