Top AI companies in the USA: 11 best AI app development companies
1 June 2023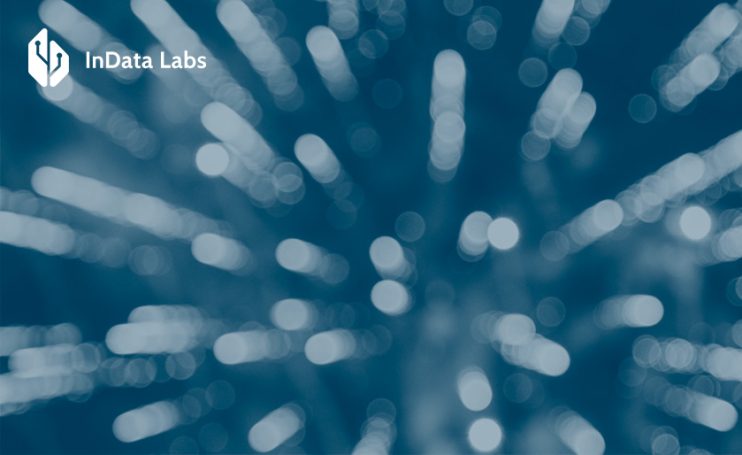 Artificial Intelligence has the power to transform industries – be it healthcare, finance, or any other vertical under the sun. Over the years, it has also revolutionized the way businesses operate. When we talk about AI, it is impossible not to bring up the United States, considering it is home to some of the top AI companies in the world.
Some of these companies are at the forefront of the ongoing AI revolution and are developing groundbreaking technologies that are shaping the future of our world. Not to mention, these companies are driving different kinds of innovations in the field of artificial intelligence.
In this article, we will take a look at the top artificial intelligence companies, showcasing their achievements and highlighting their key expertise. From machine learning algorithms to dabbling in Big data, and building powerful products with natural language processing, AI companies are doing it all.
Whether you are looking to invest in AI, or simply want to stay up-to-date on the latest developments, this article is a must-read. So, let's dive into the exciting world of AI and discover the top companies that are shaping the future. But before that, let's glance over some quick facts about AI technology adoption.
The state of AI adoption
AI was once considered only for big companies with huge pockets who can afford to dilly-dally and use it to their own advantage. However, the AI and machine learning landscape has changed over the past few years.
According to a report by Precedence Research, the global AI market is estimated to be around $119.78 billion in 2022 and is likely to hit $1597.1 billion by 2030. Another report mentioned that the AI market in the USA is projected to reach $223.4 billion by 2029 at a CAGR of 42.15%.
Also, as per Mckinsey's study, AI adoption since 2017 has more than doubled. The share of respondents adopting AI has grown to 50% in 2022 from 20% in 2017. This is because a set of AI development companies in the USA are experiencing higher returns, compelling enough for leaders to make large investments.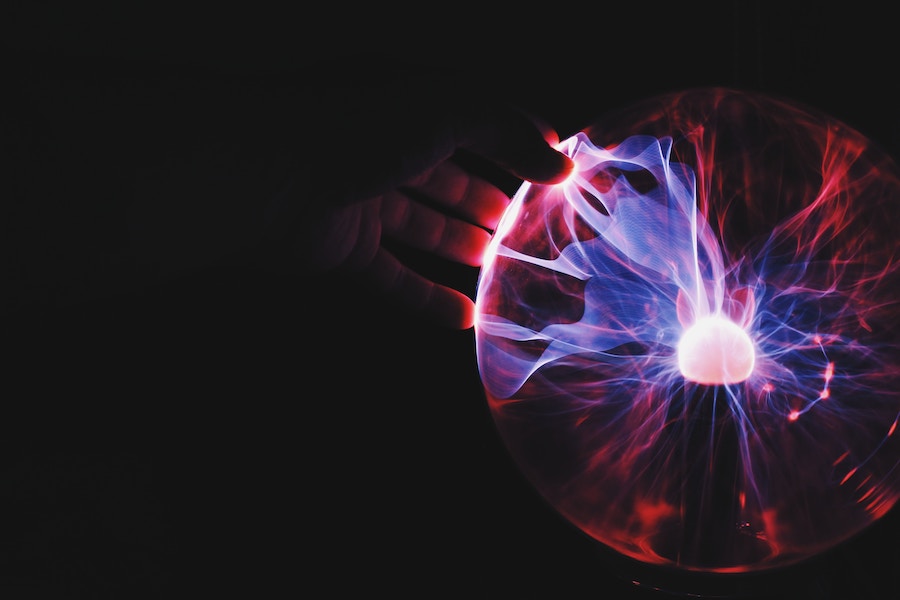 Source: Unsplash
The field of Artificial Intelligence requires individuals to have a background in computer science or engineering so that they can better understand the technology and its applications.
That said, here we present a list of AI companies in the USA with each company's location, year founded, and more details:
List of Top AI Companies in USA
Take a closer look at the companies having broad expertise in AI technology: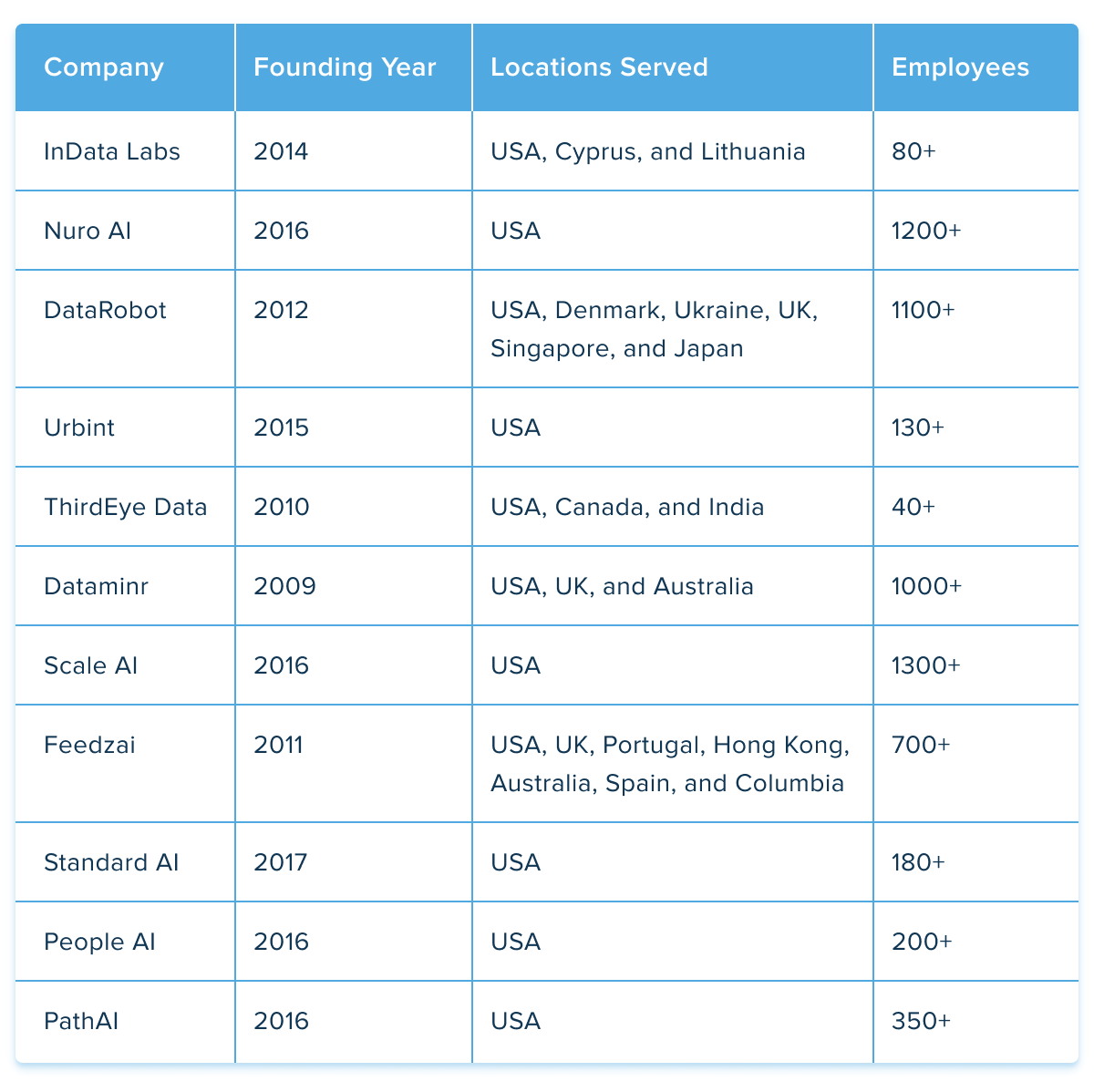 1. InData Labs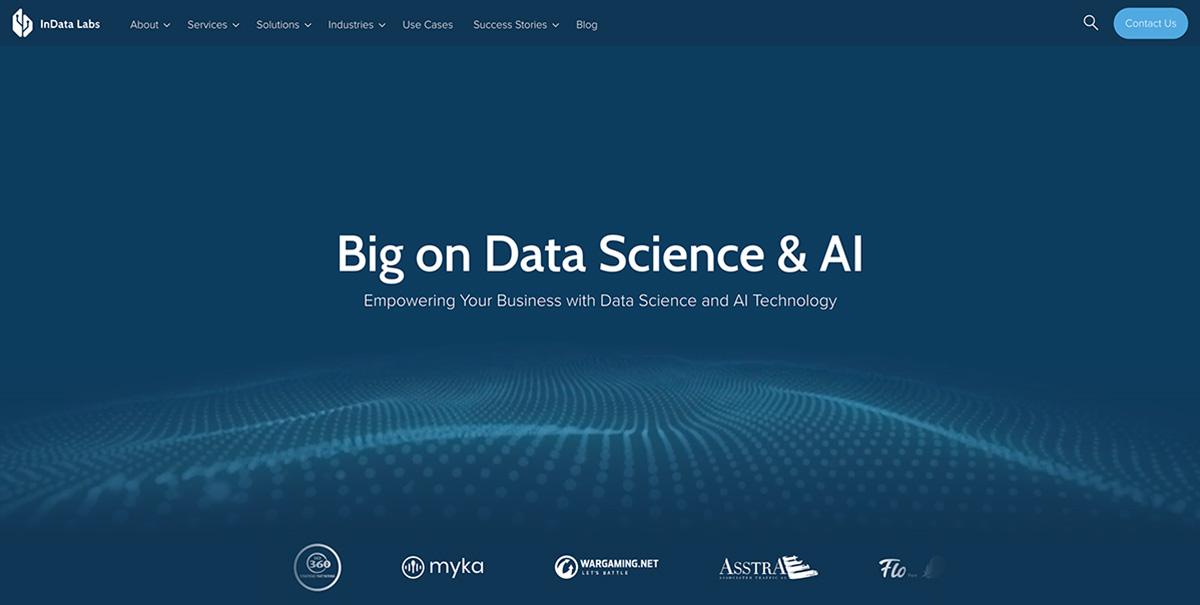 InData Labs is an AI and data science company with an actual presence in US and Europe. The company develops innovative AI solutions for a range of different business verticals such as MarTech, finance, and retail among others.
InData Labs leverages cutting-edge technologies such as AI and machine learning, natural language processing, to develop customized solutions for its clients. The company has also broad expertise in ChatGPT solutions development and LLM model development and training.
The company's mission is to help businesses unlock the full potential of AI and data science by providing them with expert guidance on leveraging advanced technologies. Some of the key services offered by InData Labs include artificial intelligence development, predictive AI marketing analytics, custom generative AI solutions development, Big data analysis and visualization, and any other specific requirements that your company may have.
With a commitment to quality and a focus on delivering real-world solutions, InData Labs has established itself as one of the leading AI companies in USA.
Founded in: 2014
Locations: USA, Cyprus, and Lithuania
Employees: 80+
2. Nuro AI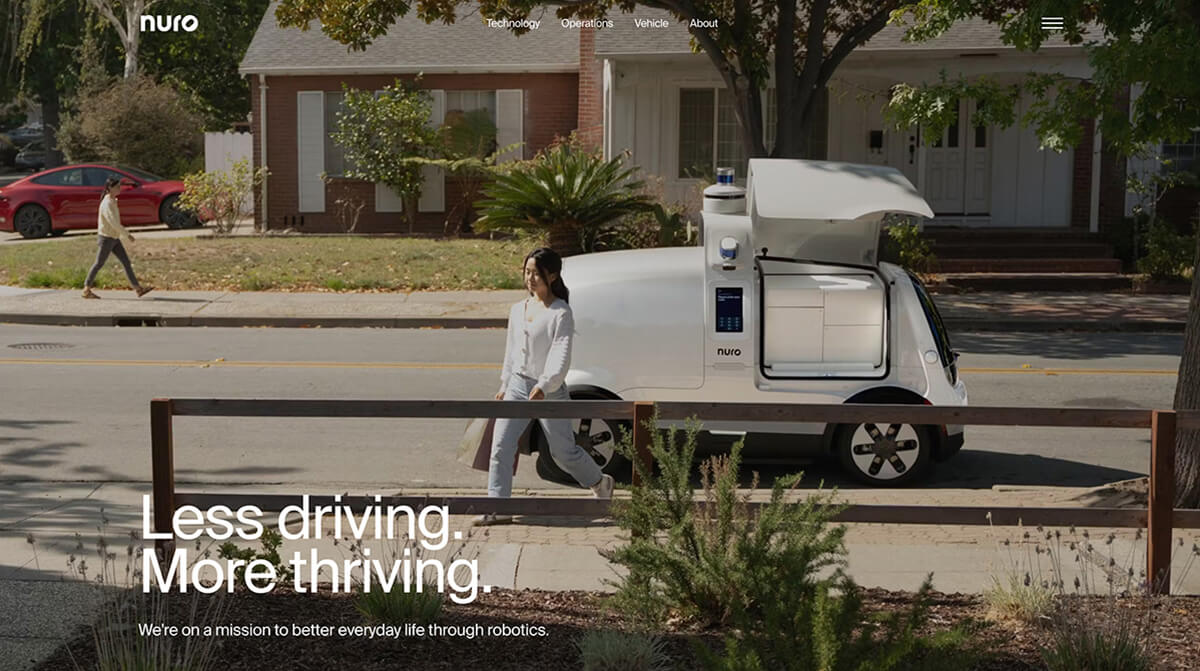 Nuro is an American technology company that develops autonomous delivery vehicles. The company has a team of experienced engineers and robotics experts to revolutionize local delivery.
Nuro's vehicles use advanced AI algorithms to safely transport goods and packages, which levels up the reliability and speed of delivery services for customers. Nuro's vehicles are equipped with a range of sensors and technologies, such as cameras, lidar, and radar, which help them navigate roads and avoid obstacles.
Nuro's AI algorithms also ensure that the vehicles operate at optimal speed and efficiency, reducing energy consumption and emissions. In addition to their delivery services, Nuro is also working to develop new AI-powered solutions for the transportation industry.
Founded in: 2016
Location: Mountain View, USA
Employees: 1200+
3. DataRobot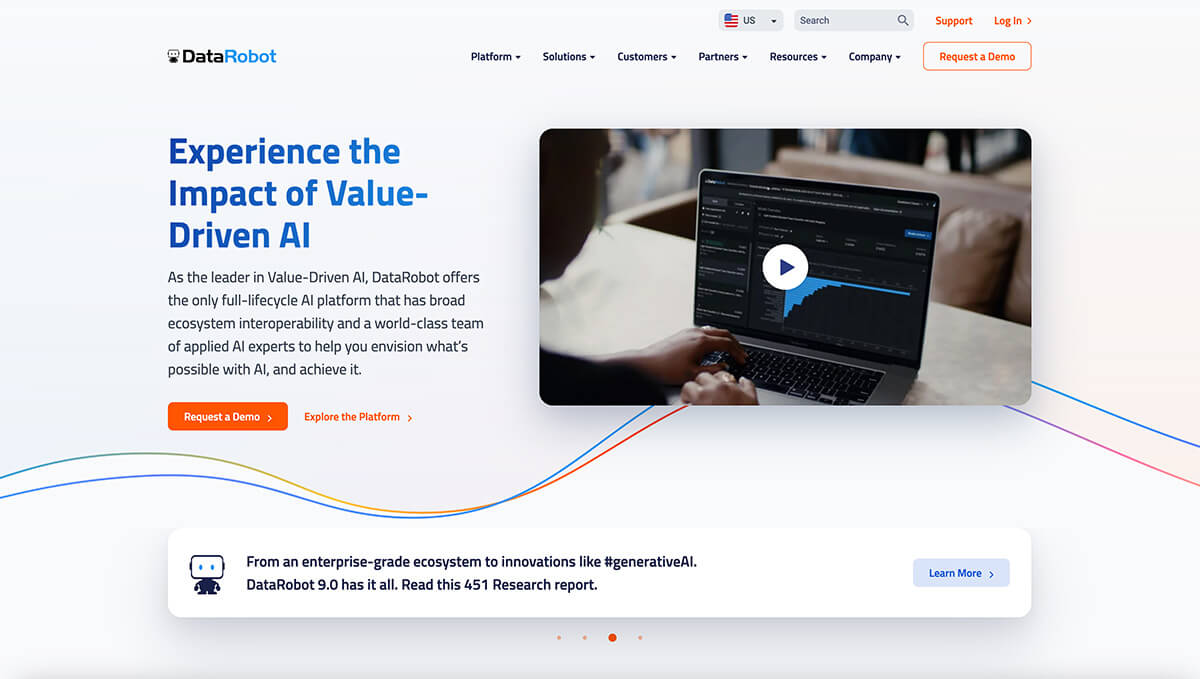 DataRobot offers enterprise artificial intelligence software that helps organizations to develop and implement machine learning models more quickly and easily. The platform offered by DataRobot can help you automate the process of building and deploying AI models so that clients can easily turn data into value using cloud platforms.
DataRobot's platform is built on a collaborative, cloud-based architecture that enables data scientists, business analysts, and other stakeholders to work together to build, validate, and deploy AI. The company's AI solutions are used by companies across several different kinds of industries.
Founded in: 2012
Locations: USA, Denmark, Ukraine, UK, Singapore, and Japan
Employees: 1100+
4. Urbint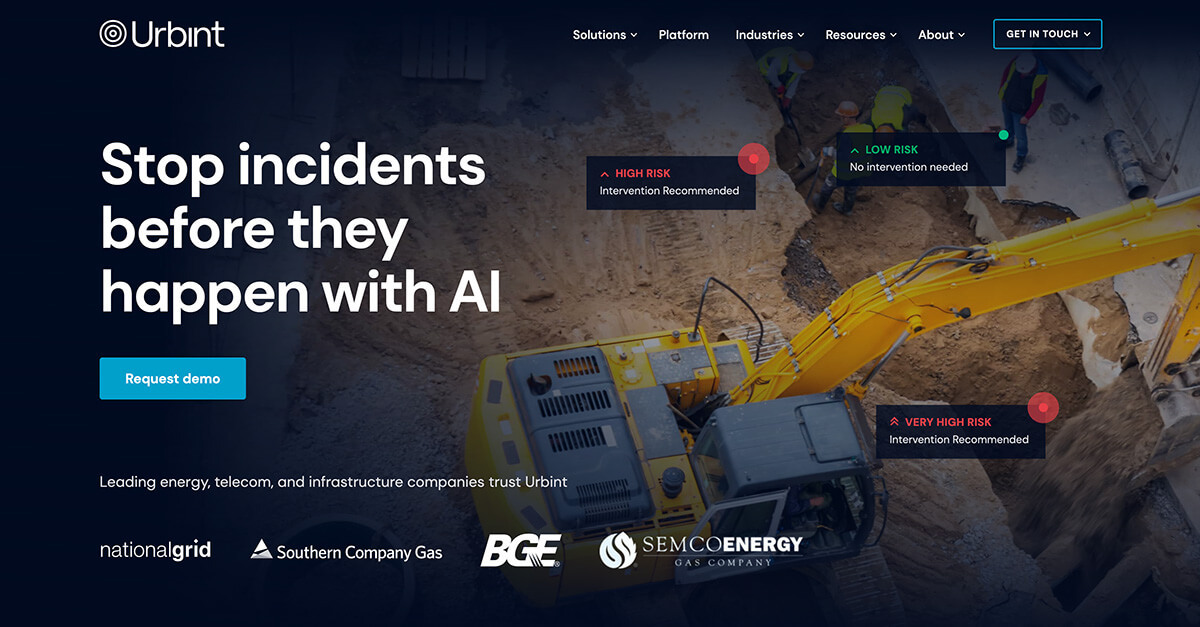 Urbint offers machine learning solutions for organizations across a range of industries and is considered one of the top companies in the USA. It's an enterprise intelligence platform aiding infrastructural and utility managers to handle risks and build resiliency through AI.
This company was built with the idea to efficiently and effectively predict and prevent incidents for at-risk critical infrastructure, community, and environment using real-world data and AI. Thanks to their innovative AI solutions and ML models, many energy and infrastructure companies in North America trust Urbint.
Founded In: 2015
Location: New York, USA
Employees: 130+
5. ThirdEye Data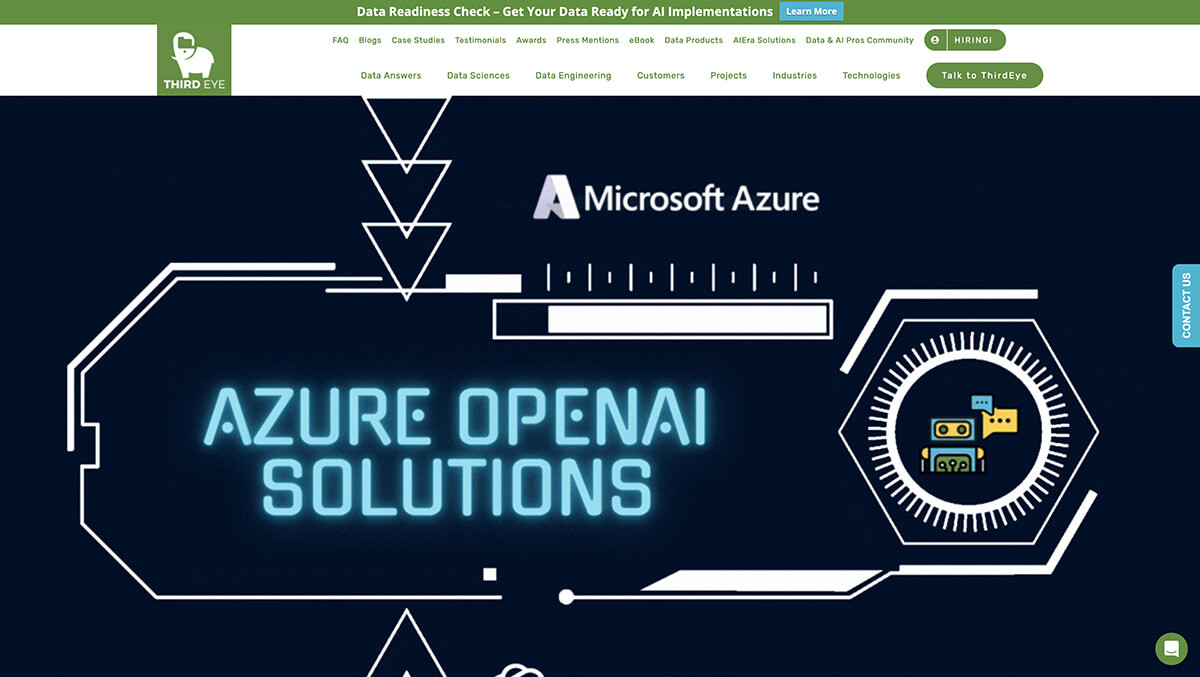 ThirdEye Data is one of the best artificial development companies that delivers end-to-end data and AI solutions for enterprises. It helps businesses make informed decisions by leveraging data and AI technology. ThirdEye uses Big data to transform information into actionable insights to drive long-term growth.
Their Big data consultancy service follows industry-specific best practices to tackle virtual and BI challenges. Since 2010, they offer an agile breed of open-source solutions for companies to utilize their data efficiently.
Founded In: 2010
Locations: USA, Canada, and India
Employees: 40+
6. Dataminr

Dataminr is a renowned name in the AI space, and its AI-powered Dataminr Pulse is used by corporations to monitor real-time events. It goes further in aiding crisis response by offering playbooks, post-even documentation, and messaging tools.
The AI technology behind Dataminr's First Alert is used by responders that provide aid during disasters and other emergency events. The real-time AI platform helps detect the early signs of highly impactful events and threats using publicly available data such as social media platforms like Twitter.
Founded In: 2009
Locations: USA, UK, and Australia
Employees: 1000+
7. Scale AI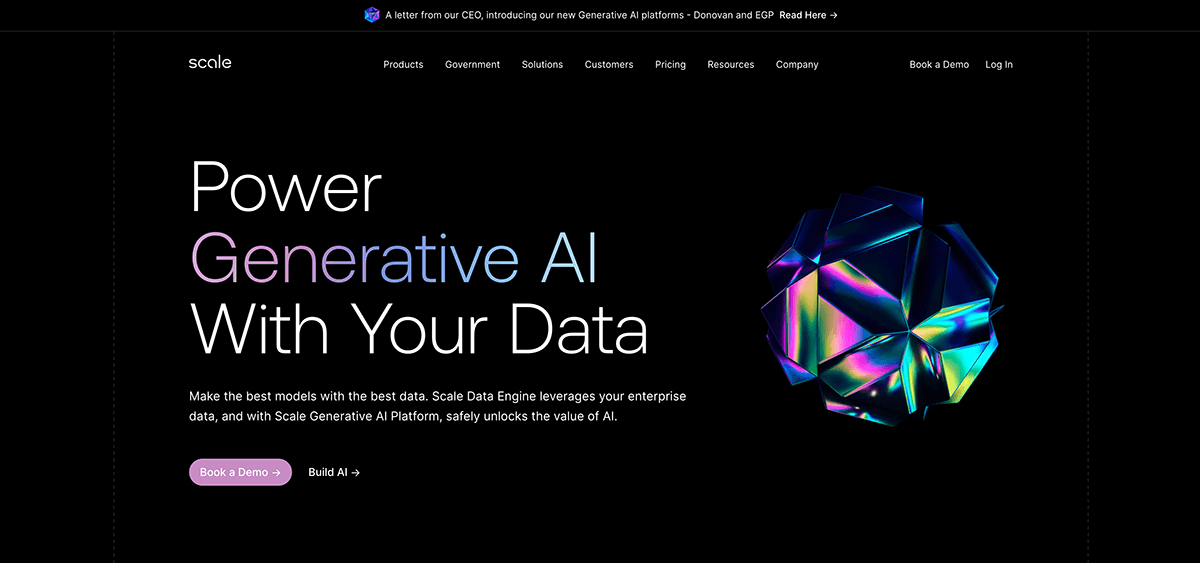 California, Scale AI is an application development company in the USA specializing in artificial intelligence. The company specializes in helping other companies label and curate their data for AI apps. Scale AI startup is among the handful of companies in the country that helps businesses train their AI systems using data.
Scale AI is helping organizations harness the power of AI with the help of an innovative platform. Scale AI's mission is to accelerate AI development with the help of data-centric and end-to-end AI and ML solutions.
Founded in: 2016
Location: San Francisco, USA
Employees: 1300+
8. Feedzai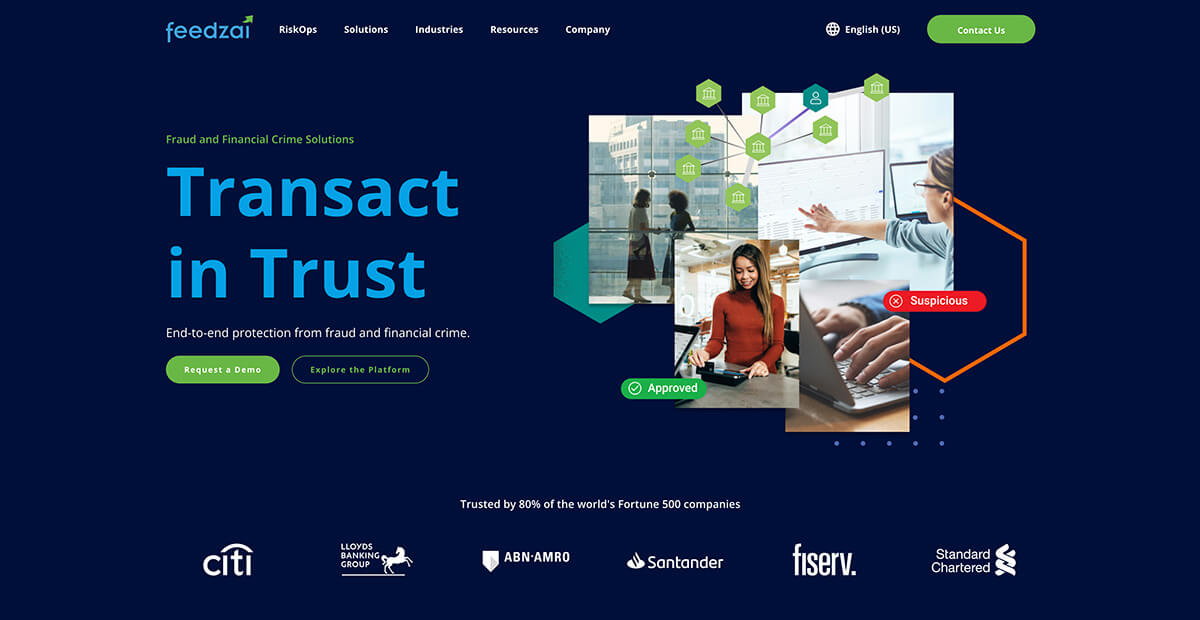 Feedzai builds AI solutions for organizations that operate in the industry of financial services. The solution helps them detect and prevent fraud, manage risk, and comply with regulations. Feedzai utilizes machine learning algorithms and advanced analytics to analyze vast amounts of data in real-time.
The platform's intelligent risk engine helps organizations identify any looming chances of fraud and risk, allowing them to make informed decisions and take action quickly. The company has an adept research team that has helped them level up their AI and engineering solutions with the aim of preventing fraudulent transactions and safeguarding people from financial crimes.
Additionally, the platform ensures the security of its users by implementing an SSL certificate, which encrypts all data transmitted between the user's browser and the platform's server, protecting sensitive information from unauthorized access.
Founded In: 2011
Locations: USA, UK, Portugal, Hong Kong, Australia, Spain, and Columbia
Employees: 700+
9. Standard AI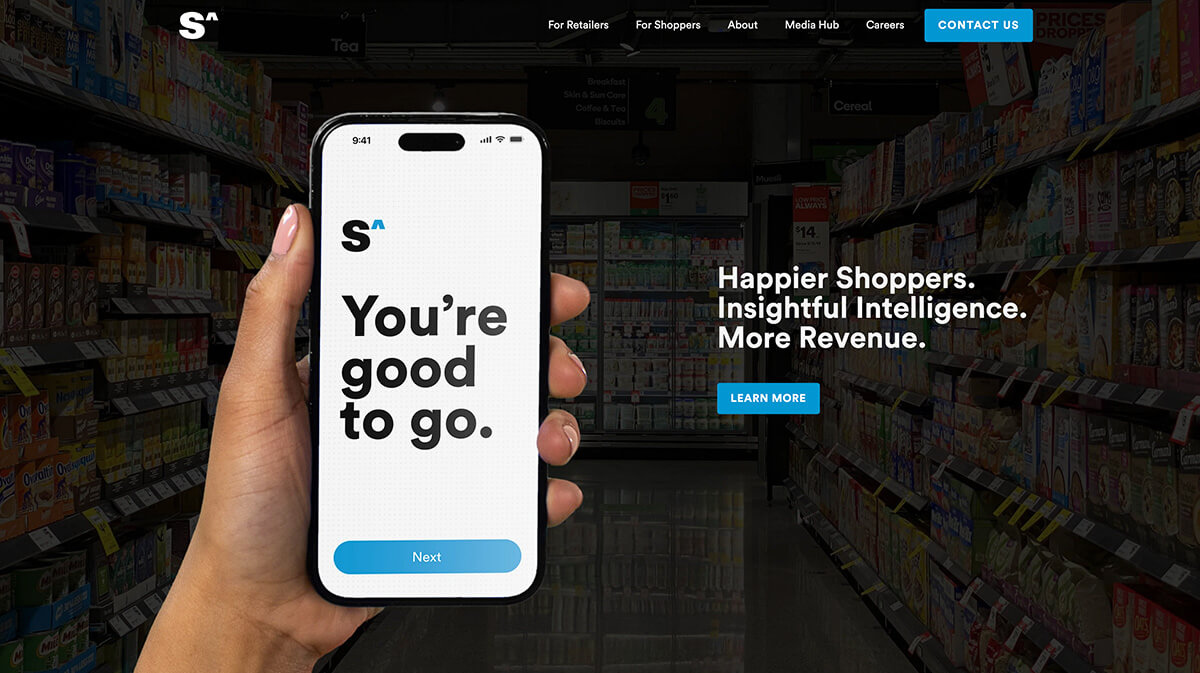 Standard AI has found a place in our top AI companies in USA list that works to turn everyday spaces into extraordinary experiences for end-users. The company works to offer a check-out-free shopping experience in retail stores.
Standard AI is perhaps one of the most advanced autonomous retail platforms making use of AI cameras and cloud computing. The retail stores can function without gates or sensors and instead use computer vision cameras to track shoppers' movement across a product catalog of 20,000.
The company says that retail stores with Standard AI integrations see 20% more revenue per basket, a 27% increase in impulse buys, and a 10% reduction in out-of-stock scenarios.
Founded In: 2017
Location: San Francisco, USA
Employees: 180+
10. People AI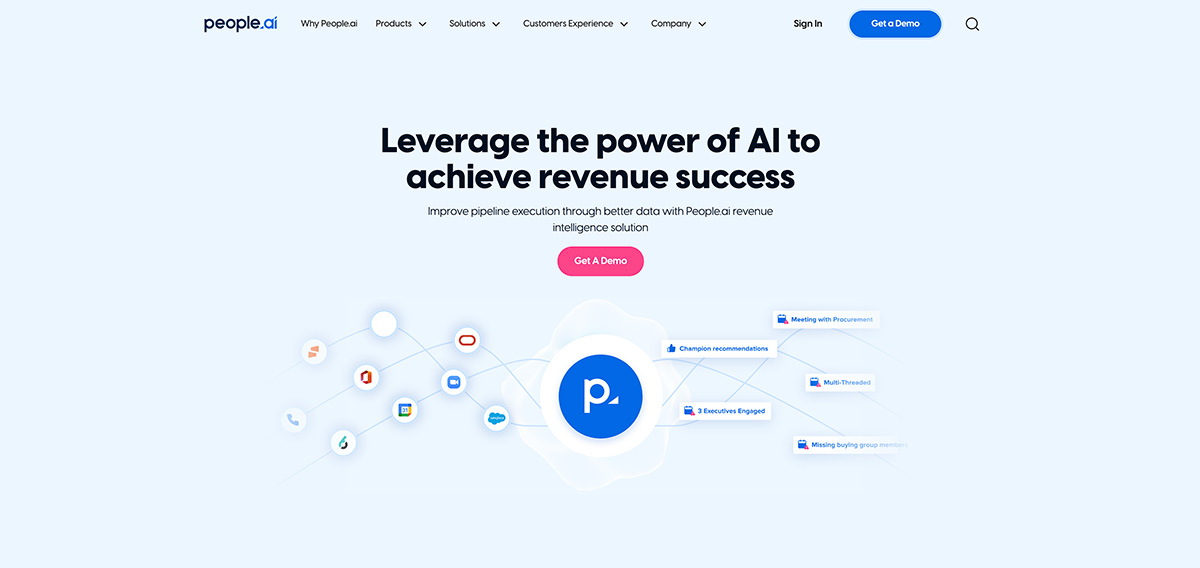 People.ai is an enterprise intelligence platform that works to speed up complex tasks in sales by assigning the right people. The company's mission is to help businesses accelerate their growth and revenue by placing the right people at the center of every deal.
Their AI platform helps teams discover people that are highly valuable for their business and avoid chasing dead ends. This helps them sell products or services to the right people and bring more sales and even pinpoint and rescue the deals on the verge of being canceled.
The AI company believes in acting on the available data for better and more informed decisions to empower people. Further, their AI software is easy to integrate with CRMs like Salesforce to get input of relevant data that advises sales teams on which tasks they should focus on first.
Founded In: 2016
Locations: Redwood City, California
Employees: 200+
11. PathAI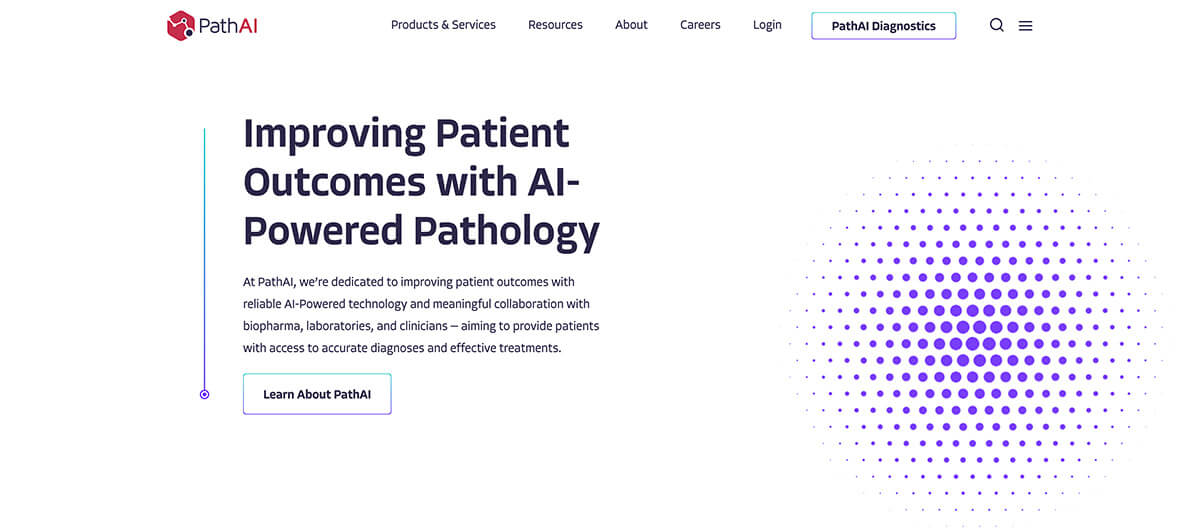 PathAI provides AI solutions for the healthcare industry and helps healthcare organizations improve patient journeys with reliable AI technology by collaborating with pharma, pathology labs, and clinicians.
PathAI's AI platform uses ML algorithms to analyze vast amounts of medical data, including pathology images, to provide real-time insights and recommendations. This helps healthcare professionals to make better decisions and improve patient outcomes while reducing costs and increasing efficiency.
Founded In: 2016
Location: Boston, Massachusetts
Employees: 350+
Final words
The growth of AI has led to the emergence of a plethora of AI companies in USA. These companies are helping organizations across multiple industries to harness the power of AI and transform the way they do business.
From automating redundancies to providing real-time insights and recommendations, AI is changing the way organizations function. The eleven companies highlighted in this article represent some of the best AI app development companies in USA.
Each company has its own unique strengths, expertise, and approach to AI, and offers organizations a range of solutions and services to meet their specific needs.
Frequently asked questions
1. How many AI companies in USA?
As per Crunchbase data, there are around 9000+ AI companies established in USA.
2. Are there any AI stocks?
There are several publicly listed companies such as Alphabet, Inc., Microsoft Corporation, AMD, NVIDIA Corporation, and others you can purchase stocks of.
3. What company is leading in artificial intelligence?
Big fortune companies such as Amazon, Microsoft, Google, IBM, and others are leading in the artificial intelligence space. They all have one thing in common and that is they are leaders in AI and machine learning.
4. Who created artificial intelligence?
John McCarthy is widely regarded as the greatest innovator and father of Artificial Intelligence thanks to his contributions to the field.
Author bio
Lucy Manole is a creative content writer and strategist at Marketing Digest. She specializes in writing about digital marketing, technology, entrepreneurship, and education. When she is not writing or editing, she spends time reading books, cooking, and traveling.
Looking for a trusted AI technology vendor to develop bespoke AI software? Book a meeting with our consultant.