InData Labs tops Manifest AI ratings in 2022
22 June 2022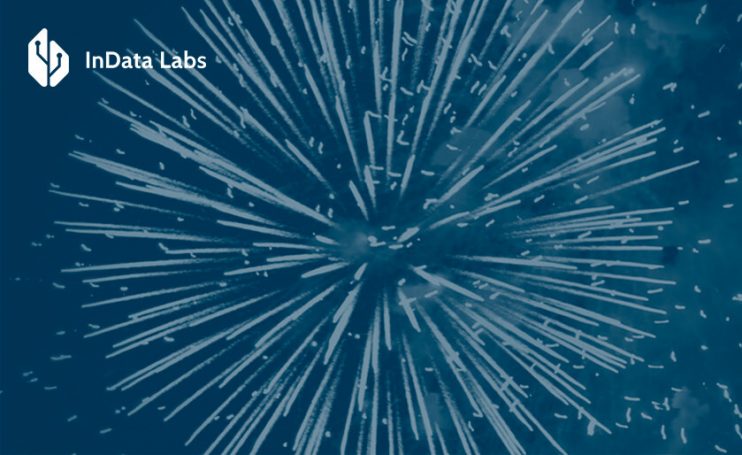 Having introduced itself as a technology aimed at the speed and quality of the decision-making process, AI has become a must for remaining competitive today. Companies lay down AI and Machine Learning basis entrusting it with generating reports, monitoring, data analysis for wise decision-making, automating and advancing every possible aspect to improve business performance.
The global Artificial Intelligence market is projected to grow from $387.45 billion in 2022 to $1,394.30 billion by 2029, at a CAGR of 20.1% in the forecast period.
InData Labs has been placed in the top 100 Artificial Intelligence companies in Europe by The Manifest. The Manifest is a business platform that compiles technology companies shortlists based on a thorough analysis of the best business practices for innovators and businesses of all sizes.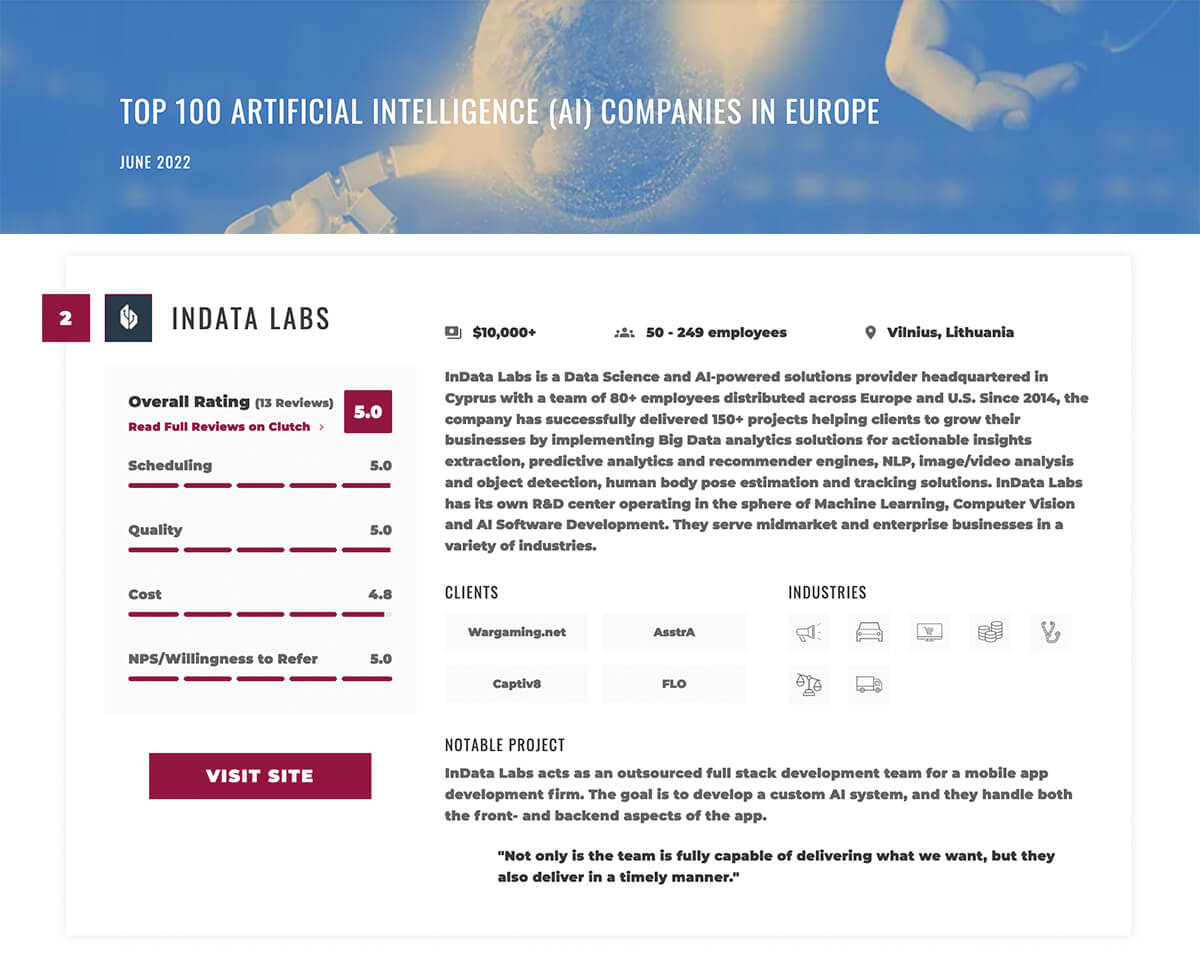 InData Labs is also #8 on The Manifest's top 100 AI companies list. As the scale has reached the global level, competition among top AI developers is fierce.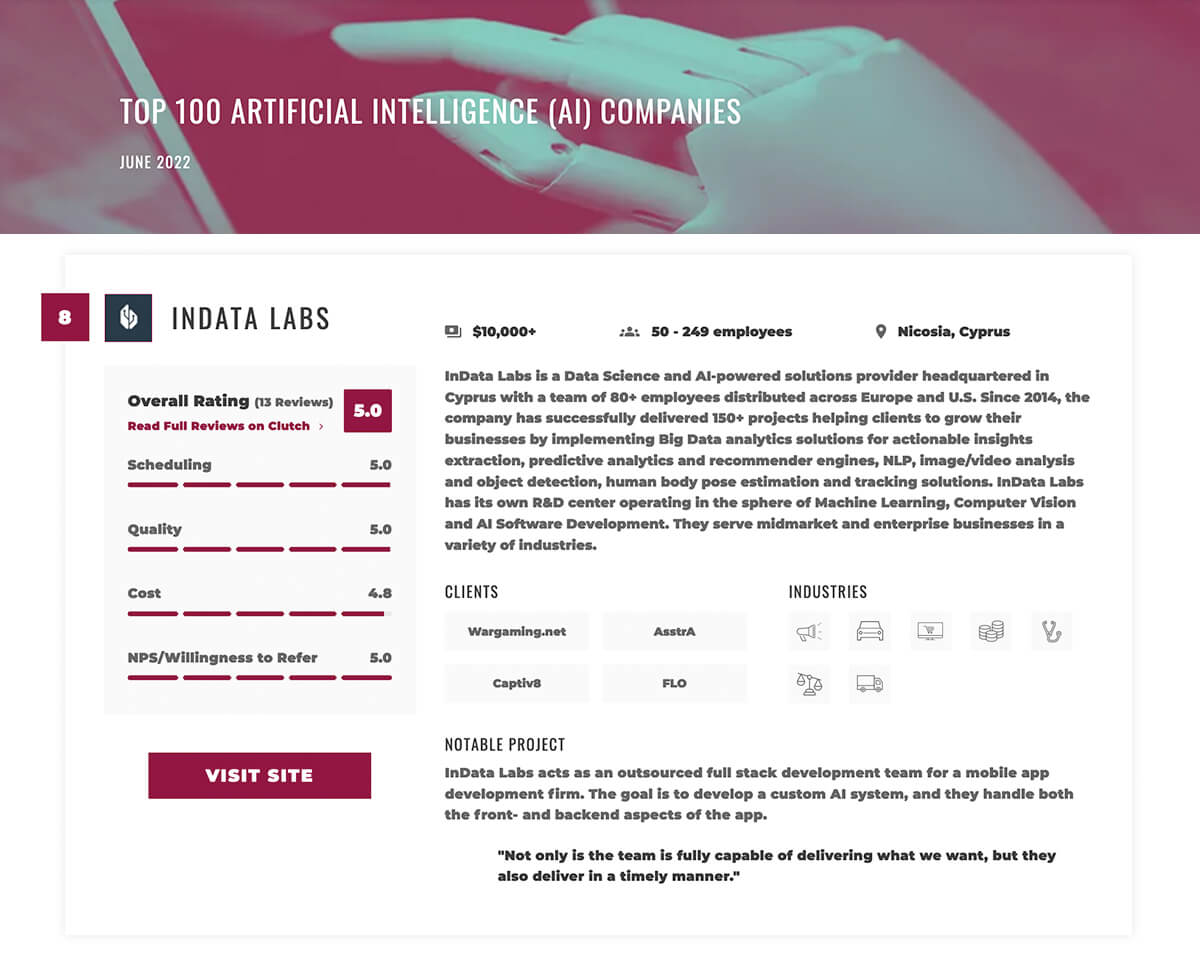 Having outperformed lots of ML providers worldwide, InData Labs presides in The Manifest's Top 100 Machine Learning companies list and is currently holding 2nd place.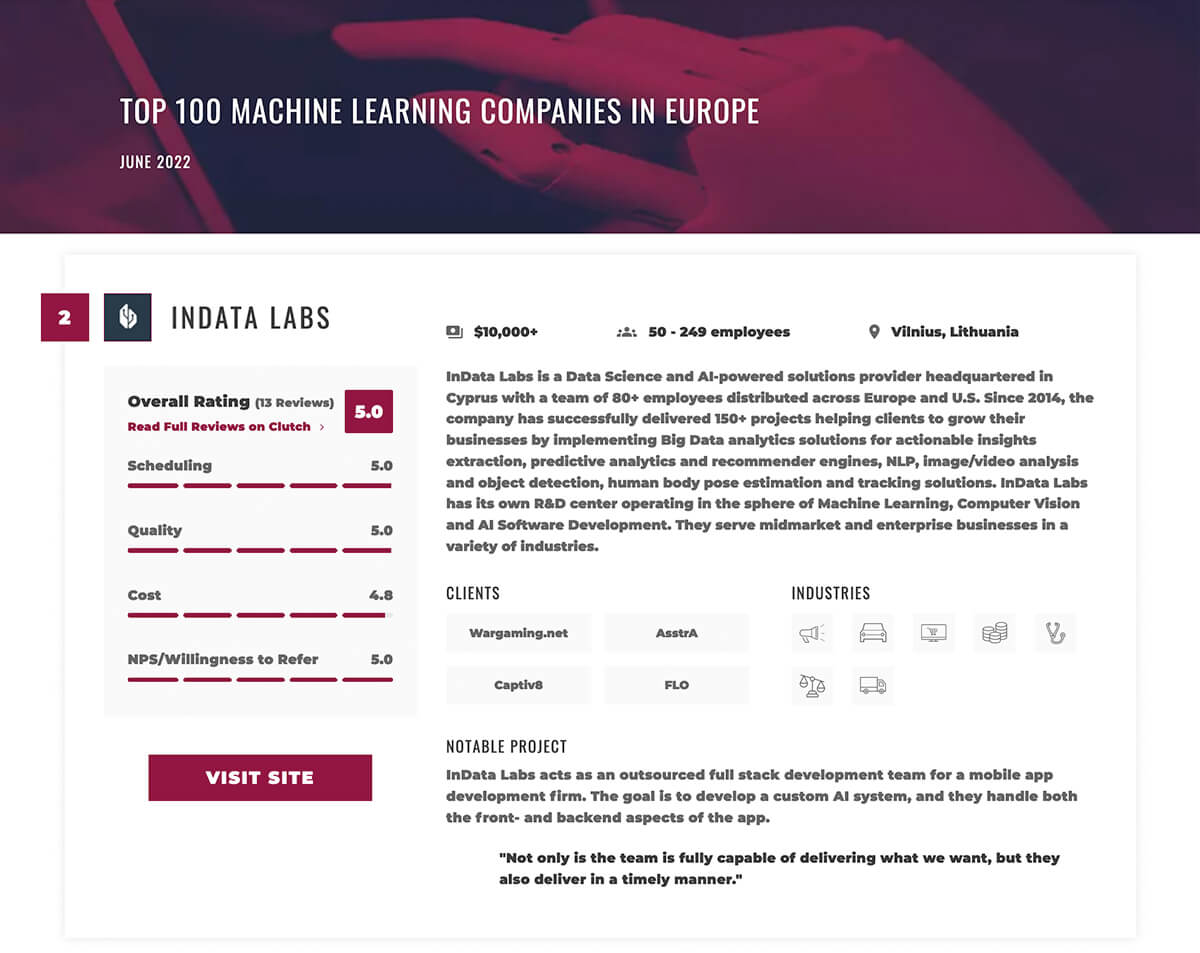 InData Labs has been excelling in NLP solution development, for which it has gained trust among its clients and is #2 in the Top 100 NLP companies list by The Manifest.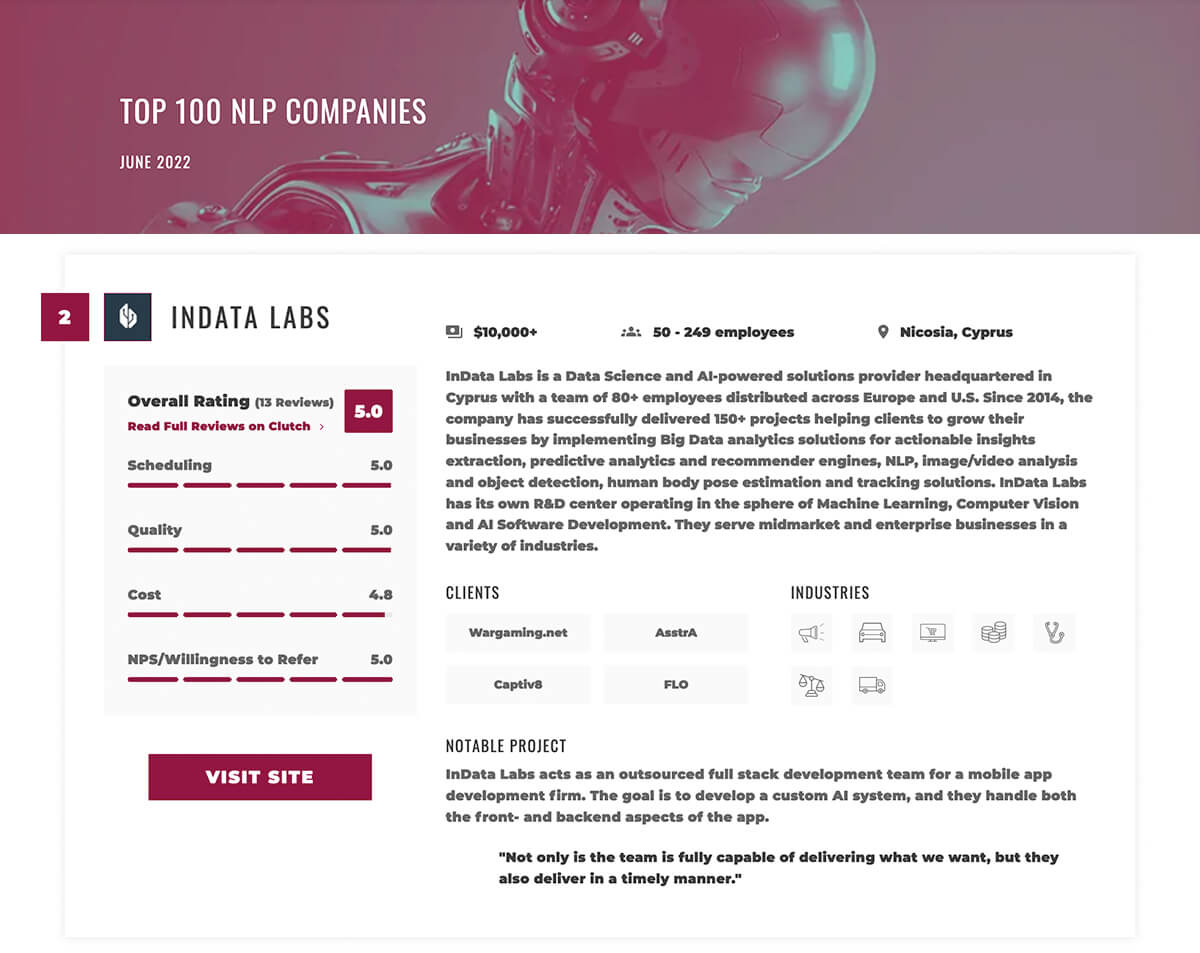 We've also demonstrated outstanding achievements in Big Data solutions development, which is reflected in its inclusion in the top Big Data companies in 2022 by The Manifest.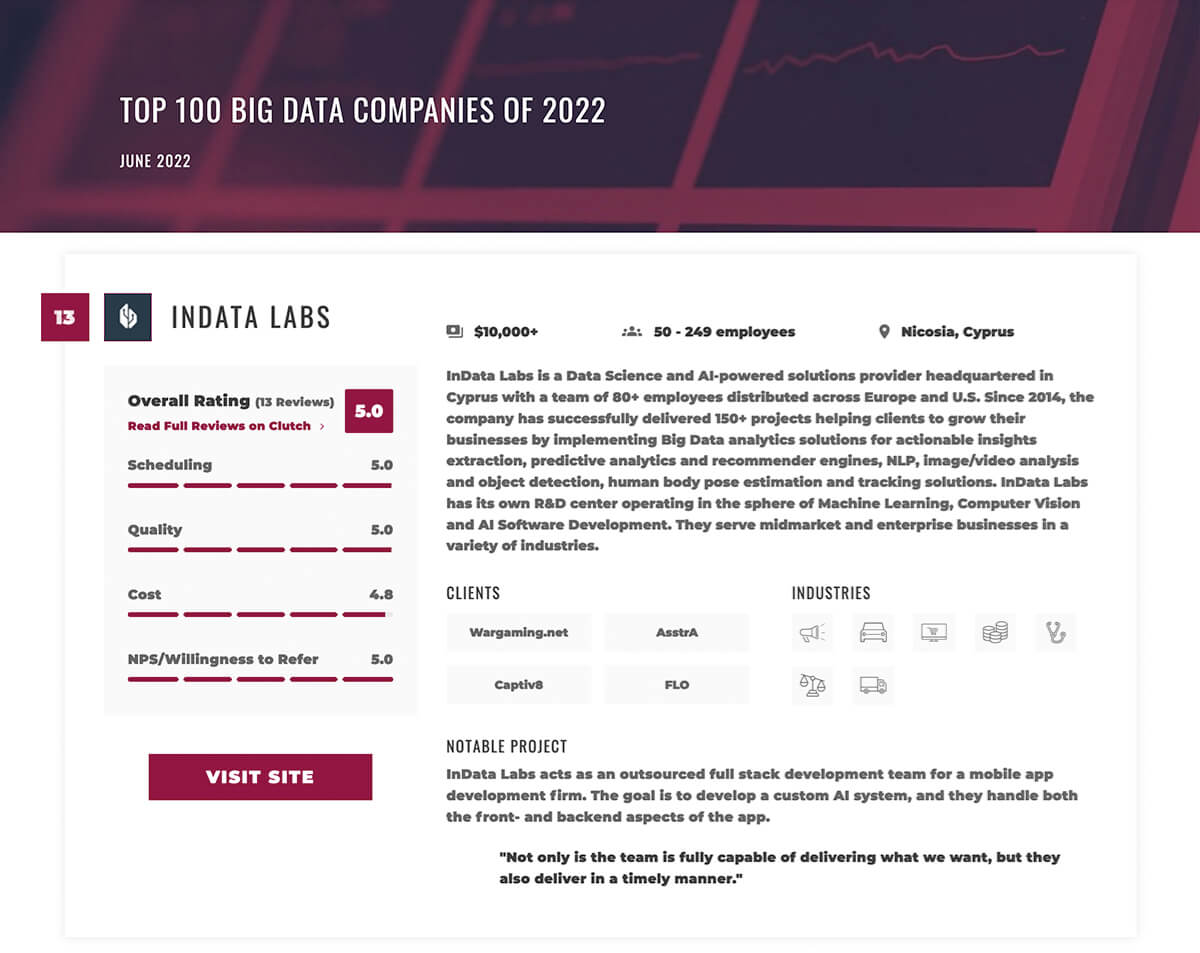 About InData Labs

InData Labs is an AI & Big Data business partner headquartered in Cyprus, Nicosia. It provides top-class development and consulting services to companies that want to achieve an impressive AI upgrade to their business processes.
Core services
AI & Machine Learning
Data science consulting & development
Predictive analytics & NLP
Big Data analytics
Data capture & OCR
Computer vision.
About the Manifest
The Manifest is a reliable website that collects data, expert insights, and other valuable information to make up relevant lists of top-performing companies or the most suitable companies for their clients.
Its key focus has been on the following aspects:
The state of Tech;
How-to guides;
Top companies.
We're pleased to have been mentioned among the best-performing AI providers both regionally and worldwide. We'll keep on expanding our expertise in different branches of AI to build leading-edge solutions for our clients.