Background
Introduce your business and what you do there.
I am a project manager at an image capture company. We have an automated system designed to streamline the product imaging process for customers.
Opportunity / Challenge
What challenge were you trying to address with InData Labs?
There is part of our process that handles images and performs certain tasks on the images. Right now, it is done in more of a manual fashion. In order to speed up that process and save money, we wanted to automate that. We started to look around for a big data company that could build a system that could automate that process.
Solution
What was the scope of their involvement?
The deliverables were first the documentation which was really thorough. We got an insight into exactly how we could work with the product in the future. We brought in a developer to work on that.
As far as the project itself, it was very well done. They used AWS. We first had kind of a prototype phase where InData would give us a base working-level system that we could kind of play with which was like an MVP. It had the base level requirements that we needed. We could tweak things and see what was working and what was not. We gave feedback based on that and they would clean it up from there.
That was the first deliverable and after several phases of tweaks, we brought that into our system. They gave us the code and worked with our in-house developer to integrate that into our existing system. They were with us every step of the way giving us feedback, working with our developers and they were really good in that respect.
We kind of have a roadmap that hasn't always been concrete. We know what we want but InData has helped us if we had any uncertainty of how best to go about a particular thing when we knew what we wanted but we didn't know how exactly that would look.
They were very professional and used their experience to guide us through that gray area so we could get a better idea of how this would look based on a solution that they could provide. Click To Tweet That was really helpful in that regard. We are a small company with less than 20 people, so a lot of these things are unknown to us. They had the knowledge to guide us in places that we had no experience.
What is the team composition?
We have had several phases of this project going back to the middle of last year. From that point until now, we have had some breaks in between funding that we needed to build up and also because we needed to flush out requirements for each phase of that project.
Each phase, because of those time separations, InData couldn't give us the same team throughout that. Obviously, they had to resource those people when they are not being used. We worked with probably 12 people within the organization. We have had three phases of the project and had three teams from the frontend and backend developers, two project managers, a business analyst, and the finance department who dealt with the billing.
How did you come to work with InData Labs?
We came across InData and we had several phases of an interview process. We had shortlisted three companies. We found that InData ticked all the boxes as far as their experience with machine learning and AI, and their understanding of what we needed as far as taking our needs, automating them, and putting those pieces together.
They had some experience in this area, and they were broader in the work that they had done, specifically for what we were doing, so we felt comfortable going with them which is how we kicked things off. We really wanted someone who could really dive in and do it right the first time.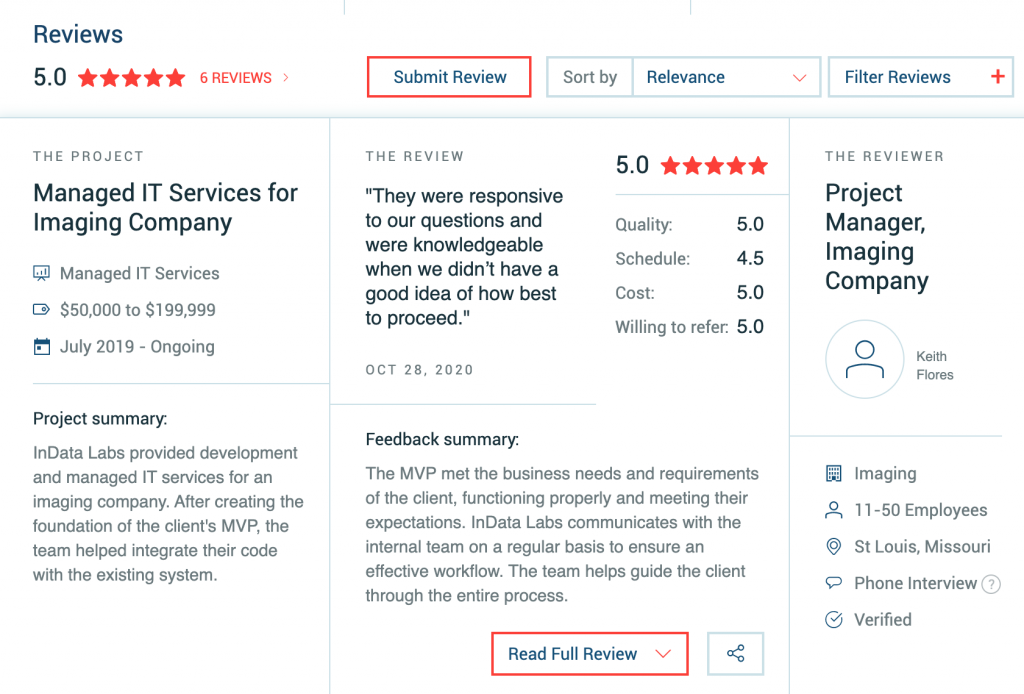 How much have you invested in them?
We have spent over $100,000.
What is the status of this engagement?
We started working with them in July 2019, and the project is ongoing.
Results & Feedback
What evidence can you share that demonstrates the impact of the engagement?
From a technical standpoint, we would look at the prototype portal and measure things based on the number of images we were processing and look at some categories of faults that we were finding with how things were being processed, and we would look at the success versus failure rate and base things on whether we were improving or not.
With machine learning, you have to feed tens of thousands of images into a system and get it to learn and improve. A lot of the metrics we were getting were based on what we were feeding in and how correct things were, versus the failures we were getting in the system and iterating on that.
How did InData Labs perform from a project management standpoint?
We followed a sprint approach where we would follow up every week. We would have a weekly meeting with the project manager and their developers to see what was done and what would be done in the following sprint, as well as to look at issues and clear up any questions and things. Those were the metrics as far as project progress.
We didn't have the usual sort of deadlines. We were more based on sprints. We would look at tackling certain things for each week, but as far as a high level and finishing things by a certain date it wasn't done because there were a lot of unknowns in this project.
What did you find most impressive about them?
I would say their communication is great. They were responsive to our questions and were knowledgeable when we didn't have a good idea of how best to proceed. They had several options in place and the consequences of those options, the pros, and cons as well as estimates of cost and time of what would be involved. I think that is a strong suit of theirs.
Also, just the quality of their work is great. They thought of things that we didn't even think of and would give us some heads up as to what might happen and what we should try. They were good about anticipating potential issues early on so that we could address them before they became bigger.
Are there any areas they could improve?
No. The work and their expertise are top-notch, and I would highly recommend them.
Do you have any advice for potential customers?
I would say that just like any project, you need to really dive into your requirements early on and get a good feel for where you are going, and if that is a little gray or if you are unsure about how things need to be flushed out on a particular project, InData is very good about helping with that roadmap and helping you understand how things can be developed to build on the strength of their team and their expertise.
They are really good at leveraging their experts and their tech staff. For our system especially, going from a manual system to an automated system, we didn't know a lot of things that we needed to know, they were able to help us leverage our product to the best that it could be.

Have a Similar Project Idea in Mind?
Contact us at info@indatalabs.com. We'll gladly discuss the opportunities for cooperation.