As the world has shifted to social media, more and more companies tend to choose influencer marketing as one of their priority marketing tactics (strategies). Modern consumers no longer look into companies' profiles for information, they look at each other to find personal connections and choose products and services. YouTube, Instagram, Twitter and Facebook become their main sources of advice. Influencers don't only have a big number of followers, they are experts in a particular area. People follow them for their expertise and credibility.
If used to the full, the rise of social media influencers creates the world of possibilities for modern world companies. 79% of bloggers agree to the proposals to get paid for promoting or mentioning products and monetizing their influence. All you have to do is propose the right content to the right person, at the right time, but how?
Influencer Marketing Campaign: Stages of Creation
Step 1: Identification
First, you've learned that consumers trust influencers more than brands, since they find branded content to be biased. So, you perform a research, trying to identify best possible influencers for your brand according to the connection of their values and those of your company.
Step 2: Qualification
After you find suitable candidates by looking into hashtags they use, places they go, number of followers they have and their personal interests and qualities, you start closely monitoring them in order to narrow your list.
Step 3: Engagement
After you've created a perfect list, you start approaching influencers and pitching your story and products. The engagement process is very individualized and depends on each particular influencer.
Step 4: Measurement
After the campaign is over it is necessary to measure its success around your KPIs. It is also necessary to monitor an ongoing campaign in order to be able to optimize and improve it for better results.
This whole scheme is highly complicated by the fact that there are more than two billion active social media accounts out there. Social media users create enormous amounts of content daily. Around 100 hours of video are uploaded to YouTube every minute. Every minute we send 278 thousand Tweets. 200 thousand photos are uploaded to Facebook every minute together with 4.5 billion "Likes" daily. It seems impossible to find your "perfect match" influencer in such a great variety of information. This is where Big Data comes in handy.
Your company only needs each blogger's strengths. Big Data technologies not only can provide you with a detailed and targeted analysis of influencers, but also can analyze and classify influencers' audience. All of it will help you get most of influencer marketing.
Without using automated analysis, influencer marketing can turn out quite pricy. Since manual search will only put you through with the most popular, therefore highly priced individuals, whereas Big Data technologies give you the variety of choices. One more thing is that the majority of social media users don't use hashtags, which is the easiest way to manually track a desired influencer.
Influencer Marketing Meets Big Data Technologies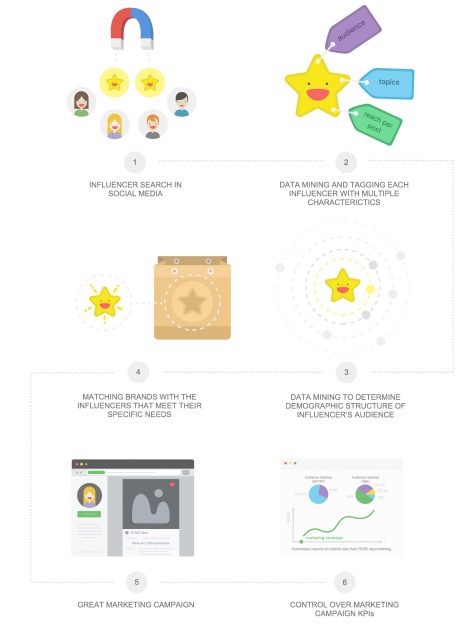 The whole process starts with automated influencer search on social media.
In order to classify all the influencers, we tag each of them with a variety of parameters such as gender, interests, location, audience size etc. As a result, we get an extensive database for an advanced influencer search for marketers and media buyers.
After that the most interesting part begins. Influencers' audience segmentation is the most challenging part, as user profiles are often incomplete or have strict privacy settings. At this point Data Science Specialists use text-based classifiers and predictors to segment influencers' followers by key demographic factors.
As soon as we get the necessary data, we are able to match a brand with the most suitable influencer who will launch a marketing campaign.
After a particular influencer marketing campaign is over, the company gets all the necessary data and easily measurable automated reports, that show the exact numbers of how the campaign affected company's ROI. Automated influencers' screening process doesn't take any of your time, you just get to enjoy the results.
Outcomes for Your Brand
Get a ready-to-use, strong influencer network for your marketing campaign
Save on expensive and ineffective influencer collaboration
Effectively measure the success and feedback of each marketing campaign
Take control over the growth of your audience and brand identity