Big data refers to large sets of unstructured, semi-structured, or structured data obtained from numerous sources. Among the sources are customer databases, medical records, business transaction systems, social networks, mobile applications, and scientific experiments.
Today, companies are focusing on overhauling their data architecture, consolidating data, and discarding legacy systems. Big data has a great impact on businesses since it helps companies efficiently manage large volumes of data. The statistics by Grand View Research Inc. prove that: The big data market is expected to reach USD 123.23 billion by 2025. Click To Tweet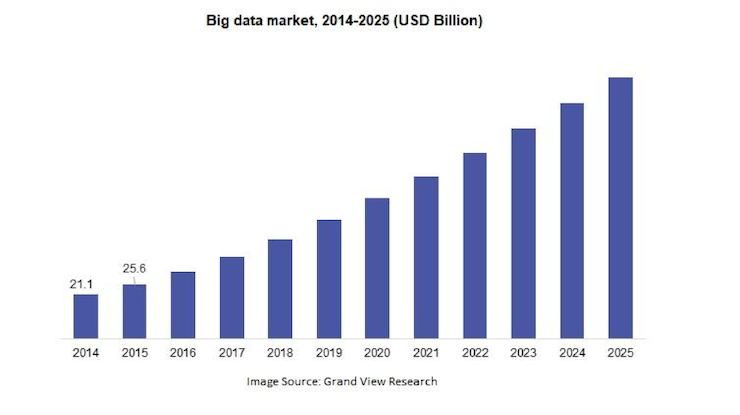 Impact of Big Data on Business
How do Big data and data mining affect global business? With the help of big data, companies aim at offering improved customer services, which can help increase profit. Enhanced customer experience is the primary goal of most companies. Other goals include better target marketing, cost reduction, and improved efficiency of existing processes.
Big data technologies help companies store large volumes of data while enabling significant cost benefits. Such technologies include cloud-based analytics and Hadoop. They help businesses analyze information and improve decision-making. Furthermore, data breaches pose the need for enhanced security, which technology application can solve.
Big data has the potential to bring social and economic benefits to businesses. Therefore, several government agencies have formulated policies for promoting the development of big data.
Over the years, big data analytics has evolved with the adoption of agile technologies and the increase of focus on advanced analytics. There is no single technology that encompasses big data analytics. Several technologies work together to help companies procure optimum value from the information. Among them are machine learning, artificial intelligence, quantum computing, Hadoop, in-memory analytics, and predictive analytics. These technology trends are likely to spur the demand for big data analytics over the forecast period.
Earlier, big data was mainly deployed by businesses that could afford the technologies and channels used to gather and analyze data. Nowadays, both large and small business enterprises are increasingly relying on big data for intelligent business insights. Thereby, they boost the demand for big data.
Enterprises from all industries contemplate ways of how big data can be used in business. Its uses are poised to improve productivity, identify customer needs, offer a competitive advantage, and scope for sustainable economic development.
How Big Data Is Used in Businesses Across Industries
Financial services, retail, e-commerce, manufacturing, and telecommunication are some of the leading industries using big data solutions. Business owners are increasingly investing in big data solutions to optimize their operations and manage data traffic. Vendors are adopting big data solutions for better supply chain management.
The BFSI sector extensively implements big data and analytics to become more efficient, customer-centric, and, thus, more profitable. Financial institutions use big data analytics to eliminate overlapping, redundant systems as well as providing tools for easier access to data. Banks and retail traders use big data for sentiment measurement and high-frequency trading, among others. The sector also relies on big data for risk analytics and monitoring financial market activity.
Retail
The retail industry gathers a large amount of data through RFID, POS scanners, customer loyalty programs, and so on. The use of big data assists in reducing frauds and enables the timely analysis of inventory.
E-commerce
The importance of big data for E-commerce business is clear enough: the more you know about your customer, the more profits you generate from your e-store. Data on real-time customer behaviour, purchasing history and products liked allow tracking high-demand products and forecasting trends to be the first in the market to introduce best-selling products. Pricing analysis, inventory management, customer churn prediction – these are only a few more things the technology can do for business. The key to success is to be able to offer an extraordinary customer experience that makes customers pay a higher price and this is where the technology becomes your business partner.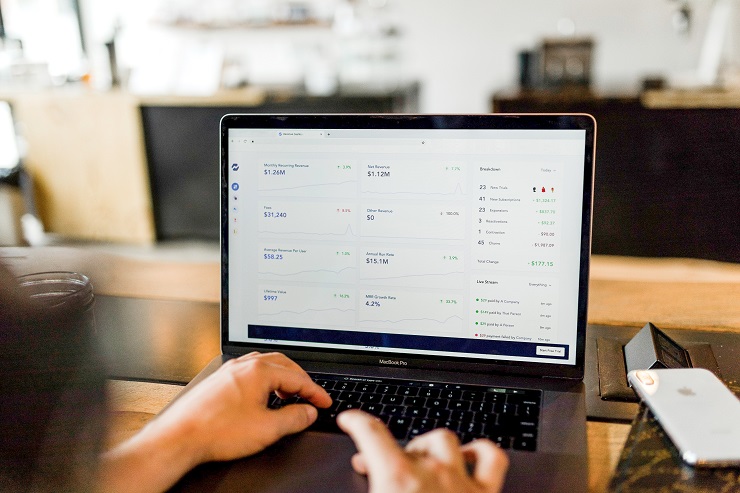 Source: Unsplash
A large amount of data generated in this industry remains untapped.  The industry faces several challenges, such as labor constraints, complex supply chains, and equipment breakdown. The use of big data enables companies to discover new ways to save costs and improve product quality.
Logistics, Media, and Entertainment
In the logistics sector, big data helps online retailers manage inventory in line with challenges specific for one or another location. Companies within this sector use big data to analyze customer personal and behavioral data to create a detailed customer profile.
Oil and Gas
In the oil and gas sector, big data facilitates decision-making. Companies can make better decisions regarding the location of wells through an in-depth analysis of geometry. Agencies also leverage big data to ensure that their safety measures are up to the mark.
Companies have started to take greater advantage of big data. Taking into account the benefits of big data for business, they turn to analytics and other technologies for managing data efficiently.
However, the usage of big data in several industries, such as healthcare, oil & gas, and so on, has been slow. The technology is expensive to adopt, and many companies still don't use the majority of data collected during operations.
Also, business silos and a lack of data integration between units affect the use of big data. The information is not always consistently stored or formatted across a company. And finding employees who possess the skills to analyze and use data optimally is a challenging task.
Conclusion
The big data market is expected to witness remarkable growth over the forecast years. An important reason is a rapid increase in the amount of structured and unstructured data.
Among other factors are increased technology penetration in all spheres of life and the spread of smartphones. That lead to the generation of larger amounts of data.
The escalating need for analyzing data will lead to the rise of demand for big data over the forecast period. Furthermore, the number of online businesses in the industry is also growing, owing to enhanced profit margins.
Other industries, such as healthcare, utilities, and banking, will widely use online platforms to provide improved services to customers.
Smart application of big data in everyday business life allows making data-driven decisions and responding promptly to market developments having its direct business impacts to the bottom line. The competition in all industries is constantly increasing giving businesses no chance for mistakes and requiring end-to-end analytics and technology-based tactics implemented to stay competitive.
All the factors mentioned above are expected to contribute to the global big data market growth.
Start Your Big Data Project with InData Labs
Have a project in mind but need some help implementing it? Drop us a line at info@indatalabs.com, we'd love to discuss how we can work with you.