Why Should Brands Care about Instagram?
With 400M+ daily active users, brands are quickly recognizing the need to have presence on Instagram. Referrals, hashtags, artistically-driven profiles and search function allow brands to find and engage the right audience. The growing popularity of visual communication made Instagram the second-highest used messaging app behind Facebook Messenger for millennials (Source). That is the main reason why brands start treating the platform as a serious part of their social strategy.
In our latest research, we analyzed 5M+ Instagram posts from London from different perspectives. One of the questions that we tried to answer was "Which brands reign over London Instagram in 2016?" All the brands were ranked according to the number of mentions they've got on Instagram in the first half of 2016. Instagram is all about visual content and communities, not surprising fashion, car and sports brands appeared to be the masters of Instagram in the city.
6 Most Popular Brands on London Instagram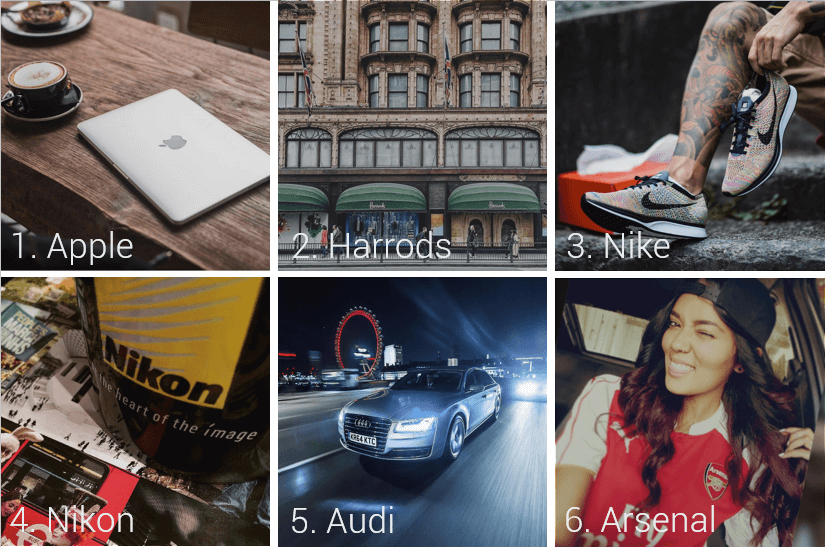 Credit: @appleandcoffee, @london_street_style, @trimstupidino, @sean_calibur, @audi.uk, @arsenalfanbabes
Why is Hashtag Analytics so Damn Important Today?
The only organic way of selling on Instagram is through building a community of followers who actively engage with your content. The most successful strategy is to promote a lifestyle closely associated with your product rather than advertising the product itself. This process requires a deep understanding of who your customers are, what they like and dislike. That's where hashtag analytics comes in handy.
In our research of London Instagram, we checked if hashtags can help to understand the lifestyle of Instagram users better. We discovered that despite being very simple word combinations hashtags bring insights into Instagrammers' behavior.
The most popular hashtags in London are just a snapshot of the most trending topics in the city.
Top Instagram Hashtags in London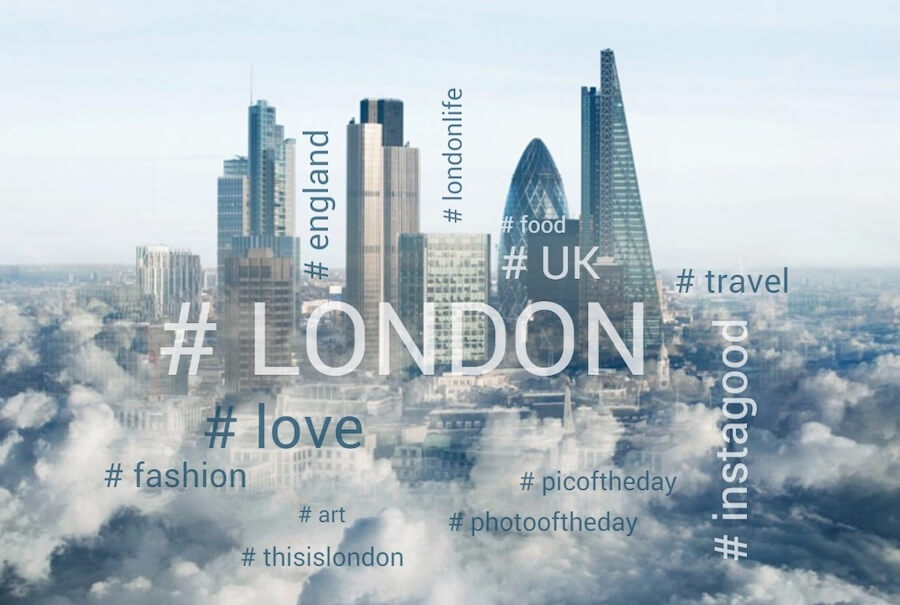 Having audience demographics at hand, we drilled down to discover hashtags that are popular within specific demographic groups. These niche hashtags can give you an understanding of what your customers care about. Moreover, they have an additional benefit – once inserted into your post, they attract engaged followers who are truly interested in the types of content you are sharing. Pick some useful hashtags for your next post from the table below to get found and shared:
Top Instagram Hashtags by Age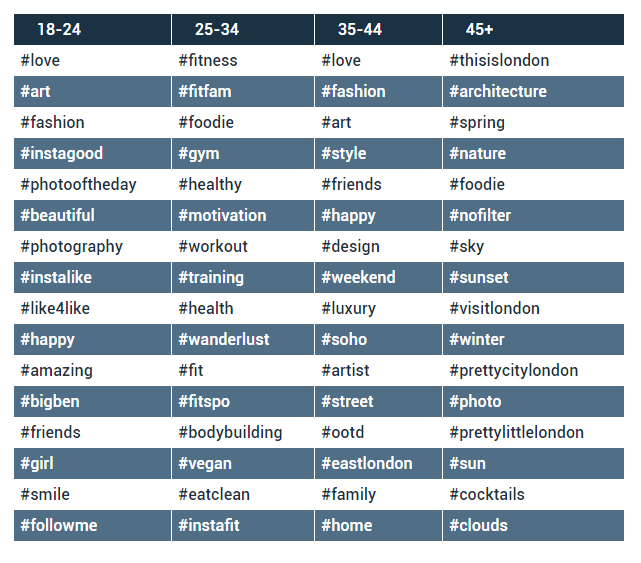 Top Instagram Hashtags by Gender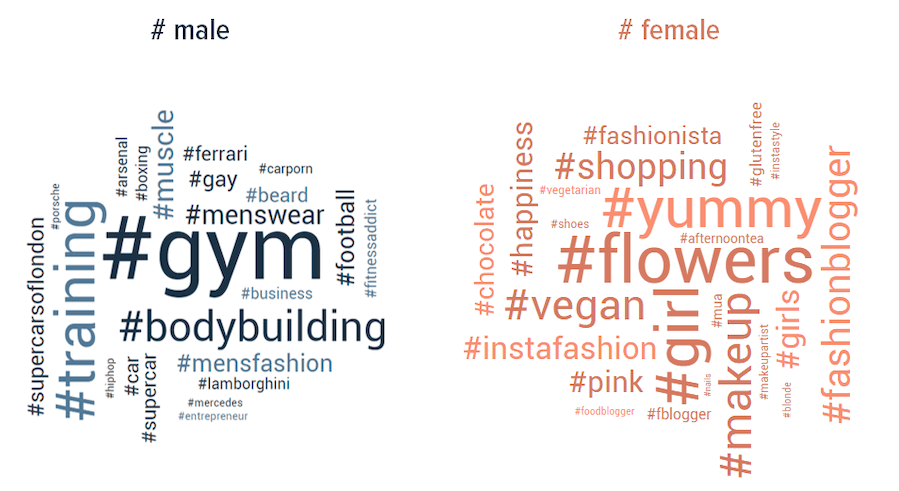 *for the full hashtag report, send your inquiry at info@indatalabs.com
Here are the Key Findings of our Hashtag Analysis:
Instagrammers at the age of 18-24 are really excited about Instagram itself and about all things happening in the social network. They seem to care a lot about likes, shares, and popularity of their profiles
Instagram users between 25 and 34 years old are mostly interested in health and fitness topics
Instagram audience from 35 to 44 are posting about family life, art, and design
In a typical profile of an Instagrammer over 45 years old you are likely to find beautiful pics of nature and city views. Picturesque landscapes are what they like. Good opportunity for travel companies to capture their attention
Trending topics for men on Instagram are the following: 1. bodybuilding, 2. luxury cars, 3. fashion
Trending topics for women are: 1. beauty, 2. healthy food, 3. blogging
Both men and women look for fashion trends on Instagram. But the hashtags that men and women use are different: #mensfashion for men, #fashionista for women
Hashtags do reflect lifestyle of people, so keep them in mind when creating user personas
Hashtag analytics can bring new ideas to your content strategy not only on Instagram but across different channels
We Make it Easy to Build Awesome Text Analysis Software
Already have a project in mind? Let's talk.