8 Ways AR and VR Reshaping the Future of Fitness and Wellness
9 September 2021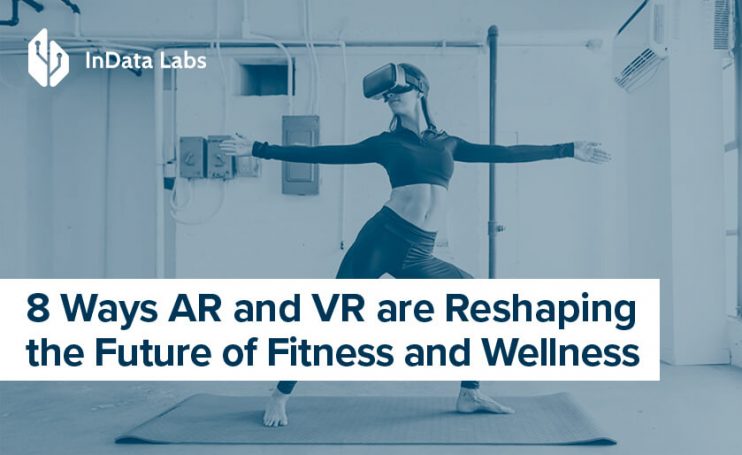 Living in the 21st century, we are immersed in the advancement of technology. AR and VR are redefining different industries in the world. Fitness augmented reality has become a popular technology in the fitness industry today. It is transforming the dynamics of physical activity of people by providing a real-life experience that makes it more immersive and fun. Augmented reality in the fitness industry is becoming everyone's normal way of exercising.
Many people have been wondering why there is more AR and VR technology in this industry. If you love working out, it is vital to know what is accelerating AR/VR adoption in fitness and how it will continue improving this industry in the future.
In this article, we dive into the different ways AR/VR is affecting this industry.
Fitness Augmented Reality and Virtual Reality Impacts
1. Real-Time Data
Data is vital in every sector, including the fitness and wellness industry. Players of augmented reality in the fitness industry need data to make workout decisions and predict the impact of specific exercises on your body. AR and VR have emerged as key technologies that enable people to understand the intensity of their workouts. There are many virtual reality fitness apps that help us stay fit and on our toes.
For instance, people can use wearable devices embedded with AR and VR technology to check their workouts. These devices can record everything from what distance you cover when jogging or cycling. Users can then use this data to make critical decisions that will affect future workouts.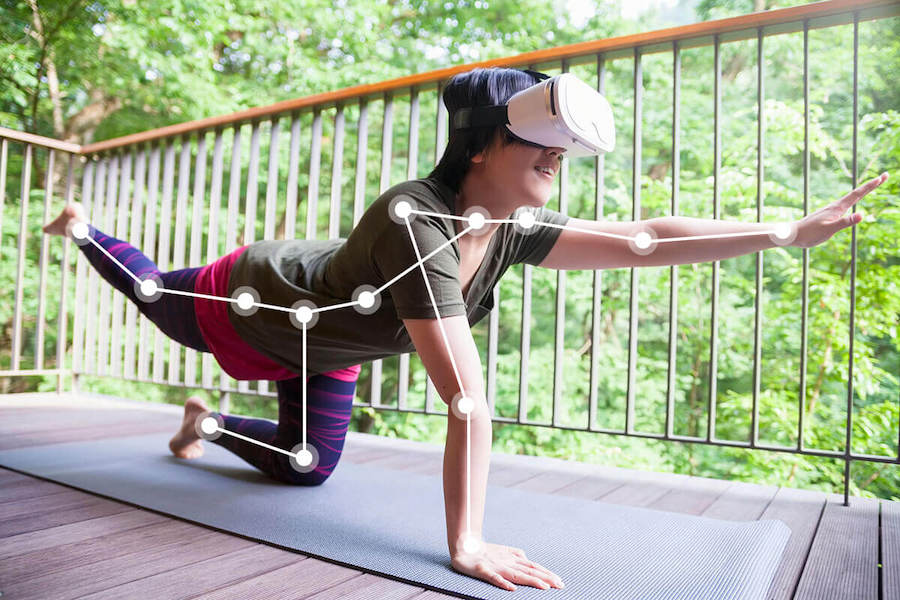 Source: Unsplash
You can use AR and VR data to decide whether you need to increase or reduce the intensity of your exercise. This makes it easy to exercise without overstraining. It also acts as a motivator because you can keep improving AR and virtual reality workouts when you keep track of what you can currently do.
AR and VR technology can also suggest physical exercises that your body needs. The data collected, such as BMR (Basal Metabolic Rate), can help these applications determine the best workouts and frequency to follow. In the end, you can use these exercises to ensure you achieve your maximum outcome.
2. Offers New Ways for a Workout Regime
Staying consistent for working out can be tricky. Many people cannot work out every day because the exercises become repetitive. Thankfully, there are ways to ensure your workout sessions feel different every day, and that is by infusing technology into your workout program.AR and VR technology is worth considering when looking to make your workouts unique. Using these technologies gives you new ways to work out, helping you avoid repeating exercises. There are applications developed to suit different workout needs, diversifying your workout sessions.
Another advantage of the application of AR in fitness is the CrossFit AI technology. This technology helps in overall physical activities. It includes all the core training for your respiratory endurance, flexibility, stamina, strength, etc.
The major challenge for many people is choosing augmented or virtual apps. This is because there are several virtual reality fitness apps, making it challenging to pick the best. Thankfully, the internet is filled with customer reviews and guides that can help you choose the best apps.
3. Virtual Reality Fitness & Flexibility
Simulating the gym environment at home is one of the best inventions in this industry. It is no longer a must for people to drive to the gym, as they can do everything at home with AR and VR. Buying an AR device that simulates the environment of a gym and comes with an instructor is becoming a trend.
The best thing about this is the flexibility it brings to your workouts. You can do everything you do at the virtual reality gym, even when the physical gym is closed. AR devices meant for exercises come with software that keeps track of one's strength, helping you increase or reduce workout intensity where necessary.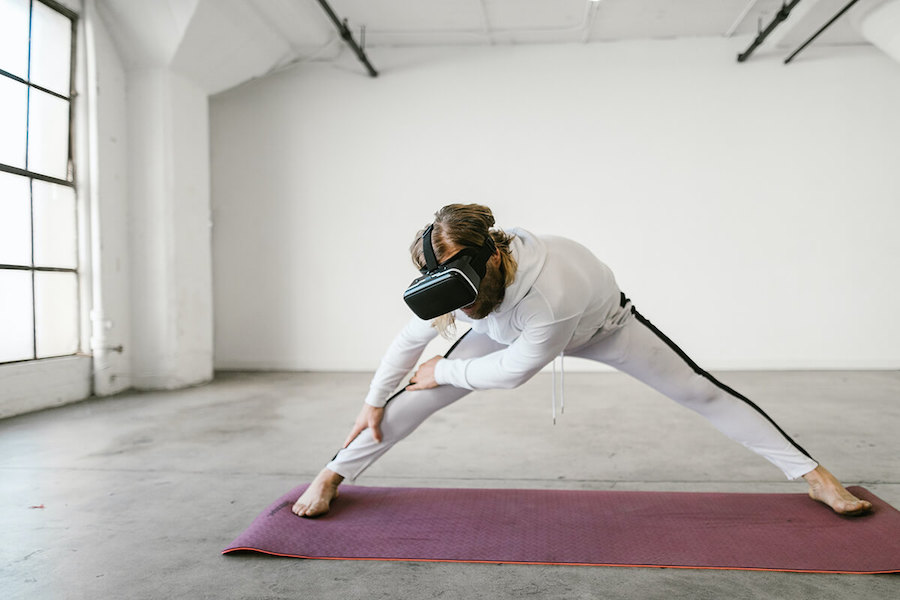 Source: Unsplash
Many people find looking for good AR and VR devices daunting. There's a variety of devices and getting what will best fit your needs isn't difficult. The internet is an excellent resource for people looking to work out from home but cannot find the right software and hardware.
You can, for instance, look up tips on purchasing the latest virtual reality devices online. Various online resources will guide you to finding the best AR/VR devices alongside tips about using them.
In the end, you'll efficiently work out from home without having to adjust your schedule for any reason. Besides, you'll exercise safely thanks to the Human Pose Estimation technology that's infused in AR devices.
4. Keeps You Motivated
Motivation is a critical factor for anyone looking to stay fit. This is because exercising can be a tricky thing to do for many reasons. One of them is the lack of motivation that AR and VR technologies are helping to solve. AR helps in physical fitness to stay motivated. AR and VR applications make exercising easy, and this increases motivation. You can set reminders with these applications so that you do not miss a single workout session. Besides, these applications make it easy to exercise because they guide you to follow every step in your workout sessions.
Another way that AR and VR motivate you to exercise is by recording every workout session. These scores encourage you to work harder to achieve higher scores in the future. AR for physical fitness not only makes us keep track, but a disciplined lifestyle, too. This makes AR and VR worth investing in if you want to succeed in your fitness journey.
5. Entertainment
Exercises not only promote healthy lifestyles, but are also entertaining. You must make every workout session as entertaining as possible, and augmented reality AR can help you do that. There are different AR-enabled devices you can use alongside applications to make your virtual reality workouts fun.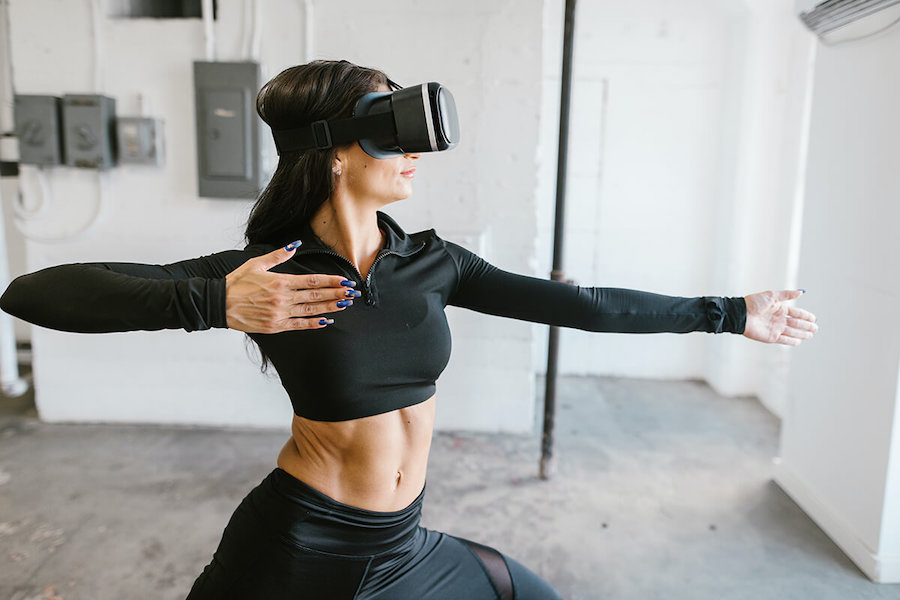 Source: Unsplash
You can add things such as interactive elements, playing video games to your workouts using AR for physical fitness. VR games like rowing machines, zombie apocalypse can increase the fun and adventure element in a full-body VR workout. This can help make your workout sessions engaging and entertaining. Besides, AR devices come with daily tips and tutorials that you can use to learn more about working out and easily reach your workout goals.
Workouts can be intense; therefore, getting entertainment can help ease the pressure. AR and VR make this possible, and that's why many fitness institutions are considering using them. Working out alone at home can be even more boring, but not with these pieces of technology. You only need to know it, find the proper gear, and your workouts will never boring again.
6. Keeps Track of Your Health
It is vital to keep track of one's health when exercising. But then, doing so without the help of technology can be tricky, and that's why AR and VR technologies are becoming popular today. Some applications use these pieces of technology to help you keep track of your workout sessions.
You can quickly know how well you're progressing by using data from these applications. The insightful data you can extract from AR and VR fitness applications can help you understand how fruitful your workouts are. It can also help you know what exercises you need to do more and improve your workout sessions. All you need to keep track of your health is AR and virtual reality fitness equipment. There is a wide variety of applications that you can choose from when looking for AR/VR equipment. This includes choosing from various software such as applications that can work with AR/VR equipment efficiently.
7. Competition and Shared Experiences
One way to improve workouts is by competing and sharing experiences. This can happen in the gym, but not every time. For instance, meeting and socializing at the gym when the pandemic peaked was a nightmare. One could create a virtual reality gym at home and continue to exercise. There are AR apps that help people compete and share experiences from any location. With the suitable device and software, you can record your augmented reality workout sessions and data, then share it with friends. This helps in motivating others, promotes healthy competition, and makes learning easier.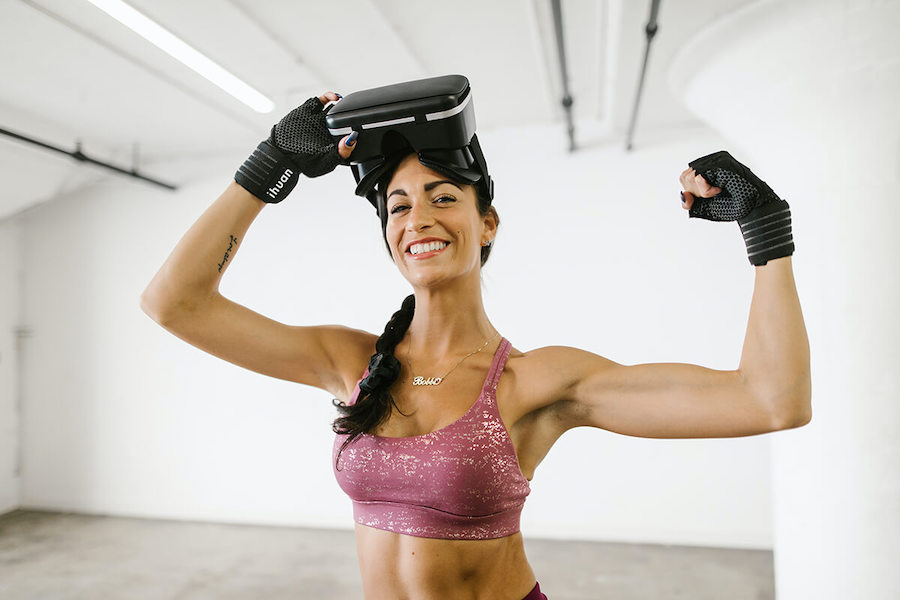 Source: Unsplash
You can also share your workout experiences and data from AR devices to social media. This can help bring on board friends of friends to work towards a healthy lifestyle. With records showing that almost 93.3 million adults in America are obese, it's good to share experiences and influence them to work out.
8. Allows You to Wander
The best thing about working out with AR/VR technology is that you can do it anywhere. You can use these technologies with mobile devices such as smartphones and watches. That means you can move from one place to another with them and enjoy personalized workouts. This makes it easy to stick to your workout schedule even when you are on vacation. Besides, you can access real-time data from your workouts when in different environments. This will help you track the changes in the background and how they affect your workout sessions.
If you would like to start working out with technology, start by investing in great devices and software. As mentioned earlier, there are many choices to make when it comes to hardware and software. The aim should be to find sports IT solutions that can help you improve the quality of your workouts.
The Future of AR Fitness: Will It Work Out?
One question many people ask is whether virtual reality fitness is worth investing in? Well, VR is a futuristic technology that has positively affected several industries. Using it in your workout routine can help you achieve your fitness goals faster than you'd ever think. But then, it is first very essential to understand how VR and workouts work together.
The best way to explain virtual reality fitness is by using Beat Saber, a well-known VR game, as an example. This game requires you to cut three-dimensional cubes flying towards you using two lightsabers. However, these cubes fly in various combinations and in different directions. They also come at different speeds, meaning you have to be fast to cut all of them. This turns out to be a tremendous full-body dance and exercise worth a daily workout routine.
Oculus is also there to help you keep track of your daily virtual reality fitness routine. The Oculus Quest 2, for example, collects insightful workout data that can help you know how you are progressing. It tracks everything from your heart rate, movements, and calories that you burn per session.
The best thing about VR in the fitness industry is that it makes exercising fun and immersive. VR technology deserves a place alongside other technologies used in the fitness industry. Its contribution to the AR fitness industry is to help make exercising a fun experience.
Why You Should Use Augmented Reality Fitness App
Now the question comes whether AR fitness is helpful?
After looking at virtual reality fitness, it is worth looking at AR's contribution to the fitness industry. AR technology has some of the most notable benefits to workouts. First, AR apps help people gather and analyze real-time data from their workouts with the help of artificial intelligence and data science technologies. AR fitness gives you an insight of what is happening with your body during workout sessions.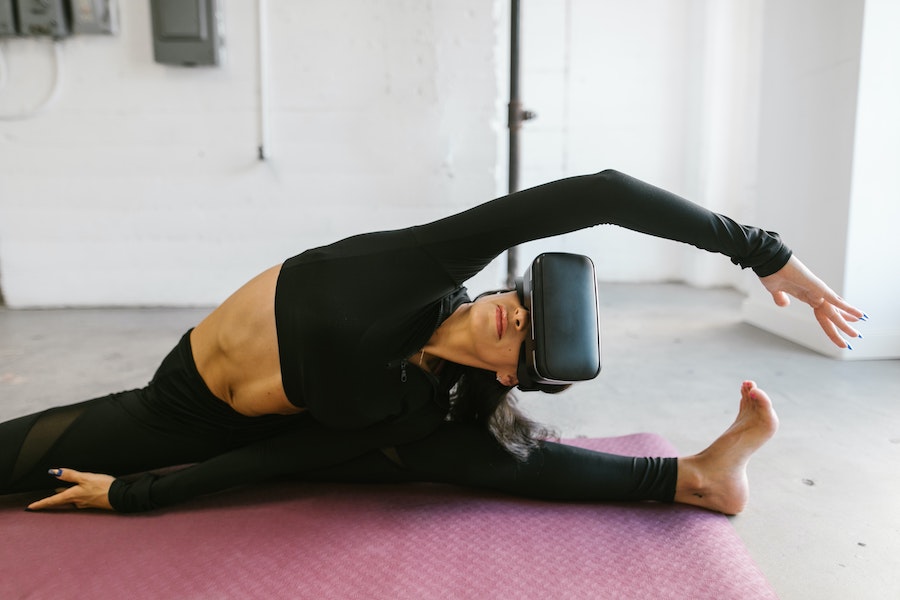 Source: Unsplash
For instance, various wearable devices in the market use AR fitness technology. These devices can record your heart rate during workouts and help you avoid straining yourself. This also enables you to ensure that you are progressing well, whether you want to build muscle or shed some weight. You can also use an app designed for augmented reality fitness to record the distance covered when exercising. This includes recording the number of steps you have taken and your speed while covering a specific distance. You get a standard view of your workout regime when you have these details at your fingertips.
Besides, AR fitness tools are essential for learning if you love working out. They come with instructional videos that can help you jumpstart your fitness journey. Devices such as AR smart glasses and a VR headset also provide users with real-time instruction, making it easy to make the most of every session.
Is Computer Vision Important to AR and VR?
Computer vision is a widely discussed topic in the AR and VR world. It is a technology field that makes it possible for computers to collect meaningful information from various visual inputs and take action. It helps machines work like human beings to see, observe, and understand. The most important question people ask is how computer vision affects AR and VR. You can also restructure this question to be AR and VR used in computer vision. Computer vision plays the primary role in making AR and VR devices more sophisticated and user-responsive.
In short, it is with augmented reality vision that AR devices can collect, process, analyze, and understand images and videos. This makes it possible to get sophisticated and interactive feedback from these devices. In the end, you can not only improve your schedule but also achieve your fitness goals faster. AR and VR are impacting our lives every day. But then, we often do not see the immense contribution of computer vision to it. Custom computer vision software fuels AR and VR technology, helping people work out and get the desired ROI from every great workout session.
Thus, you can only expect to see more AR/VR and computer vision collaboration in the future. This is because all these technologies are evolving, meaning they'll make life even easier in the coming days.
Where Else Can You Apply AR And VR?
After reading you could wonder where else you can apply these artificial intelligence solutions. Well, AR and VR apply in many other industries besides the fitness industry. That is why these innovative technologies are becoming mainstream in many industries worldwide.
Let's look at some examples of industries that use AR and VR.
1. E-commerce
Selling products online was tricky before technology developed and things like AR/VR came up. Today, the internet is one of the best platforms for businesses to sell their products. It is easy for product sellers to showcase their products to their customers using AR technology.
This includes businesses that are into the selling of AR and VR devices. If a customer visits your business website and, for instance, wants wearable AR gear, you can use these AI technologies to visualize the product to them. They can view the product from all angles and see how it works before purchasing it.
2. Education
Technology use in education has become popular in recent years. So, how can we use VR and AR in education? The immersive nature of these two pieces of technology makes them perfect to use in the education industry. They engage and motivate students, making the learning process fun and productive.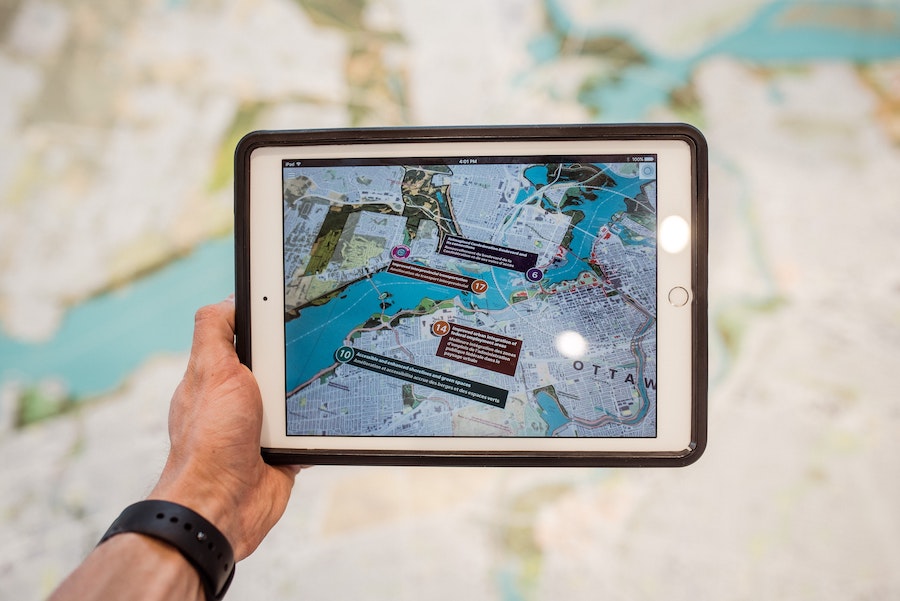 Source: Unsplash
This is not only in schools but also for fitness classes. Trainers can instruct trainees in the gym using these devices without being there physically. A virtual reality gym makes it easy for trainees in fitness classes to keep up with their schedules, even when their trainers are unavailable.
3. Gaming
Machine learning and computer vision have been key game changers in the gaming industry. These two technologies, together with VR, have changed the gaming landscape by making it more immersive and adding more fun elements. They combine to give gaming lovers top-notch gaming experiences.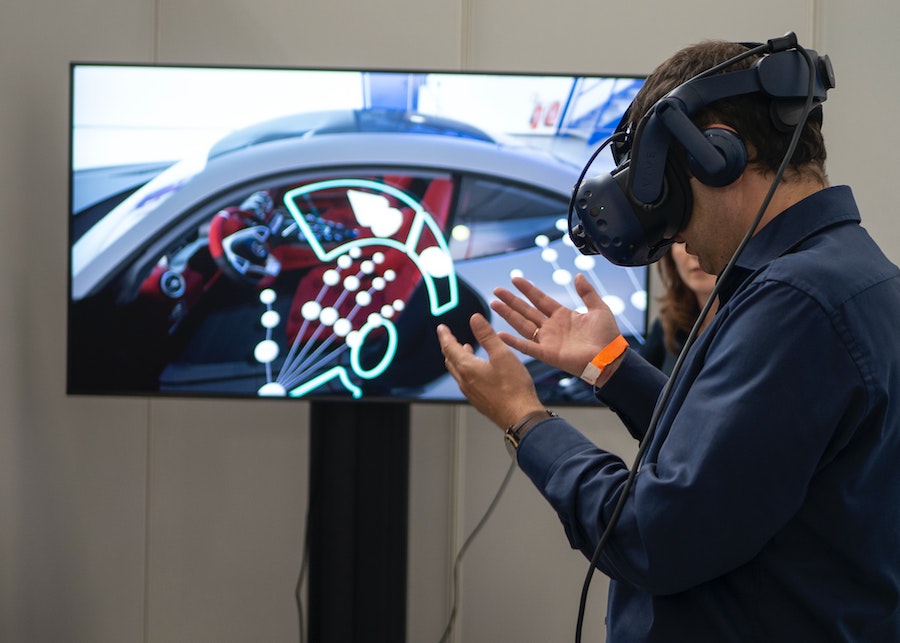 Source: Unsplash
This has also positively affected gaming provider businesses. They can retain players better and also sell more AR gaming products when using these technologies. That explains why research has revealed that the global market size for VR is projected to hit USD 45.09 billion by 2025.
4. Travel and Tourism
Businesses in the hospitality and tourism industries have been significant beneficiaries of AR and VR technology. Such businesses have been able to make their booking processes seamless with this technology. This has positively affected their revenues and reputations.
Besides, AR and VR have made it possible for these businesses to organize virtual tours. Travel agencies can take their customers on immersive virtual travels that feel like real-world touring. This has made it possible for them to stay afloat, especially during a pandemic when traveling was a nightmare.
5. Healthcare
The healthcare industry needs technology more than many other industries in the world. Innovations such as AR and VR have significantly affected how healthcare professionals diagnose and treat patients. This is primarily during surgeries, as surgeons have no room for errors.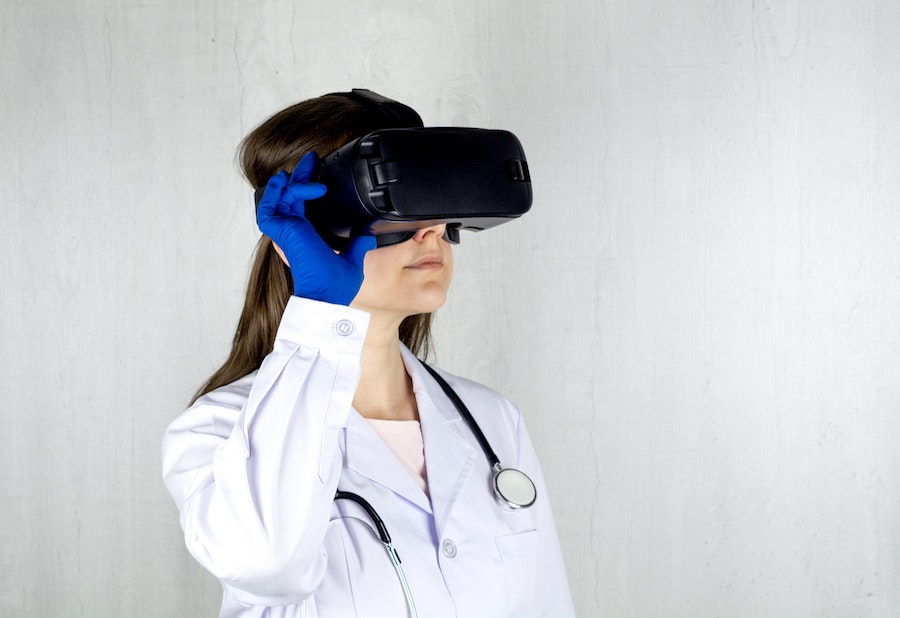 Source: Unsplash
AR and VR, together with computer vision, have helped make surgeries safer and more successful. They have also made it possible for doctors to diagnose mental illnesses, depression, and anxiety cases. Fitness also can be part of the healthcare beneficiaries as technology plays a crucial role in reducing obesity and its side effects.
Wrapping Up
Obesity and other health risks that come with it can come up when people cannot exercise. Millions of Americans and people all over the world are looking for ways to exercise and fight these potential problems. One of the best steps people take is thinking about infusing immersive technology into their workout sessions. That is the main reason for the increasing surge of AR and VR fitness.
We have already seen the many benefits that people can reap from doing so. For instance, technology helps people get real-time data from their exercise programs. It also increases engagement by making it easy to share data and compete with friends from different parts of the world. We can only say that with the advancement of technology, people are getting more creative. Using technology to do every chore is more normal than ever. We can expect to see more evolution of AR-VR in workout sessions or personal training plans.
It isn't easy to exhaust what AR and VR can do for the fitness and wellness industry in one blog. Immersive technology is worth considering if you are looking to get off your couch and be active. You only need to have the proper devices and software and use them to make your lifestyle healthier.
Author Bio:
Daniel has been building teams and coaching others to foster innovation and solve real-time problems. Dan also enjoys photography and traveling.
Scale Up Your with Top-Notch Technologies Implemented
Have a challenging project in mind? Schedule a call with our dedicated experts to discuss the best way to make it delivered as well as the project's stages, timeline, and budget.