Whether you're organizing a networking event with a hundred industry professionals or a music festival with thousands of attendees, social media can help you connect with your audience and thus gain more control over the event flow. Social media event monitoring results from during events are usually actively used by PR-managers to:
get feedback from the participants;
address any questions about the event;
share social messages with the audience;
address any complaints about the event;
organize on-site promotional campaigns.
The easy and widely-spread way to monitor event activity in social media is establishing a hashtag for an event. To enhance audience to use the official hashtag it must be included in any offline marketing materials of the event.
Hashtags really work. Alas, this scheme has a week point. The communication will only be reciprocate if the person who shares her message in social media adds the hashtag to the post. It implies that:
the person wants the message to be easily detected;
the person is informed about the official hashtag;
the person writes the hashtag correctly.
Moreover, people sharing content in social media appeared to be surprisingly lazy when it comes to adding hashtags. For example the pie-chart below shows the number of hashtags per tweet in the sample of twitter data we've used in our recent research. The vast majority of messages (91%) were not hash-tagged.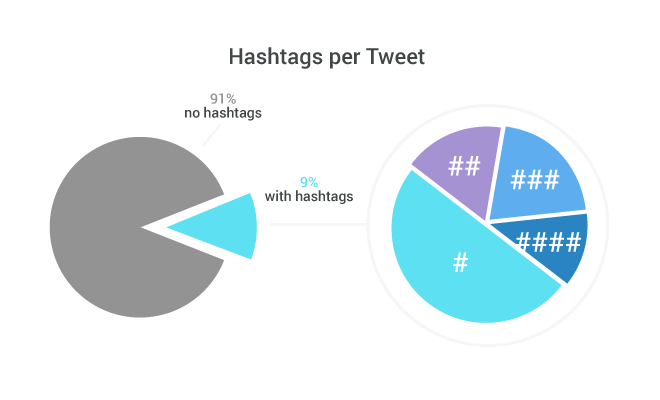 Once we understood that the probability of missing important messages from concertgoers is too high, we started to look for a better way of social listening.
How can we get access to the full stream of social data from an event? We know that the majority of messages shared in social networks are geo-tagged and every event has a certain venue and its borders, hence we can extract all messages within the event borders using use geo-location filtering. Geo-location filtering can raise the number of messages for social media event monitoring significantly.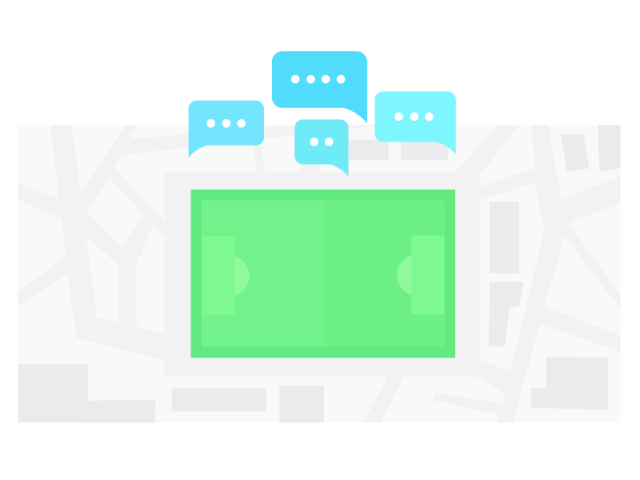 Based on messages collected within event geographical borders, organizers can provide better customer experience to the audience. There are multiple ways of applying the data:
monitor & influence pre-event sentiments;
real time monitoring of audience feedback during the event;
quickly react to problems;
engage with active participants and influencers.
Let's have a look at real messages from an event we've monitored. These messages were extracted from Twitter using geo-location filter. The information slipped away from the concert managers, although it could have been used to provide better concertgoer experience and get more feedback.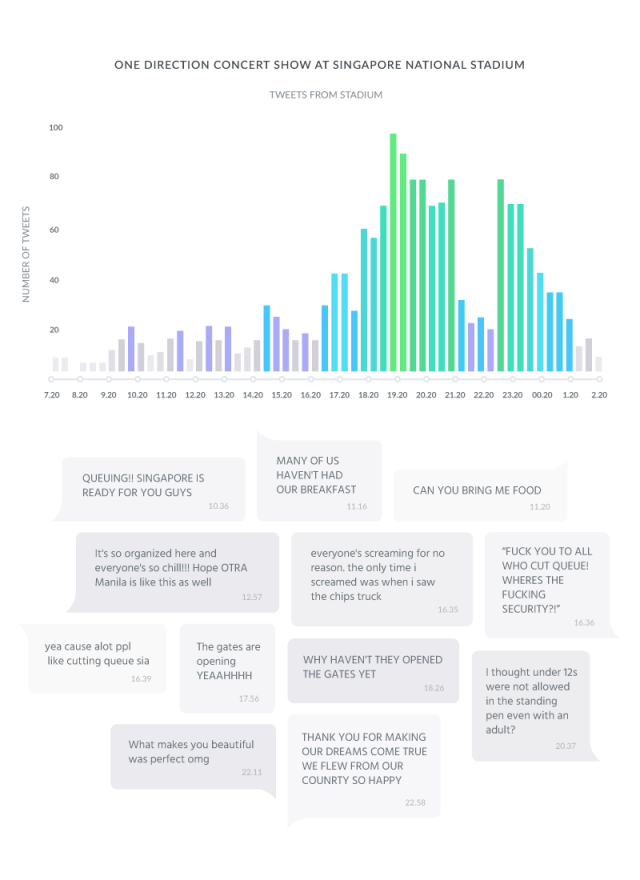 From these several additional messages the organizers receive valuable feedback and some warning alerts as well:
hungry fans are waiting for their favorite group from the early morning. Hungry people can be impatient and even irritable and require more attention. Some food delivery services would be highly appreciated by these most dedicated fans for sure.
people are irritated by the other attendees who cut the queue. More security guards could have been added in these hot zones to control the queue. Afterwards, based on this feedback, entrance scheme should be analyzed and improved for the next event.
an attendee doubts professionalism of the security team. The information spread among the audience may cause worrying and spoil the organizer's image.
The more messages you can detect – the better you can manage various issues during an event: security, timing, communication, customer experience. But detecting and collecting messages is only the first step in social media event monitoring to sensing pulses of an event.
If you deal with social data get ready to communicate and be fast. Without a fast reaction all the efforts will be for nought. Therefor we are already working on a tool for real time social data analysis at our R&D Lab.
Using machine learning, AI and Big Data technologies InData Labs helps tech startups and enterprises explore new ways of leveraging data, implement highly complex and innovative projects, and build breakthrough AI products. Our core services include Data Strategy Consulting, Big Data Engineering, Data Science Consulting.