How modern technologies are impacting the digital supply chain
16 June 2022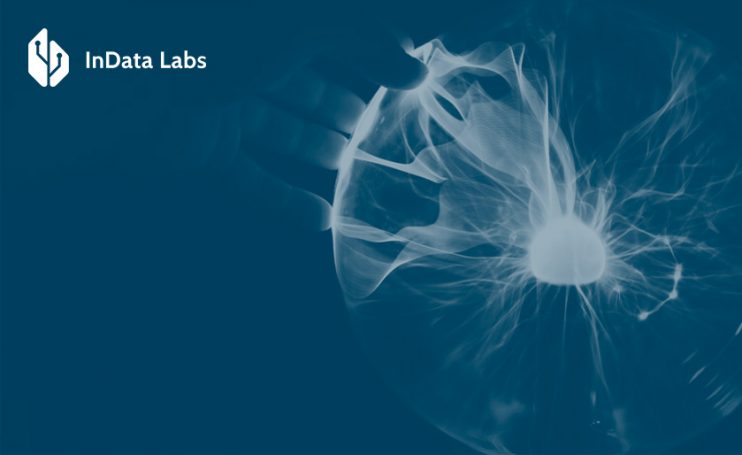 For decades now, the supply chain domain has undergone constant change. Changes in baseline customer expectations, advances in commerce, and the introduction of new technologies have caused the rapid evolution of the entire supply chain. Today, the digital supply chain is more of a global and interconnected network of data, as opposed to the traditional supply chain, which has a purely functional orientation.
The speed of innovation in the supply chain realm has only accelerated over the past few years. Technologies like Blockchain, IIoT, RPA, cloud computing, computer vision, and AI have improved supply chain efficiency and visibility, further fueling the proliferation of the digital supply chain.
The primary aim of a digital supply chain is to bring about real-time and end-to-end visibility across logistics vendors, suppliers, buyers and inventory. These technologies have empowered digital supply chain managers with advanced analytics, thereby permitting improved data-driven decision making, accountability, and sophisticated means to embrace the growing complexities in digital supply chain management.
In this post, we will discuss everything about digital supply chains and throw light on the top modern technologies transforming this segment for good.
What is the digital supply chain?
When we consider the flow of goods from raw material all the way to the last mile, the traditional supply chain is linear. It starts with product design followed by sourcing the raw materials, manufacturing the product, estimating the demand, marketing, accepting orders, and arranging the logistics. Finally, businesses offer visibility into the order.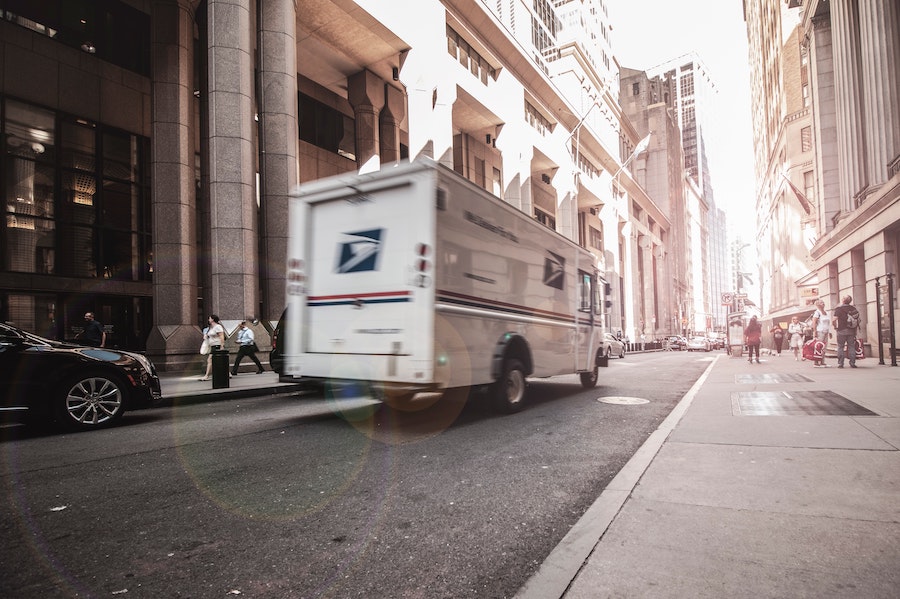 Source: Unsplash
Ultimately, the traditional supply chain is only as strong as its weakest link. So, in case of an issue at a specific stage the risk of missed deadlines increases.
On the other hand, digital supply chain transformation involves leveraging ingenious technologies to ensure real-time visibility of the chain and improved supplier performance. This develops complex relationships while ensuring speed and customization.

What does digital supply chain management encompass?
Here's what a smart digital supply chain involves.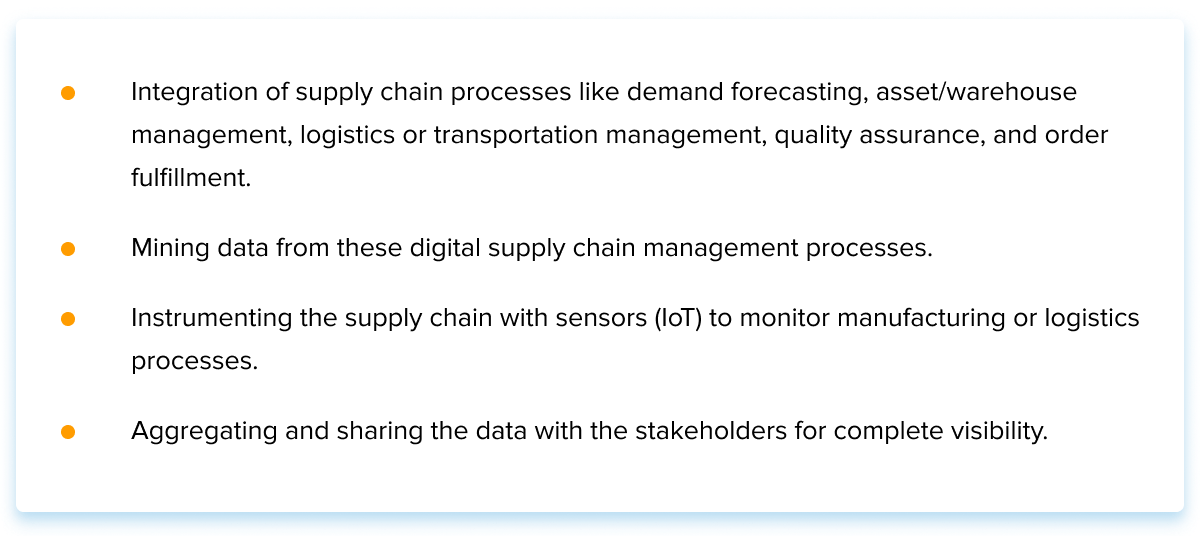 However, making sense of all this data can be overwhelming, especially when the number of suppliers, products, distributors, and customers grows. Advanced analytics and a digital twin supply chain (a virtual model of a physical product/process) can help model the data and predict outcomes.
A digital twin supply chain, for instance, can create a digital copy of the supply chain and create what-if scenarios. Machine learning algorithms can help in performing predictive modeling, thus sharing recommendations on how a professional can respond to varying situations.
Key benefits of the digital supply chain
Oracle sums up the top benefits of a digital supply chain in the below graphic.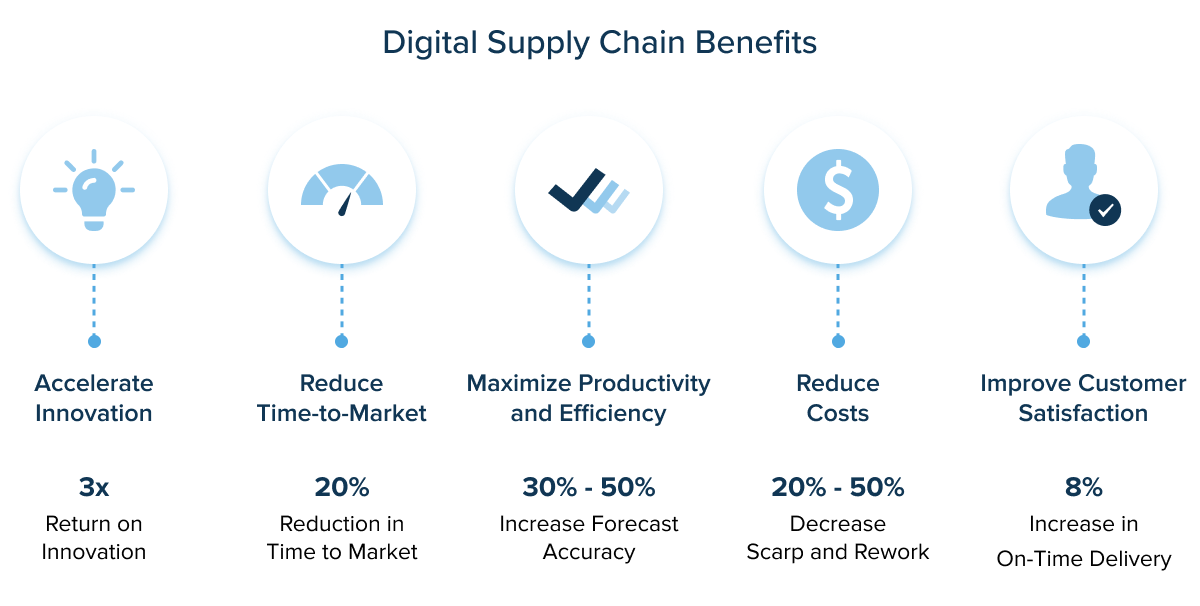 As shown here, when a supply chain embraces digital, businesses can enjoy the benefits of interconnected partners. As a result, there's less information lag and the instances of errors or miscommunication are eliminated, thus improving supply chain efficiency.
Digital supply chain: examples & use cases
Most industry 4.0 and digitization use cases talk about disrupting manufacturing processes or shop floor visibility. However, in this section, we have a few digital supply chain examples and use cases that speak about making the supply chain smart.
Aerostructure suppliers
The aerostructure manufacturing process is highly regulated, demanding high traceability at every stage of the supply chain. In this industry, investing in smart factory solutions and digitizing manufacturing operations can enhance visibility, optimize throughput, and improve the delivery timelines.
Armed with technologically advanced assets like IoT sensors and cloud computing, these suppliers can track the movement of raw materials, monitor machine health, and dispatch goods in real-time.
The technology-powered digital supply chain solutions can simplify visual management and ensure that resources are being used efficiently.
Freight companies
Freight companies often strive to improve their operations with proper tracking and routing of vehicles. This allows them to achieve visibility and process efficiency and lower costs.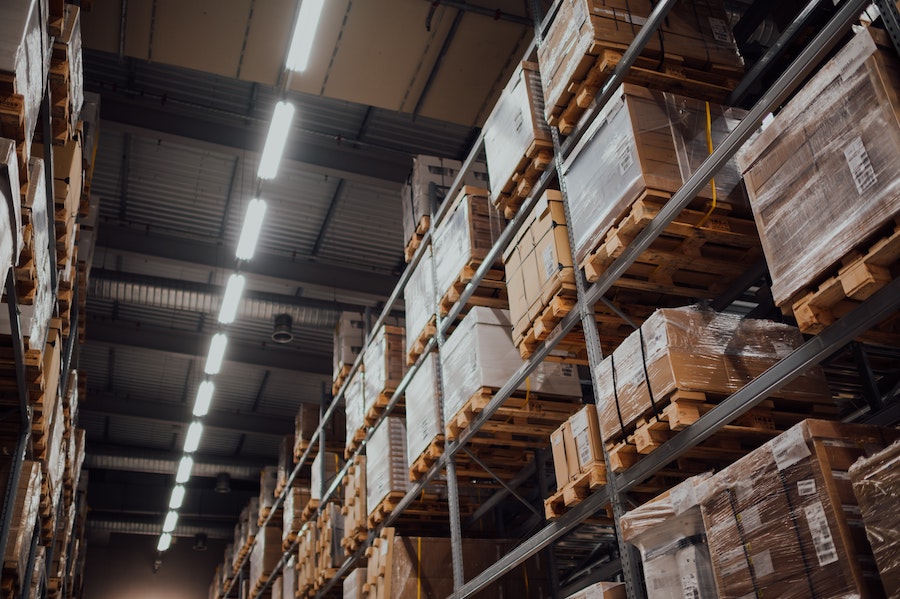 Source: Unsplash
As a part of supply chain digital transformation, these firms can invest in in-vehicle monitoring systems (IVMS) to uphold driver safety and adherence to in-transit condition standards. The system leverages IoT telematics-enabled security features and monitoring devices that precisely report fleet reliability.
Further, data mining at these types of digital supply chain companies can help in making key economic and safety decisions, thereby ensuring fleet optimization and analytics-based safety.
Heavy machinery manufacturing
Inventory idling is a huge cost for heavy machinery manufacturers, because it consumes management resources. This also results in a lack of visibility and excessive finished goods inventory, increasing the operational costs and bringing down process efficiency.
The digital supply chain can help in this scenario by improving quality and productivity and allowing efficient allocation of resources.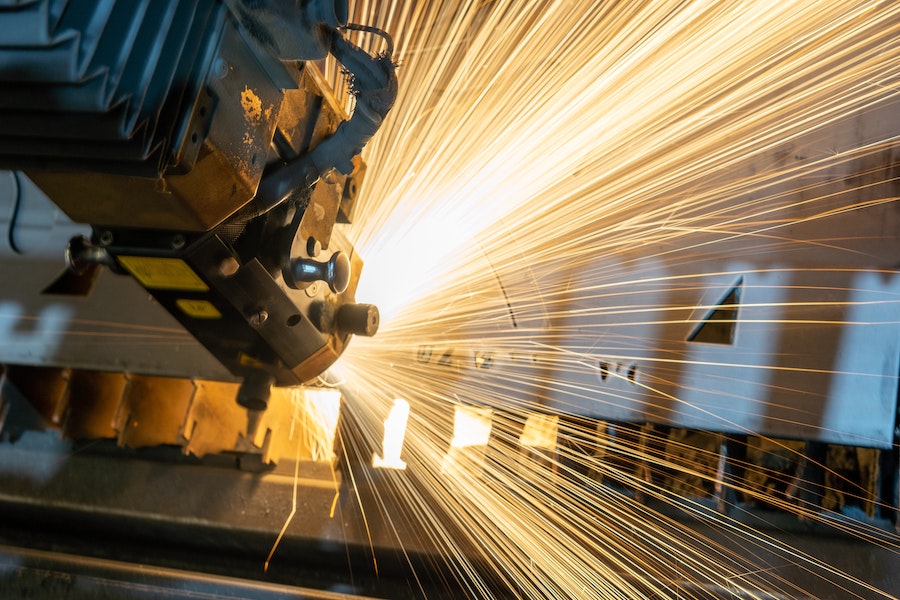 Source: Unsplash
For instance, an asset tracking system powered by sensors can help supply chain professionals locate inventory and align processes with scheduled deliveries. The data captured by these sensors are readily available using apps and dashboards, allowing workers to spot hidden assets. This can take care of a wide range of operational issues, thus enabling optimized shipping of goods as per the delivery timelines.
Consumer packaged goods firms
Packaging firms often find it challenging to rapidly access and interpret data, support cross-functional collaboration, and effectively conduct root cause analysis. Most of them have disparate systems that fail to link data sets, thereby yielding incongruent results that add no value to decision-makers.
Further, digital supply chain transformation allows businesses to integrate automated data feeds, updates, and key metrics to gain end-to-end supply chain visibility.
Top tech transforming the digital supply chain
Today, the top challenge faced by organizations is the lack of transparency in the supply chain processes and the visibility needed for accurate forecasting.
This issue is clearly made worse when businesses are unable to manage and make sense of the large volumes of data scattered across processes and partner organizations.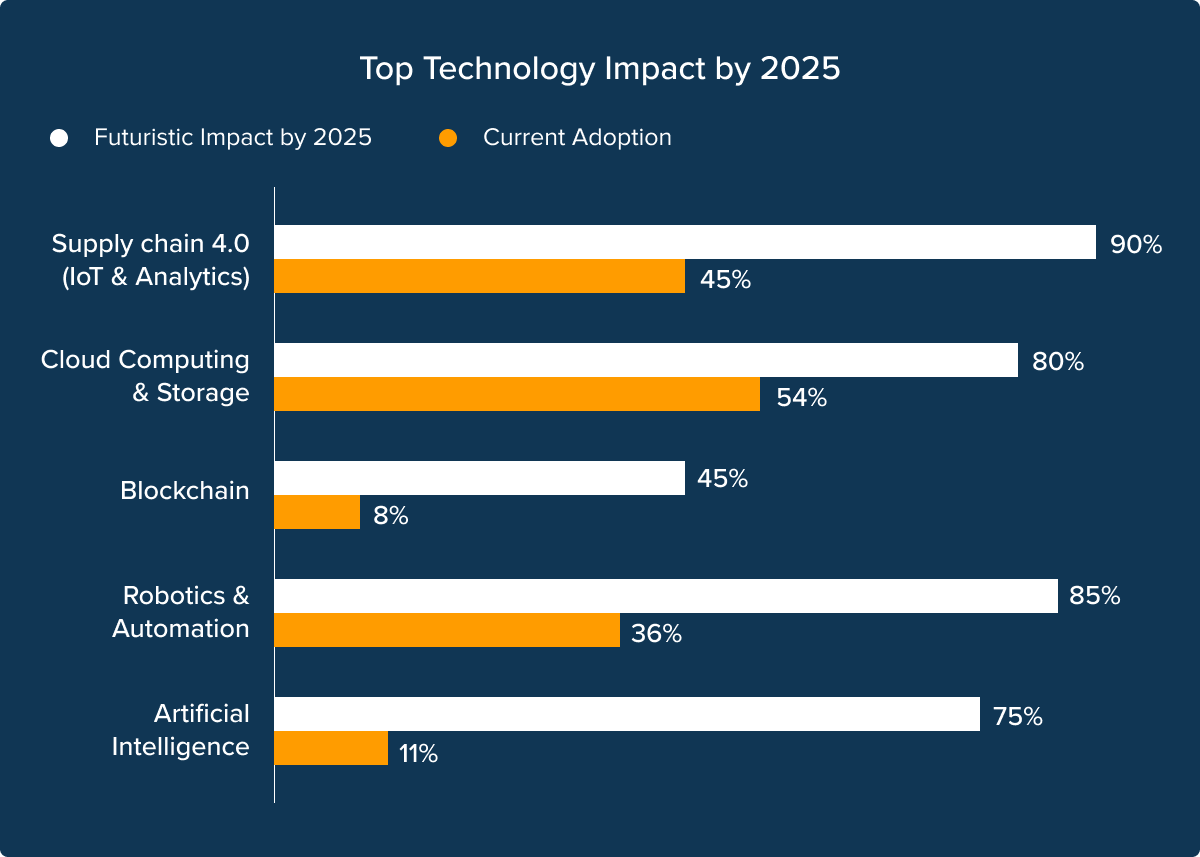 Source: LogisticsIQ
Here are the top emerging digital technologies that are starting to play a big role in improving supply chain transparency. Most successful businesses are leveraging them to drive product excellence and operational efficiency with minimal human intervention.
Supply chain 4.0
Industry 4.0 technologies like robotic process automation (RPA), IIoT, business intelligence, and advanced analytics features improved operational efficiency and transformed supply chain and logistics operations. These technologies laid the foundation for supply chain 4.0.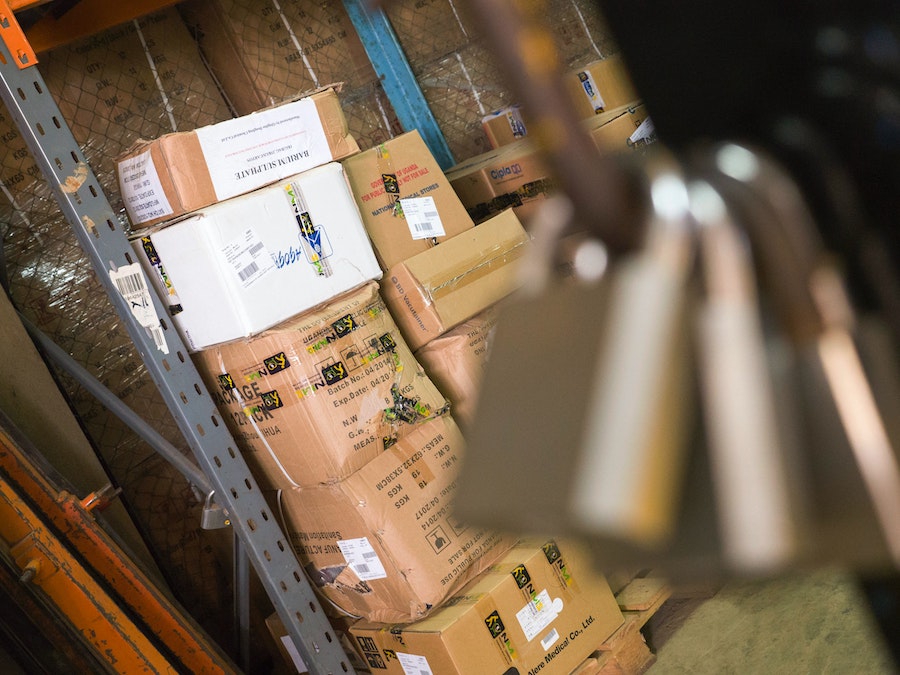 So, what is supply chain 4.0 all about? It's simply the application of IoT, advanced robotics, and advanced analytics of Big data to create efficient supply chain networks, automate logistics, and derive insights from data to improve business performance and customer satisfaction.
Supply chain 4.0 is transforming the linear supply chain model (instructions given from supplier to producer to distributor to consumer) to an integrated one where information flows in an omnidirectional manner.
Supply chain digital transformation ensures:
1.End-to-end transparency. Supply chain digital transformation enables effective data exchange between the organization, multiple suppliers, and customers.
2.Accurate forecasting approach. Predictive analytics allows businesses to minimize forecasting errors by up to 20%.
3.Quick response to marketing demands. IIoT and data analytics empower businesses to optimize supply chain process management, demand/supply planning, cash flow, and other underlying supply chain processes.
For instance, most customer warehouse management systems leverage IIoT and advanced analytics to optimize warehouse operations and space. Similarly, technologies like Blockchain guarantee secure and automated transactions while ensuring supply chain optimization and boosting digital supply chain visibility.
4.Improved CX. Good customer experience is the number one reason customers stay with a brand. Research shows that customers will return to a brand if they've had a positive experience.

Source: PACK & SEND
Smart digital supply chains guarantee improved supply chain visibility, thus empowering employees in customer-facing roles. This helps them quickly respond to queries on the availability of products or order status, thus enhancing the overall customer experience.
Artificial intelligence and computer vision
AI and machine learning aren't new to the supply chain management realm. Yet these digital technologies continue to disrupt this domain by improving demand forecasting and leveraging downstream data, thus increasing forecasting accuracy.
In fact, demand forecasting is one of the most promising areas of artificial intelligence in the supply chain. AI learning algorithms coupled with Big Data analysis are being leveraged to analyze infinite numbers, assess past and current performance, and refine forecasting in the supply chain.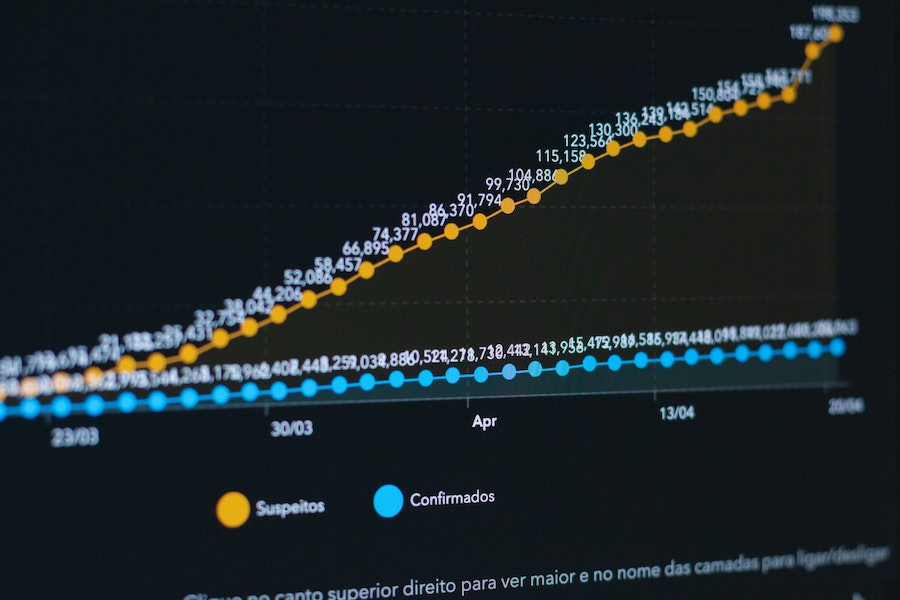 Source: Unsplash
Besides AI-driven demand sensing provides real-time responses to real-time demand and helps gain valuable customer insights like identifying their expectations and the major drivers of customer demand. This also points out the major demand-shaping levers that can help businesses maximize online traffic.
Using smart sensors, supply chain professionals can gain predictive insights and real-time behavior, like the speed of a vehicle or location. Signals from sensors feed the ML and artificial intelligence algorithms, allowing processing and analysis of data and expanding its capability to predict and prescribe the right course of action.
AI-enabled SCM solutions are emerging as a potent instrument for tackling digital supply chain issues. AI is allowing end-to-end transparency in the supply chain and logistics process. For instance, AI-powered and machine learning solutions enable dynamic optimization of routing, freight contracting, and vessel sharing. This hugely reduces costs and the business's carbon footprint.
Similarly, at the procurement level, AI allows full data integration with suppliers and optimization of raw materials based on the forecasted prices.
Computer vision is another field of AI that has opened up new avenues for automated inventory monitoring. The technology allows keeping a track of the inventory (raw materials, in storage, or transit) by leveraging machine learning to process images and videos.
Amazon, for instance, is investing in computer vision to unload inventory trailers and efficiently monitor and manage the entire shipment process. The technology especially helps the E-commerce giant manage the surge in shopping orders during the holiday season.
Robotics
Warehouse automation robotics is one technology that helped businesses maximize their efficiency and ameliorate several supply chain problems. Over the past decade, robotic logistics firms and various data science companies have invested heavily in meshing AI and machine learning and improving the sensors and response capabilities in warehouse management software.
Several brands are realizing the plethora of benefits offered by warehouse robotics. No wonder, we see heavy funding and investment in this segment.
Retail giants like Amazon, Walmart, and Alibaba recently unveiled their ambitious plans to leverage robotic logistics in their warehouses and last-mile delivery. Check out what Cainiao Network, Alibaba's logistics arm, has to say about deploying 1000 robots for the cause.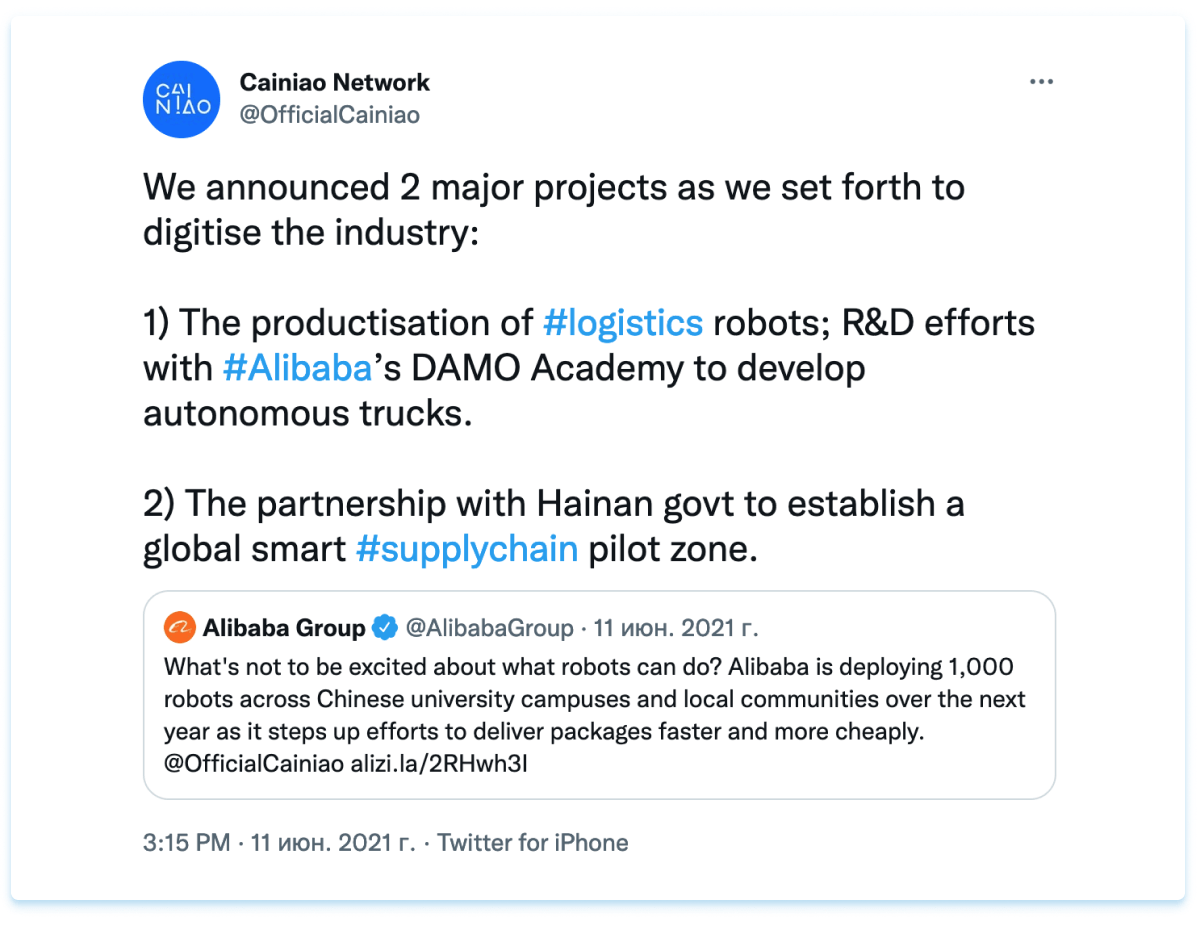 Amazon's announcement on deploying robots at its fulfillment center talks about Autonomously Guided Carts (AGCs) that will make the work environment productive and safe. The portable robots use vision systems, magnetic sensors, and markers to navigate the floor.
The E-commerce giant boasts of a 50% increase in capacity compared to warehouses that don't leverage robotics.
Walmart recently teamed with Massachusetts-based automation company Symbotic to deploy a fleet of autonomous robots, thus boosting efficiency and warehouse capacity. The multinational retail brand has always been aggressive about robotic logistics for solving all the complexities of a global supply chain.
A few robotic logistics technologies that are being used or expected in the future are:
1.Autonomous mobile robots (AMRs) – AMRs use technologies like computer vision, artificial intelligence, and RFID sensors for inventory management tasks.
2.Store robots – These aid in replenishment and tracking on-shelf inventory.
3.Autonomous trucks – Players like Uber, Tesla, Embark, Volvo, and more are eyeing this segment because of the immense potential it holds, as fewer regulatory hurdles become necessary. These trucks will not just boost supply chain efficiency but also alleviate the safety concerns for businesses.
4.Autonomous last-mile deliveries – Last-mile deliveries are the toughest part of the supply chain process. Hence, most businesses are looking to make these deliveries more efficient by testing autonomous delivery bots in cities.
Starship Technologies is a prominent name in this segment that's launched self-driving delivery robots that can carry items over short distances while being monitored on mobile devices.
5.Autonomous freight trains – These have been tested in Colorado and are making their way into the supply chain domain. These trains are equipped with anti-collision technology that's powered by AI and machine vision systems.

Blockchain
Too much supply chain data isn't visible, accessible, or trustworthy. This lack of visibility has severe consequences. For instance, businesses are unable to proactively manage customer issues or quickly respond to revenue opportunities. Further, it attracts costs, due to unplanned inventory and operational technology.
Fortunately, Blockchain technology is making it easy for supply chain partners to share trustworthy data and use it to build resiliency for the future. The technology is improving the supply chain processes by ensuring cost-efficient delivery of products, enhancing product traceability, and improving coordination between partners.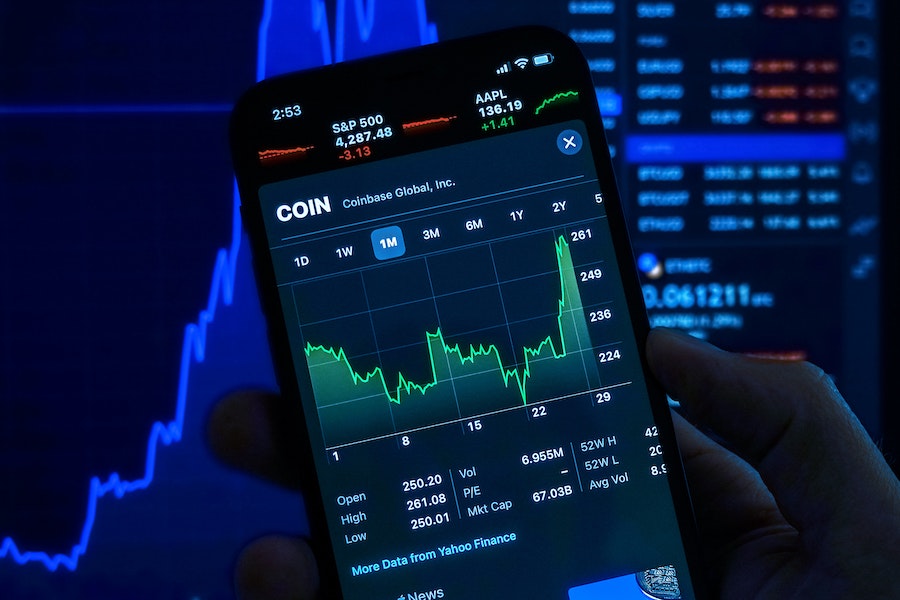 Source: Unsplash
Blockchain-based ledgers can be programmed to automatically trigger transactions. For the supply chain domain, the Blockchain's function is to give access to only limited known parties, thus protecting business operations from malicious supply chain attacks. The technology also improves supply chain transparency and compliance with outsourced contract manufacturing.
By implementing Blockchain, supply chain professionals can record critical information like the product price, location, date, certification, and more, thus improving the traceability of material and lowering the losses due to counterfeiting.
Blockchain solutions are being applied in shipping logistics, food production, luxury manufacturing, pharmaceuticals, and more. For instance, tracking pharmaceutical raw materials during the manufacturing process is challenging because of the wide prevalence of counterfeit drug operations globally. In this scenario, Blockchain's immutability creates a strong foundation for material traceability across the supply chain, thus identifying the areas where the chain breaks down.
Drug majors like Pfizer, United Healthcare, Roche, and others are leveraging the Blockchain in pharma to control the authentication of drugs. With this, they can ensure efficient cold-chain shipping, achieve digital supply chain visibility, and ensure regulatory compliance.
Similarly, shipping companies like Maersk are investing in Blockchain to manage their freight tracking. This ensures that everyone in the supply chain has a mechanism to enable tracking the status of shipped goods.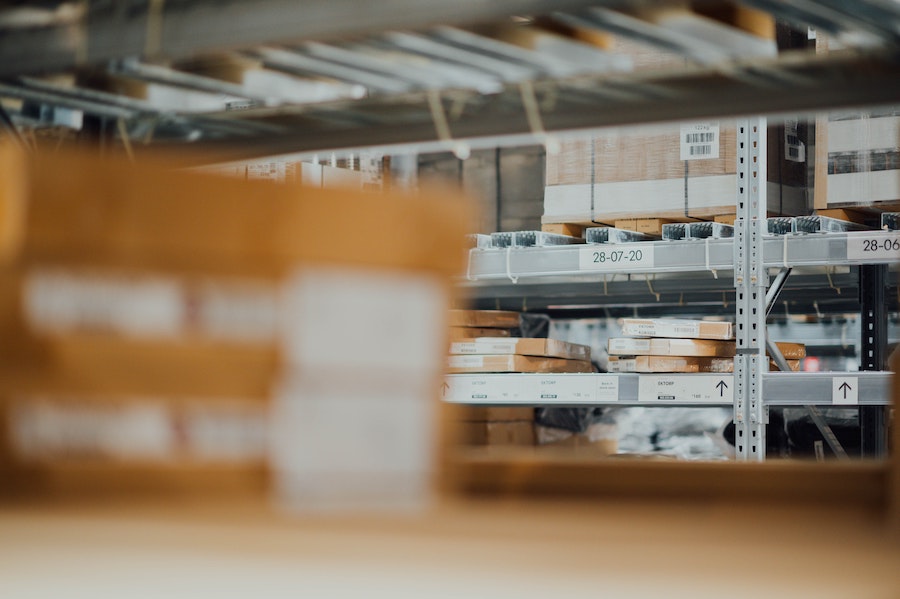 Source: Unsplash
Also, products shipped across borders often need multiple approvals from parties, thus increasing the risk of maritime fraud. To overcome this issue, shipping companies are collaborating with custom authorities to streamline the approval process. By applying Blockchain technology they are creating a secure record of transactions and approvals, thus reducing the administrative and logistics timelines.
Cloud computing
Cloud computing is making it possible for supply chain professionals to track products through their lifecycle. Cloud services continue to be an attractive solution in today's business scenario that's cost and resource-constrained.
No wonder, businesses aiming to achieve forecasting accuracy, supply chain visibility, and inventory optimization are heavily investing in cloud solutions. In the 2022 MHI Annual Industry Report, 54% of companies shared that they will be increasing their cloud computing investment to make their supply chain more resilient. In fact, Gartner predicts that the spending on public cloud solutions will reach $482 billion by the end of this year (a growth of 21.7%).

As mentioned earlier, businesses need technologies that empower them to visualize the entire supply chain in real-time. This alone can help them make data-driven decisions to locate containers and shipments, collaborate with suppliers, and meet customer demands.
Cloud computing solutions are delivered as software as a service (SaaS) models that focus on forecasting, planning, logistics, service, spare parts management, and sourcing/procurement. For instance, cloud computing can support businesses in spare parts management. Spare parts can be ordered at a minimum level of availability to prevent shortages. RFID technology can help track inventory location, thus ensuring accountability.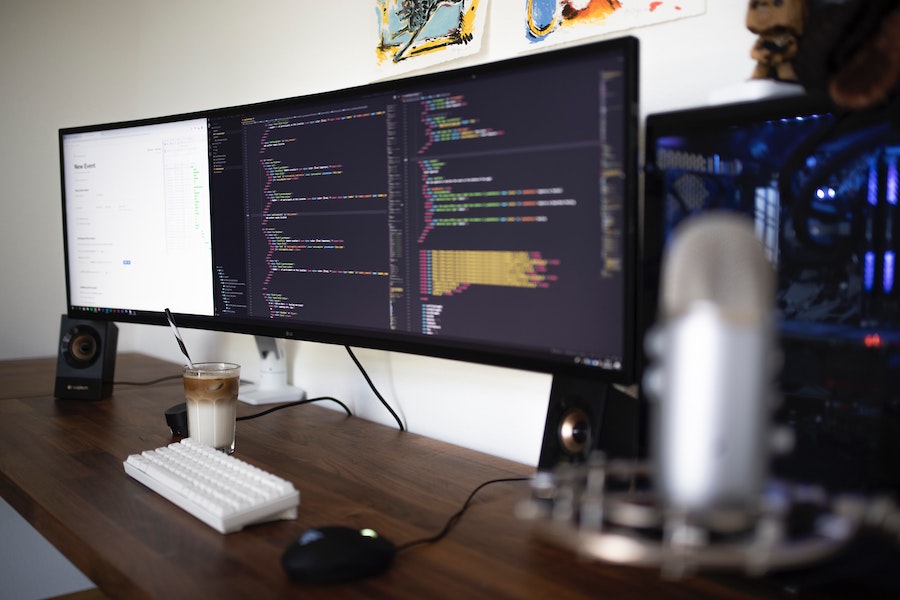 Source: Unsplash
In today's fast-paced business environment where customers, suppliers, and trading partners are highly demanding, businesses can only thrive on agile supply chains. Cloud computing solutions can transform a traditional supply chain into a dynamic one, while ensuring visibility, control, and collaboration across all trading partners.
Final word
Supply chain digital transformation is a fitting response to the major supply chain pain points. The rapid adoption of the digital supply chain with technologically advanced system integration is streamlining the supply chain processes and enabling high levels of connectivity and collaboration across departments.
Supply chain professionals have come to realize that investing in real-time technology and the smart use of data will help them heighten supply chain agility, efficiency, and visibility. We are sure the information shared in this post will convince you that supply chain digitization is making life easier for all the key stakeholders in this process.
Need help with supply chain solutions development? Contact us, and we'll set up a call to discuss your business needs and how we can apply technology to it.