The COVID-19 has pushed retailers over the tech tipping point making them believe that technology will be in retail for the long haul. And considering the lessons learned during the pandemic, it certainly will.
Let's take a look at how the COVID-19 has boosted digital transformation of businesses recently. Below you can find the statistics on responses to the global survey question:
Has the COVID-19 pandemic sped up digital transformation in your organization?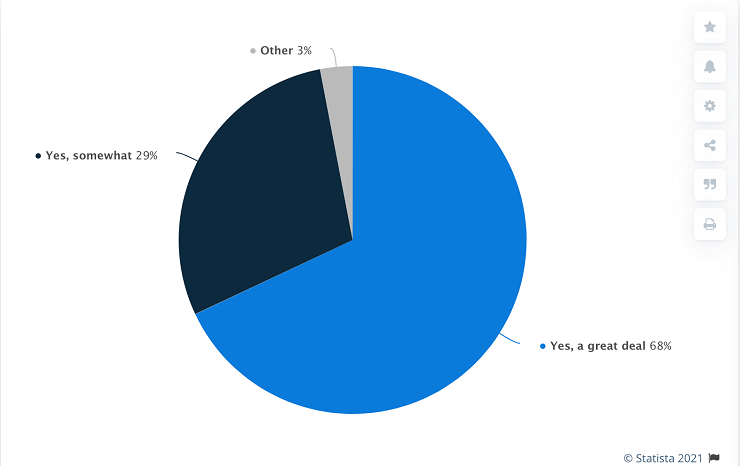 Source: Statista
Showing respondent percentages answering "A great deal."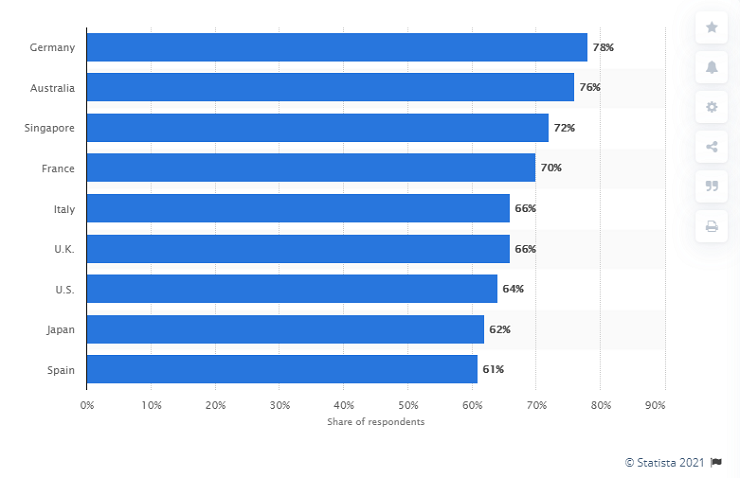 Source: Statista
For now, there's no doubt that digital transformation is slowly but surely paving the way into the retail industry. Technology implementation today is a must-have to be able to adapt to the changing environment as well as the necessity for businesses in a long-term perspective for prosperity and longevity. The time requires making quick decisions and using technology-wise tactics, thus, to hold up well, retailers should think of adopting technologies if they haven't done so yet. To know what technology and how to use it, read further.
Computer Vision in Retail: Use Cases
Computer vision technology interprets and understands the visual world around us. In brief, it automates what human visual perception does. Computer vision in retail comes in many shapes. Real-time store monitoring, inventory management, shoplifting prevention – these are only a few things the technology can do. Now let's consider the key computer vision applications in retail.
Retail Store Security and Loss Prevention
NRF states that retail crime costs retail businesses $719,548 per $1 billion in sales up from $703,320 in 2019. And that's a lot. When traditional security tools don't work, technology comes to the rescue.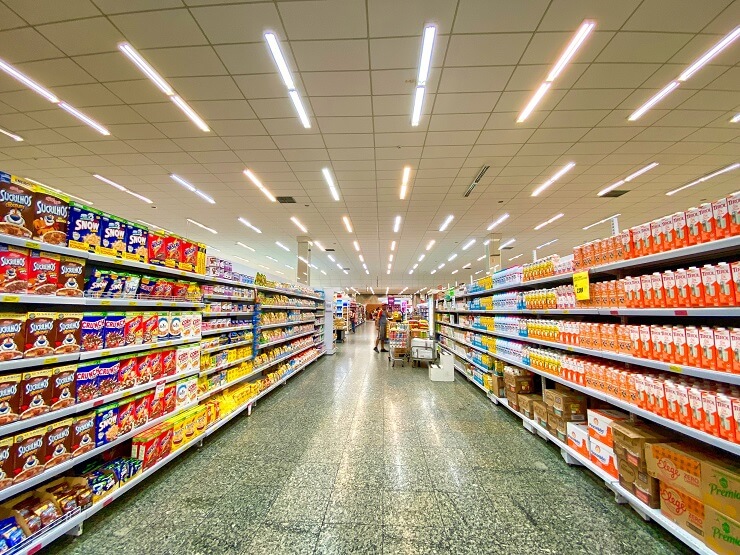 Source: Unsplash
Today, most stores have surveillance cameras. Which makes it easy for retailers to strengthen their security systems with face recognition. Face recognition solutions aim to combat retail crimes through face recognition and identity verification. They watch people coming into the store and if a visitor is a person of interest for the database, they send an alert to the security manager.
US supermarket Walmart has been using surveillance applications relying on face recognition. The app keeps an eye for criminals. It scans the face of a visitor, identifies unwanted persons and sends immediate alerts to the security teams.
Another innovation Walmart adopted is AI-powered visual scanning. The retailer uses missed scan detection technology to spot if the item lands in the bag without being scanned. Self checkout registers are equipped with AI-driven visual cameras that prevent store shrinkage.
Southern Co-op had deployed facial recognition in 18 Portsmouth stores with high levels of crime for shoplifting prevention and anti-social behavior detection. The company mentioned that they wanted to protect stuff during the rise in retail crime across the UK.
Reinventing Customer Experience and Boosting Retention
Looking for the root of the problem in your retail business? Think of poor customer service. Most times, even loyal customers brandswitch because of the non-satisfactory customer experience. If you don't want "worst come to worst", you'd better learn how to understand your customer better. And that's where you can get help from face recognition applications.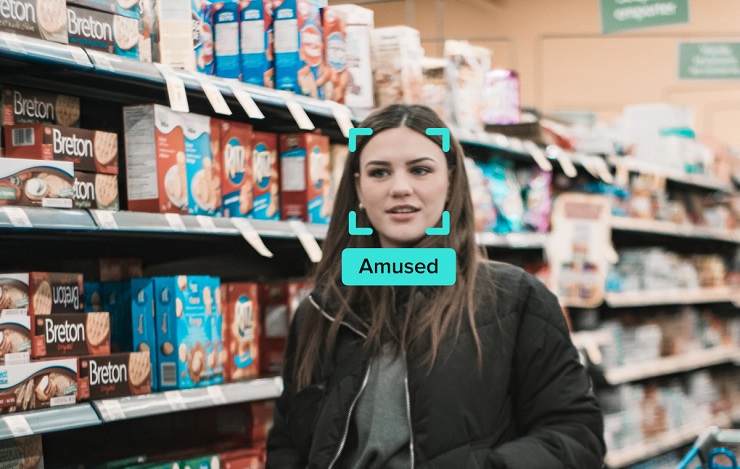 Source: Unsplash
Integrating the technology into your store's infrasturcture, you'll identify disgruntled customers and notify your stuff so they can assist them with questions about the products or services. For example, if your customer is unhappy standing in the long check-out lines, you'll be quick to address it. According to the stats, it's easier to retain old customers than acquire new ones. So investing in facial recognition technology for customer service seems like a great option for retailers.
Face recognition in retail is the key to mapping the personalized experiences for your customers. The face recognition technology can be also used to improve customer loyalty. Integrated into the surveillance system, it detects and greets special clients as soon as they enter the store. Once the system spots a VIP client, it instantly notifies the managers so they can offer the guest special food and beverages. And this is how customer greeting tools powered by facial recognition can bring superior customer service to the table.
Store Access Management
Facial recognition access control solutions are slowly replacing the traditional cards, pins and keys in stores. The solutions of this kind are safer, since the face of every person is unique and there's a zero chance to spoof it with printed images.
Access management solutions offer the following advantages:
touchless identity verification
provide/ban access to restricted areas feature
clock-in/clock-out time tracking
masked face detection
AR in Pandemic: Bringing Digital to Retail
The lockdowns across the world resulted in a dramatic decline in sales and closed stores across the world. According to Coresight Research, over 9,300 U.S. stores had to close in 2019. And 2020 left much to be desired: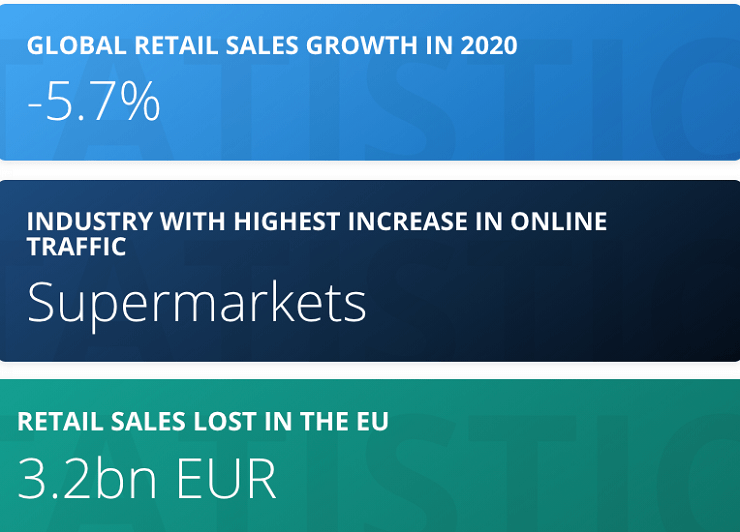 Source: Statista
With the pandemic apocalipsis, retailers had to watch for the latest online retail trends and find a way to keep the head above the water. And the tech transformation was there to help things get back to normal. AI and computer vision in retail have helped business owners to deal with the decline in sales.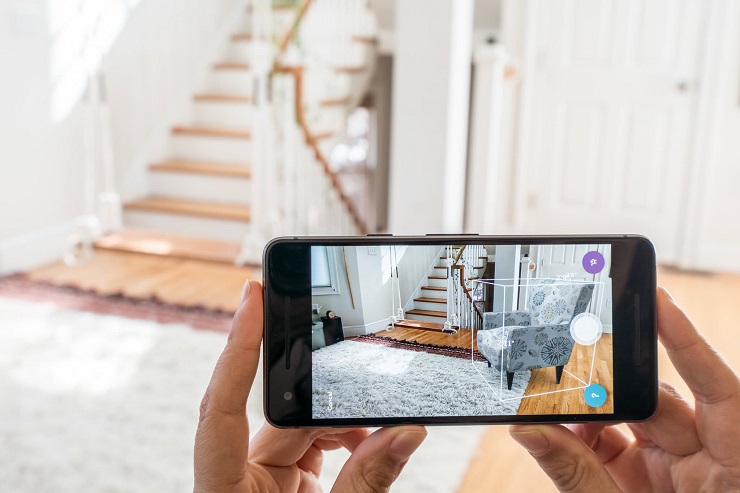 Source: WAYFAIR
Making the leap to the digital was not easy but necessary. And those who wanted to handle the crisis, started selling online and deploying tech tools to boost customer satisfaction. "Try-before-you-buy" experiences placing 3D furniture at your home or helping you try on luxury makeup virtually have gained more popularity ever since the pandemic started. Today, AR (Augmented reality) is one of the top computer vision solutions for the retail and E-commerce industry.
Recently, AR has become an essential for Gucci. They released a pair of trainers to be seen only in digital environments. Shoppers can try them on using AR visual effects and wear them in pics for social media. The idea behind the development is to wear shoes just like an average face filter and post it online. And that's where ARketing (AR-powered marketing) comes to the scene. Offering experiences that can be shared in socials boosts word-of-mouth marketing and attracts new audiences.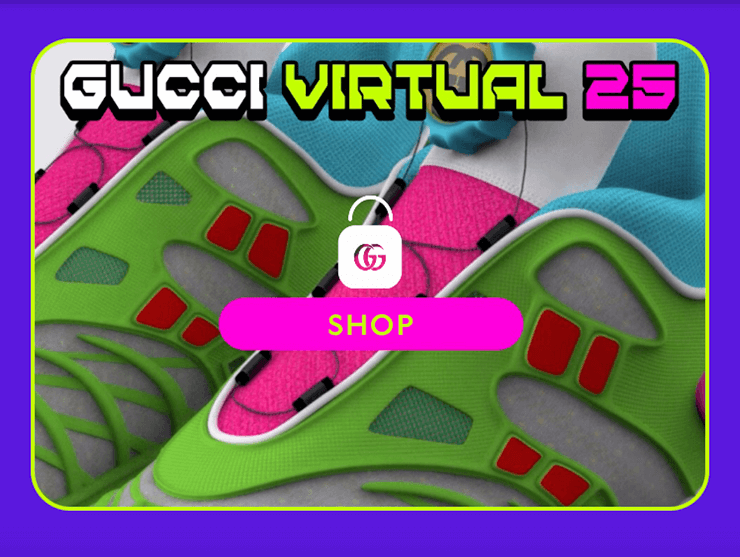 Source: dezeen.com
Providing shoppers with an opportunity to virtually try on sneakers, the brand encourages further interaction with the brand and builds customer loyalty.
Maybelline has been unleashing the power of facial recognition for retail for a while. They use AR to let their customers try cosmetics on without being able to physically do that. Giving customers a sneak peak before they buy a product is a great way to engage them and attract more interest to the brand.
Aside from makeup cosmetics, they've introduced virtual nail polish powered by image recognition technology. It allows for fast and accurate image detection and recognition. Maybelline offered customers to download the Blippar app to interact with printed ads from different magazines. The phone camera detects the nails on the magazine pages and allows the user to try a nail color on in real time. The solution enables image sharing on social media that helps build a stronger brand through spreading the word.
Real-time nail polish try-on, makeup and shoes try-ons, smart mirrors and virtual dressing rooms, face filters – these are only a few examples of computer vision solutions for retail.
Final Note
The COVID-19 has forever altered the retail industry. It has accelerated the technology adoption and pushed retailers to become tech-wise. Today, AI and computer vision retail applications help business owners scale up most processes, improve security and safety, and better customer service. The latter allows to grow the client base with remote shopping and increase revenue.
It's safe to say that for now, the technology is a friend that helps navigate retailers during these difficult times, and those who deploy it, will flourish the time ahead.
Need to deploy facial recognition in a retail store or other computer vision solutions? Get in touch with our computer vision experts to see what solution can empower your retail business.