Supply chain challenges have ravaged global trade throughout the COVID-19 pandemic. Now, some private ventures look for new ways to avoid problems and mitigate bottlenecks through Big data analytics in the supply chain.
The market for Big data analytics in the supply chain has reached a value of $3.55 billion and is expected to reach $9.28 billion by 2026. That's because companies realize the value of data analytics in informing supply, demand, and a host of other metrics that influence supply chain operations. But just how does Big data affect the supply chain? What is it that Big data can teach us about supply chains that make it so valuable?
Big data teaches us about supply chain performance and efficiency if we apply the right lenses. By learning to analyze and use this information effectively, supply chain managers gain powerful competitive advantages. Cutting unnecessary expenses, solving supply issues, and enhancing productivity can be done through Big data in logistics and supply chain management.
Role of Big Data analytics in the supply chain
Let's start by examining its role in the supply chain. These interlinked topics play into one another, forming the basis of business intelligence in the modern era. Then, supply chain managers use Big data analytics to draw actionable insights from the vast stores of data available on the digital marketplace.
Big data consists of any datasets too large for traditional analysis to comprehend. Instead, analytics techniques require the help of artificial intelligence to parse patterns out of the raw data. AI has come to be instrumental in supply chain management for this reason.

For instance, inventory is one of the most important components of supply chain logistics. However, businesses typically ship far too many products to track and monitor them all using human workers. Instead, analytics tools come into play.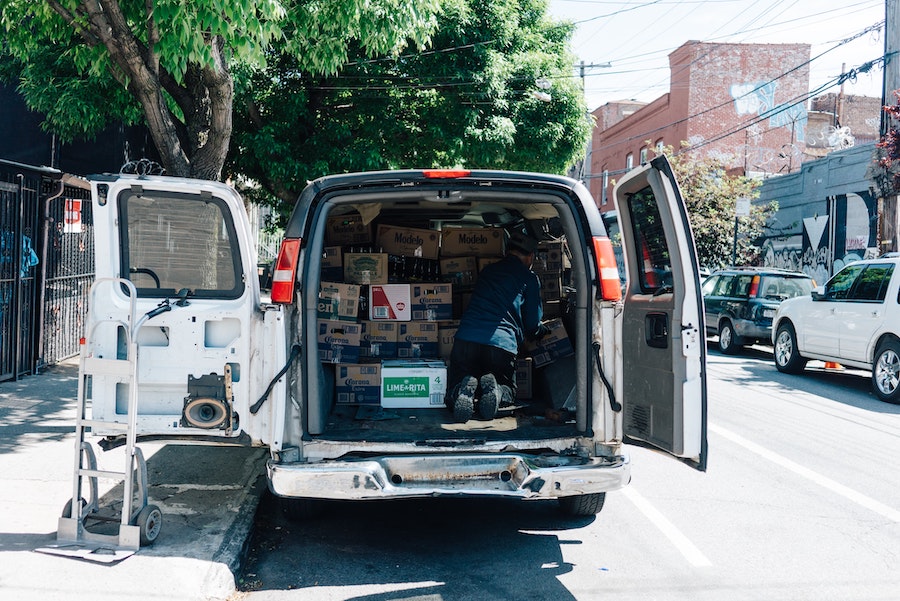 Source: Unsplash
The Big data gathering and assessment software popular among today's suppliers help to prevent inventory loss and shrinkage. This is possible through innovations like the Internet of Things (IoT), and its application in the industrial sector (IIoT), which connects industrial-grade sensors and monitors to singular dashboards of information. The result is comprehensive networks of Big data with built-in analytics processes.
From here, maximizing the productivity of your supply chain becomes a matter of exploring improvements from recommendations in the data. These are just a few of the functions Big data analytics can fulfill in improving a supply chain:

In fact, the applications of Big data in business are as widespread as the supply chains themselves. Since data represents hard facts, companies can transform this information into actionable strategies for improvement. Strides in technology have only made this easier.
Through the revelations inherent in Big data, the manufacturing industry at large stands to improve. This has important implications for all consumers. However, to better understand these implications, it helps to have more concrete supply chain Big data use cases.
Important Big Data supply chain examples
Supply chains around the world have experienced the impacts of Big data as industry 4.0 enables new business solutions. Modern tech is more connective and powerful than ever before, with 5G wireless networks and cheaper, faster storage. Because of these innovations, more data is available to be collected and analyzed for supply chain insights.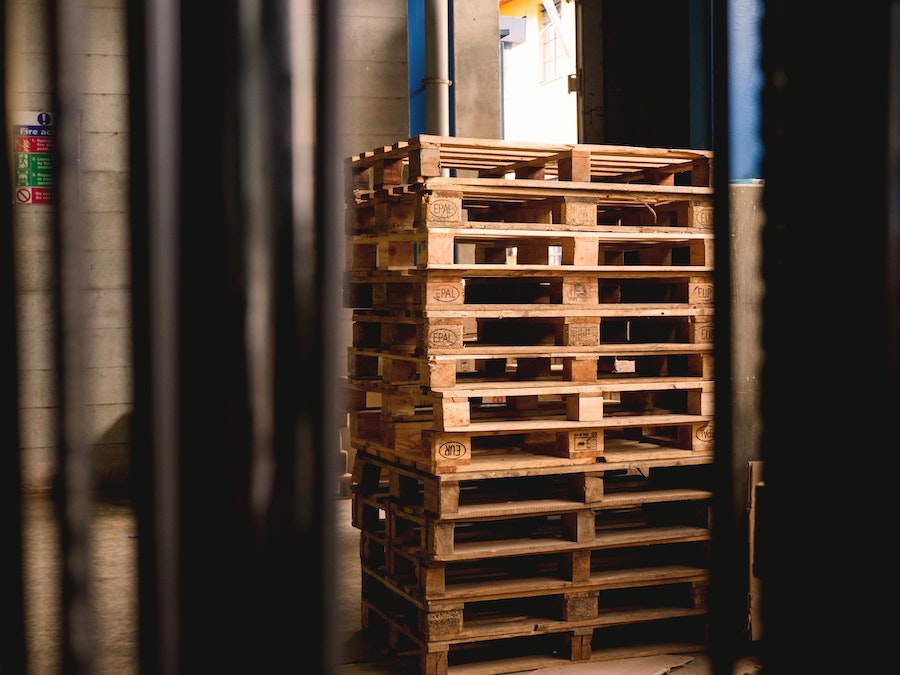 Source: Unsplash
Large companies have taken notice of these technologies. Supply chain Big data use cases crop up everywhere, giving businesses opportunities to drive value through data-driven actions. In many of these cases, organizations have applied data analytics to reveal telling details about their supply chains.
With information comes the ability to improve. This is how the Big data supply chain wins in the real world:
Blue Yonder predicts retail needs
As the COVID-19 pandemic has proved, retail supply and demand rates can be finicky. To improve the accuracy of logistics capacity predictions, Blue Yonder developed a data-driven predictive analytics system for forecasting probability distributions for 130,000 SKUs. This system is helping retailers improve planning and demand-sensing capabilities, reduce overhead, and streamline the overall ability to do business.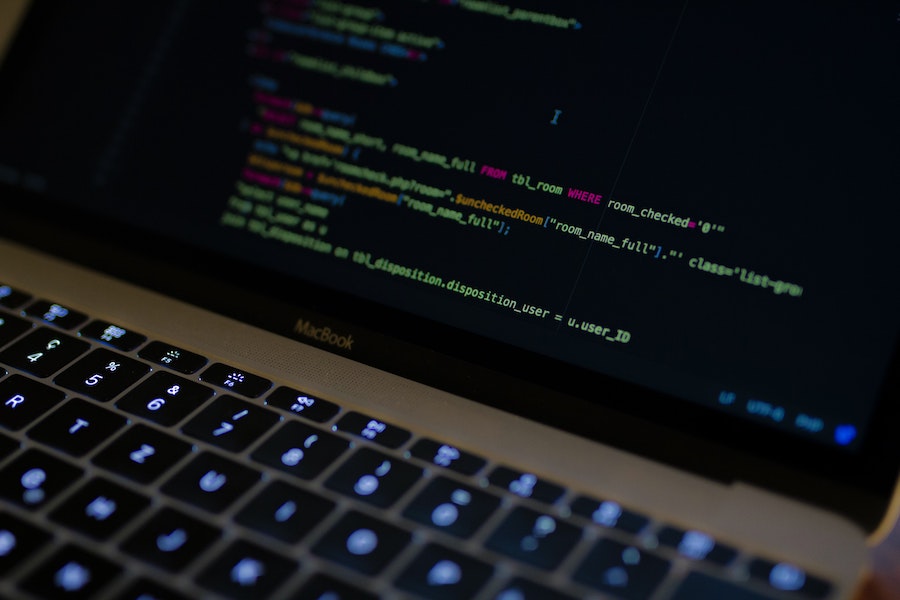 Source: Unsplash
IBM uses weather data to inform bakery supply
Similarly, IBM has made it easier for bakeries to accommodate fluctuating consumer demand based on a predictive analytics system that uses weather data. Since temperature can play a crucial role in the kinds of foods we tend to want, using this information to predict supply needs has the potential to better protect supply chains. Bakeries run the AI-powered process and estimates for material and ingredient needs are fed back to them. As a result, these businesses reduce food waste and pass those savings onto customers.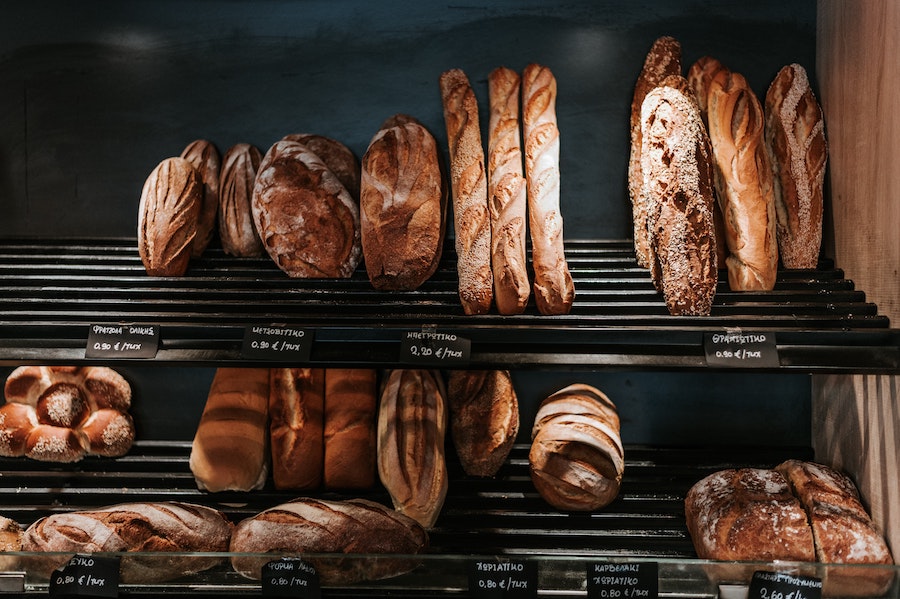 Source: Unsplash
With potential like this inherent in the supply chain Big data analytics market, all kinds of businesses are better off adopting these tools. However, applying big data in the supply chain isn't always straightforward. Success with analytical tools requires insight and best practices.
Applying Big Data in supply chain management
When applying Big data in supply chain management, business leaders must understand that not all data is created equal. Similarly, some analytics trends will produce results that align more or less with your business goals.
As you plan to incorporate Big data tools for better supply chain management, it's essential to understand how data and tech support a workforce. Mobile tech, for instance, is changing the ways we work, particularly in manufacturing businesses, connecting remote employees through devices. But without the proper precautions, an exercise inconvenient data gathering becomes a cyber threat for customers.
To secure your own data insights, learn how to better apply supply chain Big data analytics. Here are some tips that can help: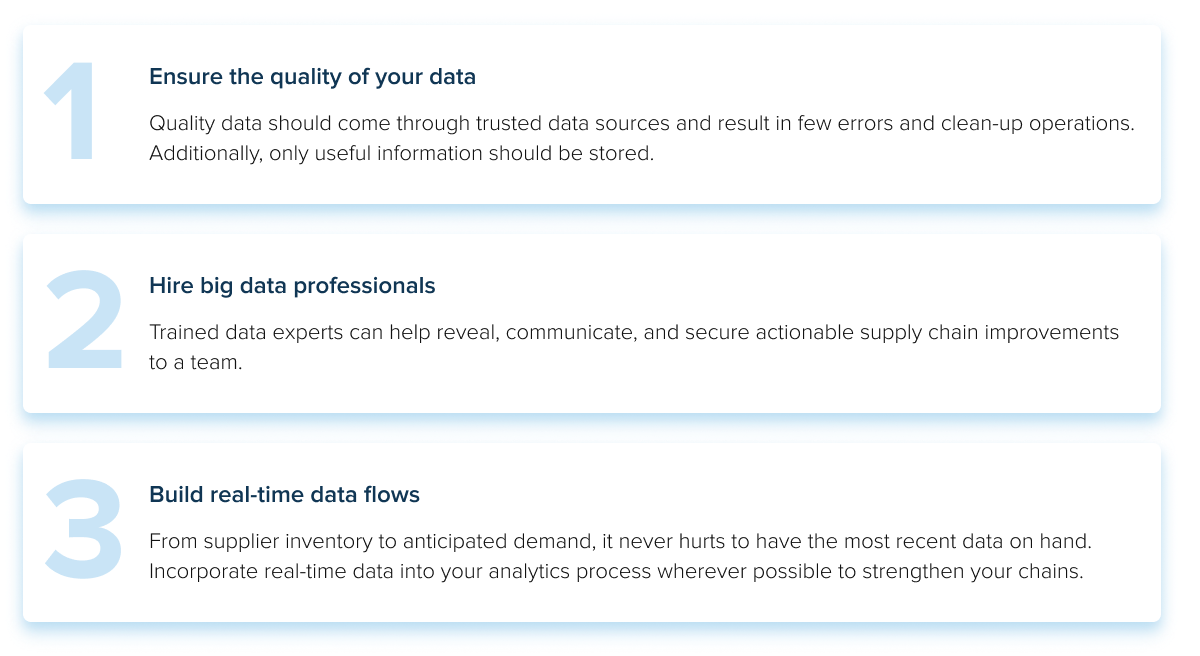 Big data analytics require insight and expertise to integrate. Without trained staff available, you'll have to invest in employee training for the supply chain Big data analytics market. From here, accumulate high-quality data that reveals insights into the supply chain from inventory to routing.
An employee-focused implementation process for big data analytics can get your entire supply chain engaged in improving its own potential. Integrate these tools to streamline your supply chain overall.
Streamlining supply chain with Big Data
Big data in logistics and supply chain management is one of the primary drivers of global business innovation. In the supply chain, it teaches us everything we need to know about improving routes, inventories, and sustainable practices. With AI Big data analytics tools already on in the market as inventory management systems and IoT devices, supply chains are becoming more transparent than ever. By incorporating these tools in modern business practices, we stand to stabilize global supply chains all over.
As the world looks to solutions for pandemic-era economic problems, Big data has a lot to offer. Consider its role in visualizing and understanding your own supply chain.
Author bio
Frankie Wallace is a freelance writer. She enjoys writing about trends in technology, data, and business, but occasionally goes back to her roots with socially active journalism. Frankie spends her free time gardening or off hiking in the mountains of the PNW with her loved ones.
Looking for a skilled team of engineers to take on your supply chain project? Contact us, and we'll get back to you with ideas on how to develop the best possible solution for you.