Business Intelligence Trends 2019: AI for Data Management
24 April 2019
Today, the digitization of businesses is in high gear. Digitally mature businesses harness exceptional opportunities. They can attract a larger audience, better predict consumer needs, automate in-house operations, save time and expenses.
Business Intelligence (BI) is a tech-driven process for analyzing data. It implies that emerging technologies are extremely important for the BI industry. Latest business intelligence trends are closely interlinked with artificial intelligence (AI) technologies. The role of AI in modernizing various internal and external operations cannot be overemphasized.
The Role of AI-Driven Changes to Business Intelligence
AI is poised to become a breakthrough in the development of many industries. Businesses will adopt AI-powered solutions to provide up-to-date products and services. According to Accenture, 40% of industry leaders agree that AI is going to impact their companies in the next 3 years. And the number of adopters of the technology is growing.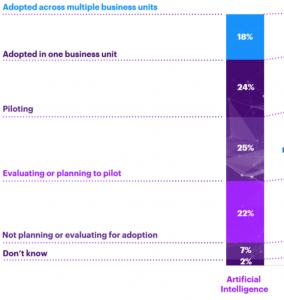 Source: Accenture
AI is going to revamp BI since the technology unearths new analytics opportunities. AI-bolstered solutions introduce changes into modern data management, business process management, data preparation and crunching, to name a few. The solutions help bridge the gap between non-expert users and complicated BI reports. AI changes the approach to handling unstructured data, increases the value of output, and influences modern trends in business intelligence.
1. Data Quality and Master Data Management
Data-driven decisions of employees depend on the quality of data. Input data should be consistent, accurate, and unique. It should also reflect a real-time situation and match data rules to be valuable and reliable.
Master data management is a method of bringing together key data and creating a single point of reference. It can be information about clients and consumed services stored and prepared for further usage. The method allows smooth usage of data across CRM, ERP, and other systems.
The method makes it easy to merge on-premise and cloud-based solutions. To add more, it helps eliminate data duplication, minimizes discrepancy, increases the effectiveness of partnership, and ensures an improved customer experience.
In this context, AI is perfect for maintenance and support processes. It assists in automating routine and repetitive data management tasks. AI algorithms can recommend data standards and ensure high-quality data processing without human intervention. It can be helpful for data-driven businesses in logistics, retail, healthcare, banking, and finance industries.
2. Data Discovery and Data Visualization
Data becomes more and more complicated by nature. But AI-powered tools can make data digestible for users. Therefore, data discovery comes as one of the hottest BI trends. It is a process of discovering patterns and detecting outliers in unstructured data. It results in bringing together enterprise data and unstructured data retrieved from external sources.
Users need a visual presentation of data to get relevant information at a glance. And machine learning (ML) algorithms enable drawing up charts and graphs in no time. It provides in-depth statistics and insight and speeds up decision making. Such an agile and flexible approach makes data usage simpler and more productive.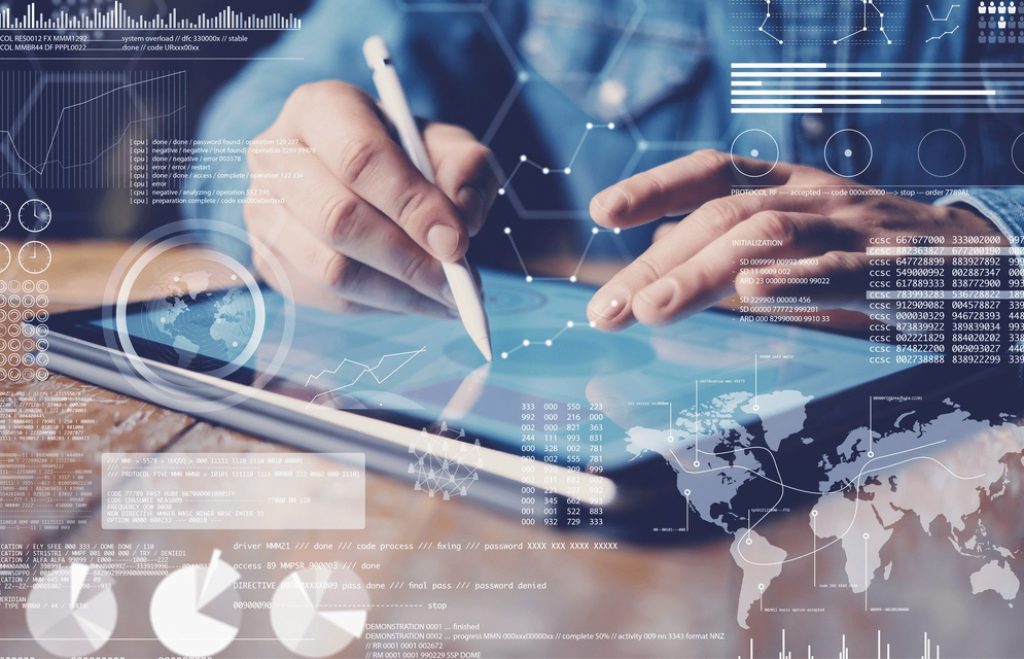 Source: Shutterstock
3. Data Governance
Data assets of any company require special attention. It's vital to guarantee that corporate data should be trustworthy, secure, and correct. Both in-house business operations and interactions with new partners and clients depend on the maturity of data governance. This practice brings in many benefits:
sets rules of data usage
facilitates data-driven processes at the administrative level
streamlines both in-house and external contacting
minimizes risks of data misuse
reduces costs of data management
Data governance plays a critical role in achieving compliance with different regulations. Let's take for instance widely discussed digital rights and data protection policies. For a company being compliant with GDPR means having personal data under control. Using uniform data companies can smoothly incorporate emerging technologies and tailor new business strategies.
4. Advanced Analytics and Machine Learning
State-of-the-art ML algorithms enable making complex calculations to recognize data patterns and generate new information. Employees can go beyond simple data management by using advanced and predictive analytics. Advanced analytics can help with such tasks as data segmentation, categorization, in-depth analysis, and forecast generation.
Gartner says that ML transforms the ways BI eхperts develop, consume and share analytics content. The result is some tangible benefits for asset management, marketing, HR, and sales departments. Among the perks that advanced analytics provide are the following:
forecasting of the outcomes of new business policy
prevention of machine failures or contract breakdown
boost for customer support
efficient social media monitoring
Strong data-based predictions can help revamp business strategies and establish new cooperations.
5. Modernization of Data Warehousing
Business intelligence is a perfect area for implementing emerging technologies. To build top-notch ML models, engineers need massive amounts of training data. And the BI field is abundant in data.
ML and data warehousing pulled together takes traditional operations to the next level. ML boosts data warehouse solutions in terms of better performance. It can be used to eliminate data duplication, maintain up-to-date critical data stored in a data warehouse, and make data accessible at any time. To add more, ML allows using data at scale to improve current business strategies and light up new perspectives.
ML makes complicated data warehouse services clear even for non-technical users. When data infrastructure and data sources are verified, tuned, and streamlined, they can manage the services without the risk of breakdown.
To Sum Up
AI-driven transformation of businesses is not a matter of competitive advantage - it is a necessity. AI-powered BI solutions change traditional methods of processing data and making decisions.
Click To Tweet
Modern BI trends are focused on automated and effective ways of data crunching and methods of representing data in digestible formats. Visual presentation of data makes complex BI reports clear for non-expert users. Advanced predictive analytics allows foreseeing outcomes of crucial business decisions.
Businesses of all stripes need a powerful data-driven strategy. It is a must in case company leaders want to succeed in navigating business development in line with the latest tendencies. And BI implementation is the right thing to do to define successful future perspectives.
Start Your Next BI Project with InData Labs
Have a project in mind but need some help implementing it? Drop us a line at info@indatalabs.com, we'd love to discuss how we can work with you.