InData Labs recognized by GoodFirms as the best company to work with
15 March 2023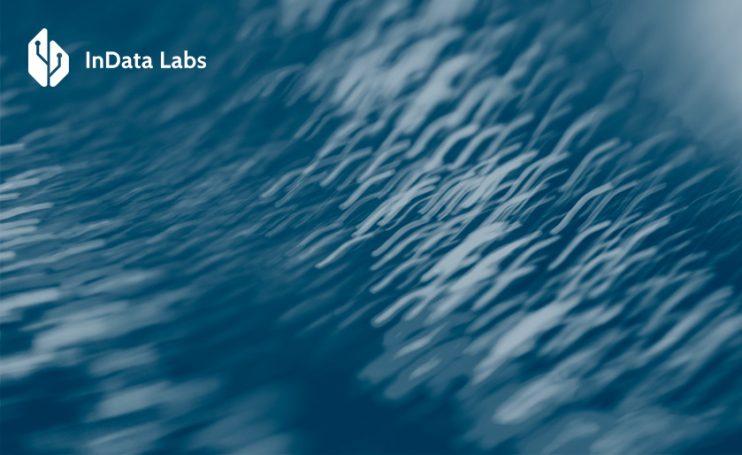 It is worth noting that Artificial Intelligence and Big data share a synergistic relationship where artificial intelligence requires large volumes of data to make improved decision-making processes. AI & Big data solutions provide real-time inputs for enhanced data analysis and support companies in being flexible and competitive in a rapidly changing business environment.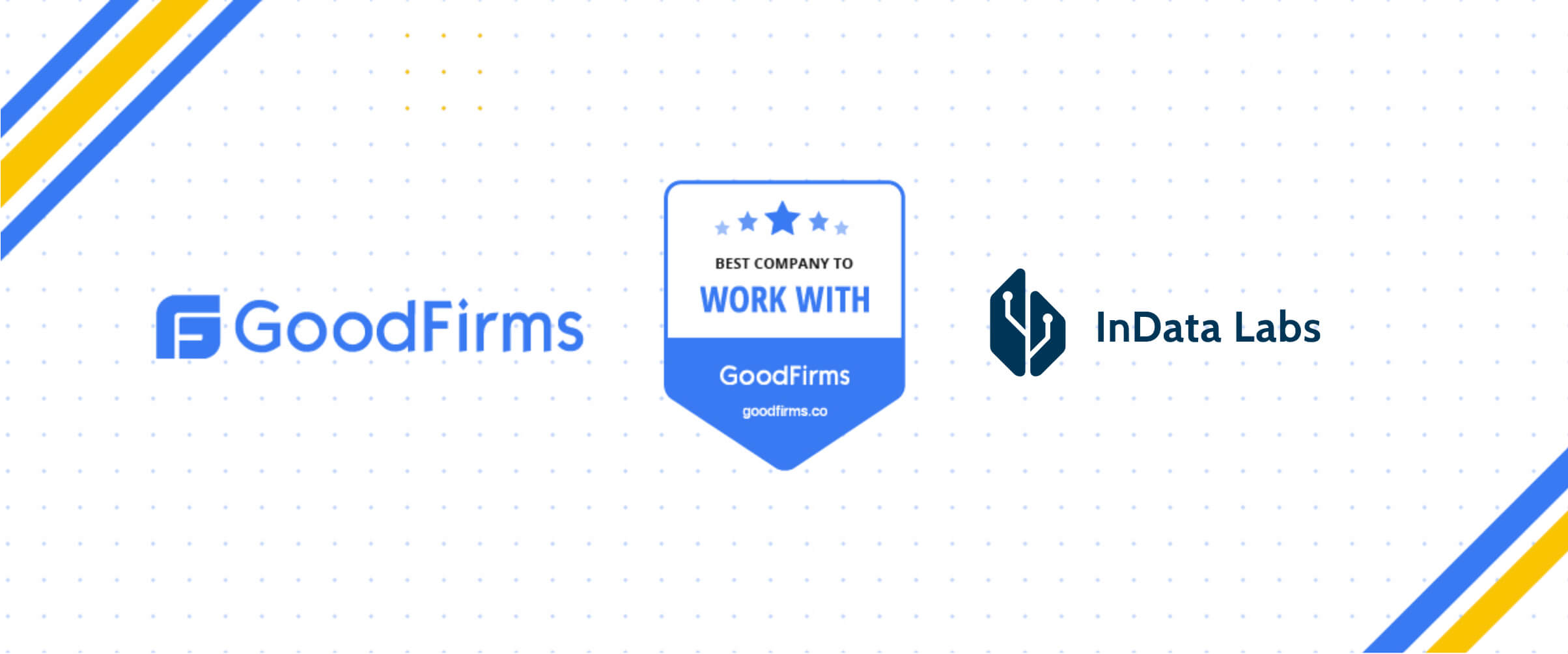 Businesses can now quickly extract meaningful insights using advanced tools, methodologies, and technologies, and can leverage the power of the trio to conduct accurate and in-depth analysis, and create smart strategies to achieve business goals launching personalized digital marketing campaigns, implementing predictive maintenance, recommendation systems or other.
Top-rated IT Research and Rating Company and the Best B2B Platform, GoodFirms has recently recognized InData Labs for its proficiency in artificial intelligence development, and has placed the company as the leading industry contender in addition to recognizing it as the "Best Company to Work With."
InData Labs is a leading data science company and AI solutions provider established in 2014; having its own R&D center with offices in the U.S., Cyprus, and Lithuania.
The company also holds expertise in other areas, including a wide range of cloud development services, custom software development, and mobile app development.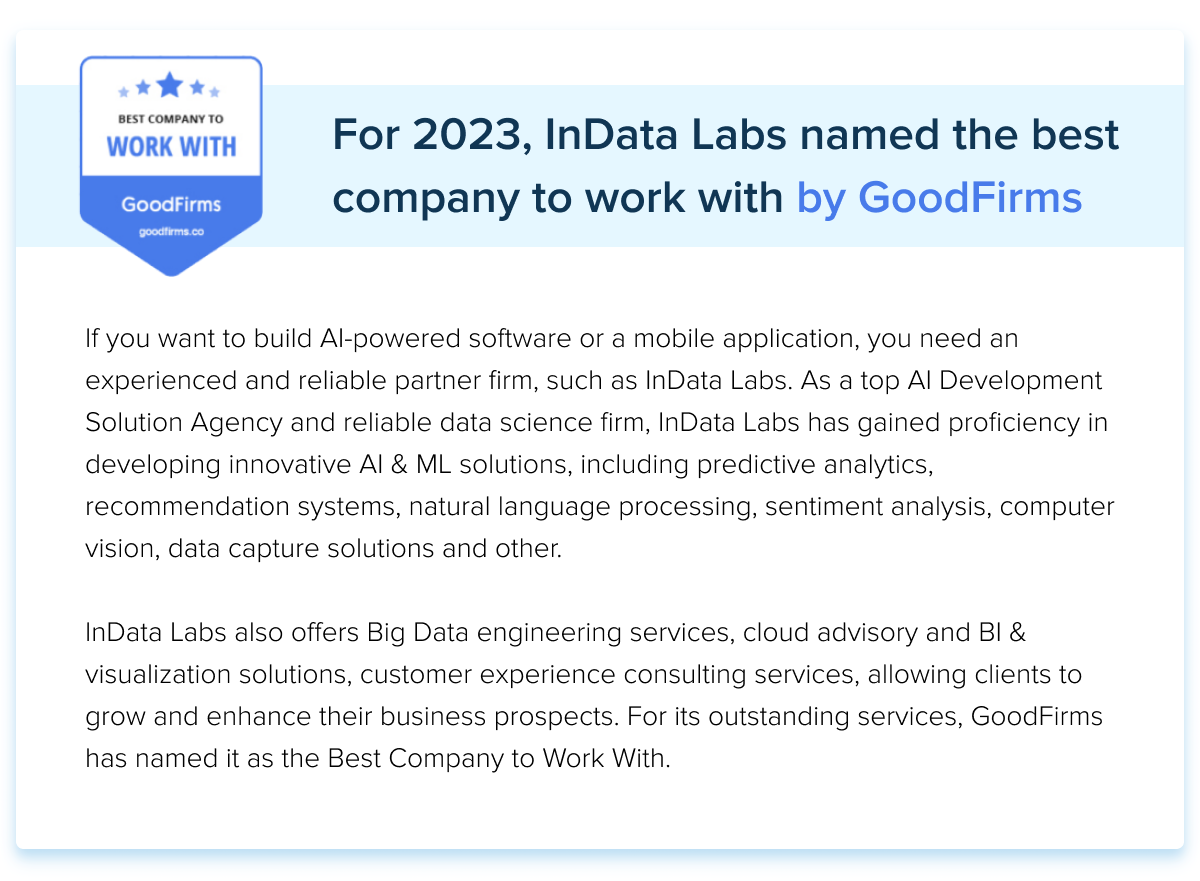 InData Labs – strengths & vision
InData Labs harnesses innovation to help its clients from diversified industries to solve complex issues like massive data analysis and insight collection, resource management and business process optimization, customer feedback analytics and brand health monitoring, customer churn prediction and market forecasting, inventory management and cargo damage detection, smart design engineering and defect detection, anomalous financial transactions detection and more. The InData Labs proprietary technologies unlock the potential of clients and help them gain credibility and expand onto the global market.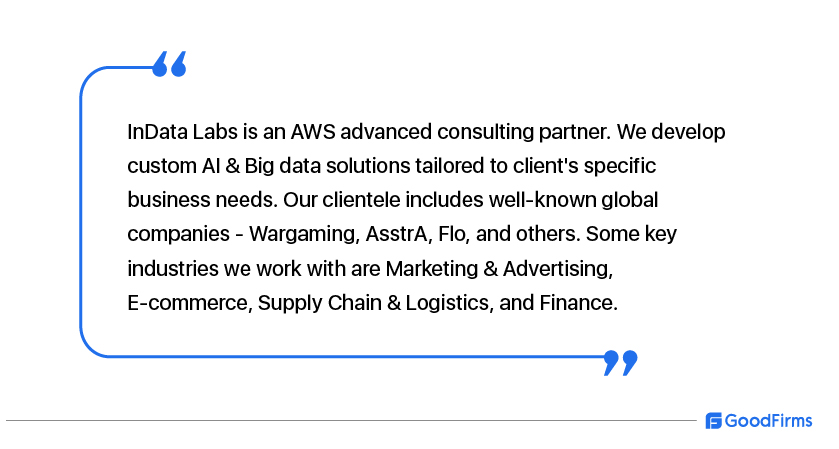 InData Labs has worked for versatile business domains since its inception in 2014. One of the key recent projects included implementing an intelligent marketing campaign management solution with analytical and forecasting capabilities for the client from the E-commerce industry.
The solution offered integrated ads management, budget optimization & forecasting, which enabled the client to increase performance and access personalized predictions for the users. If not for the help of InData Labs, the client wouldn't have automated marketing tasks and reduced significantly marketing spend.
Why is InData Labs named the best company to work with?
The spectrum of Artificial Intelligence is becoming broader with the introduction of AI-driven solutions and other innovative products. Hence, companies specializing in providing AI tools and solutions must remain one step ahead of the prevailing competition to gain an edge over their competitors. InData Labs is already empowering businesses with AI tools and Data Science solutions, enabling them to stay ahead of the game.
GoodFirms believes that InData Labs has become one of the European top-notch AI development and Data Science companies. It has helped businesses develop custom AI solutions from scratch, AI-based mobile apps, and Big data and data science solutions.

About GoodFirms
GoodFirms is a B2B research, review, and listing platform helping businesses accelerate their digital journey and maximize modern technology's value. The company connects service providers with service seekers through a comprehensive and thoroughly researched fact-based list of the best services and solutions. Recognized as the most reliable source for the B2B market, GoodFirms has world-class experience with partners across the globe.
We're grateful to GoodFirms for putting trust in our company and naming us one of the best companies to work with in 2023. We will continue to embrace disruption and innovation and help our clients advance their business.