Top 10 big data analytics companies
28 October 2021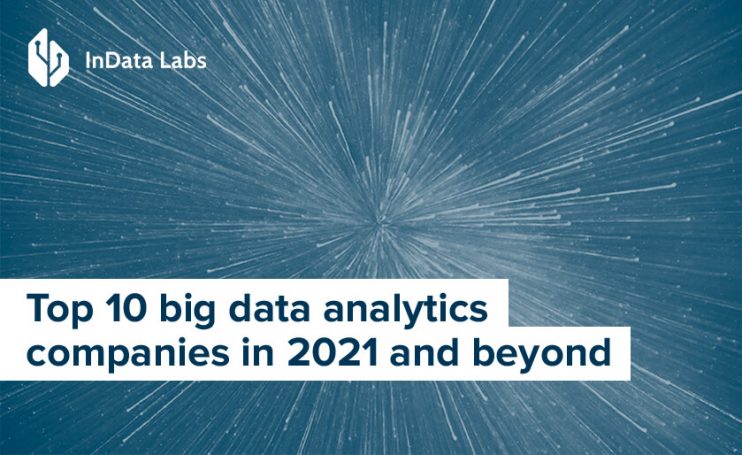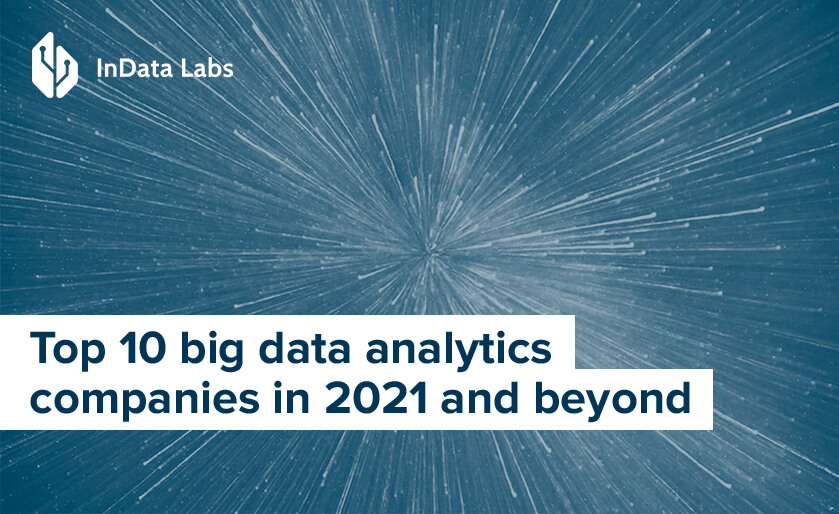 Global digitalization has led to the inflow of immense amounts of data. It means that big data analytics companies are riding the wave of popularity these days. And their stand is justified.
Without Data Analytics, organizations aren't able to comb through this avalanche of information. Hence, raw data renders all activities ineffective. That is why data analytics has become an indispensable part of businesses of all sizes. It allows them to make smarter business decisions and deliver improved products and services.

So if your records still go unanalyzed, it's high time to contact some big data development company.
To save your time and effort, we've compiled a list of top big data analytics agencies. This will allow you to choose the best big data analytics companies for your business to achieve the business goals set. We'll also walk you through the major trends of the Big Data analytics market.
The best Big Data analytics companies
Data Analytics is an umbrella term. It encompasses a great number of data analysis techniques. All of them transform intelligence into insights that contribute to the decision-making process.
Virtually any industry can benefit from this discipline. Big data retail helps companies tap into the minds of their customers and grow their revenue. Precision medicine and Big Data complement each other to predict diseases and recommend an effective treatment. You get the gist – smart analytics consulting companies are your friends.
InData Labs
Location: Nicosia, Cyprus
Established in 2014, InData Labs is one of the leading data science companies with a global stand on the market. It provides a wide range of full-cycle services for AI development in various domains. The company specializes in digital health, martech, logistics, E-commerce as well as game & entertainment, fintech, and others.
InData Labs has a solid track record of 50+ successful Big Data and AI projects. Its clientele includes a variety of companies all over the world and multiple industries. Within the realm of data science, this company is an expert in predictive analytics, forecasting, and recommendation systems development. Natural language processing, data retrieval / extraction, and OCR are also the fortes of this company.
Today, its R&D center guides global businesses in achieving operational accuracy and efficiency. The latter can then be implemented in other applications like computer vision systems. InData Labs also works in partnership with other R&D departments to deepen their expertise in smart business solutions. The company has also worked to become one a B2B artificial intelligence leader in 2021 by Clutch.co. With machine learning and artificial intelligence, this company offers bespoke innovative data analytics solution services that support businesses.
Databricks
Location: USA, San Francisco
If we're talking about the tech giants, Databricks is one of those companies. It is an enterprise software company founded by the creators of Apache Spark. The company inherits the finest of data warehouses and lakes. This powerful combo has laid the ground for an open and unified platform for stats and AI.
The company's platform unifies all records, analytics, and AI workload. This solution simplifies your IT architecture and gets rid of the operational silos. This way, organizations enable massive-scale engineering and collaborative data science. Databricks' portfolio includes A-list companies like Shell and T-Mobile. Amazon and Google also work in close partnership with this tech provider.
Alteryx
Location: USA, California
Established in 1997, Alteryx is one of the oldest tech companies on the market. But despite the age, it still takes a leading position among big data analytics consulting companies. The company's products are mainly used for data science and analytics. The mission of the company is to make advanced analytics accessible to any data specialist.
For example, Alteryx Analytics presents a platform for intuitive data preparation, blending, and transformation. With this platform, users can prepare statistics within mere hours. All these – with no special skills or professional developer help. Hence, the company offers a different expertise-free approach to analytics with excellent transformation capabilities and an intuitive interface.
Talan
Location: France, Paris
This company is one of the top healthcare big data analytics companies. Besides its prime location, Talan also has offices all over the world, including London, Geneva, New York, Hong Kong, and others. Its expertise is not limited to Big Data services only. The vendor also offers tech strategy consulting, smart automation, AI, and other services.
For over 10 years now, Talan has been supporting organizations in digital transformation. Today, their experts guide companies in data visualization, warehousing, information security, and others.
BJSS
Location: United Kingdom, Leeds
This award-winning software agency is considered being among the best companies for big data analytics in the UK. In 2018, their contribution was awarded a Queen's Award for Enterprise. Today, they provide tech services to the British government and work with the world's largest organizations.
BJSS offers a wide range of tech consulting services, including Machine Learning and AI, cloud, and automation. In particular, the team enhances enterprise data platforms and helps manage the provision of data. The company also boasts expertise in predictive and prescriptive analysis. On top of it, it's an acknowledged provider of proven machine learning solutions for businesses.
Atlasopen
Location: Australia, Victoria
Atlasopen is a top-tier data and software engineering company from Australia. They offer a wide range of services that span various verticals. Their team works across web and app development, cloud, and data fields. Other services are rooted in the Digital Marketing sphere.
AtlasOpen works closely with Government and global enterprises to gather insights from their records. They also help businesses to turn input from source systems into manageable cloud-based systems for data science preparedness. Coupled with ML and AI, their rich expertise develops solutions that power and shape the future.
Adastra North America
Location: Canada, Toronto
The Adastra company is among Canada's top 300 ICT companies. It positions itself as an international consulting company that delivers functional solutions in various sectors. Since 2000, Adastra has narrowed its expertise to data processing, analysis, and warehousing.
The experts behind Adastra offer end-to-end data services. They support the transformation journey from inception to deployment and maintenance for effortless client execution. With 20 years of experience, Adastra has over 2,000 employees and offices in 11 countries.
MuSigma
Location: United States Chicago
MuSigma is a genuine leader among the world's Big Data Analytics and Decision Sciences companies. The company has Unicorn status in the US and over 140 Fortune 500 companies in the portfolio. MuSigma has been named Walmart's Supplier of the Year and is Microsoft's preferred Analytics partner.
Today, their team of 3,500 Decision Scientists transforms the decision sciences journey for global businesses. Mu Sigma's expertise spans all levels of the decision support stack. The team supports their clients at the stages of data engineering and science and decision science.
IBM
Location: United States, New York
Next on our big data analytics companies list is the true behemoth of the hi-tech landscape. A Glassdoor search for data science roles at IBM currently yields 16K openings. A team of this size is necessary to deliver robust cloud-based analytics solutions like the Watson Studio.
Overall, IBM is one of the best companies for big data analytics. The company stands at the forefront of AI-driven innovation to help data scientists manage and analyze the inflow of information. This technological titan operates through five segments. These include cloud & cognitive software as well as business and technology services. Systems and global financing are also at the center of the mind for IBM.
Teradata
Location: United States, California
Let's finish this walk of fame with another A-list celebrity in the data science world. Teradata is a connected multi-cloud data platform company. The company is best known for its Vantage platform. The platform targets business challenges by integrating analytic functions and tools.
Vantage provides a suite of descriptive, predictive, and prescriptive analytics features. The solution also brings forward autonomous decision-making capabilities, ML functions, visualization tools, and more. The company's products and services focus on business intelligence, cloud platforms, and consulting.
Where are we heading next?
Fully adopted, Big Data analytics peeked its head in the tech world recently. Just a few years ago, companies relied on traditional analytics techniques and worked around historical insights.
But the COVID-19 has definitely sped up data generation and, according to Statista, the global Big Data market is projected to grow to 103 billion U.S. dollars by 2027. So we can forecast that the need for big data services will only increase.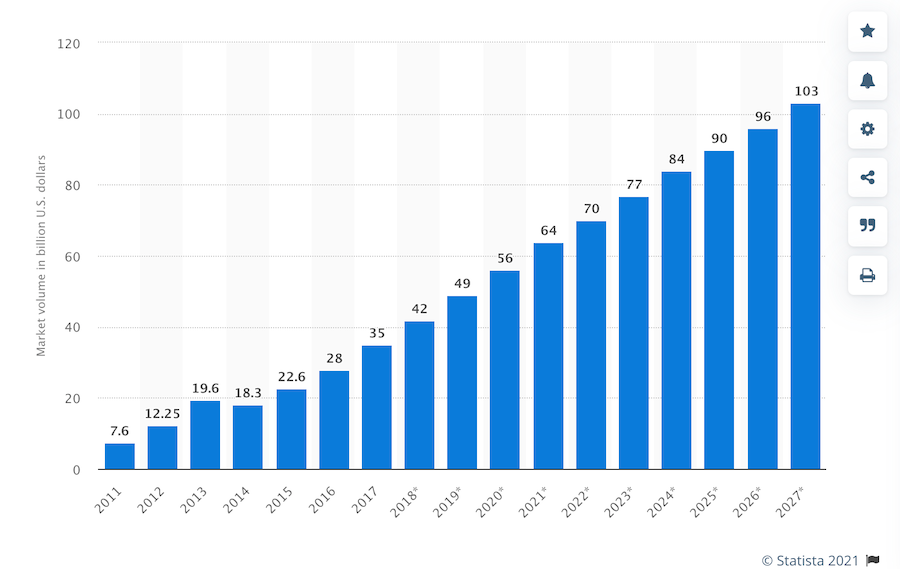 Big data analytics can help organizations make use of their databases and identify new opportunities. This results in smarter business moves, more efficient operations, and higher profits.
But how is big data used in business?
How companies use Big Data analytics in 2021
There's one thing that jolts 97% of companies into embracing AI and macro data. And this is the universal nature of Big Data Analytics. The application area of this discipline is massive.
Let's have a look at some examples:
1.Smarter customer insights – helps analyze the digital trail of any customer.
2.More personalized businesses – smart analytics helps collect, process, and analyze shoppers' behavior and transaction records.
3.AI development – synergistic relationship to predict upcoming trends in business, technology, etc.
4.Predictive maintenance with real-time data ingestion – equipment failure prediction and proactive workplace accident prevention.
5.Fraud detection – analyzes previously known fraud schemes.
6.Customer segmentation – smart analytics classifies customers into different groups based on their preferences, needs, and others.
This is the basic, yet not an excessive list of all use cases. In 2022 and beyond, Big Data analytics will manage unstructured input in many spheres and departments.
5 Big Data analytics trends
Besides the pandemic, the year 2021 has been affected by IT shifts. The latter also influenced the tenor of information and revealed new horizons.
Small and wide data
According to Gartner, this is the main tendency of Big Data analytics this year. This type of information works wonders for visualizing general trends. Small and wide data is more suitable for gleaning more specific information and individual insights from specific pieces.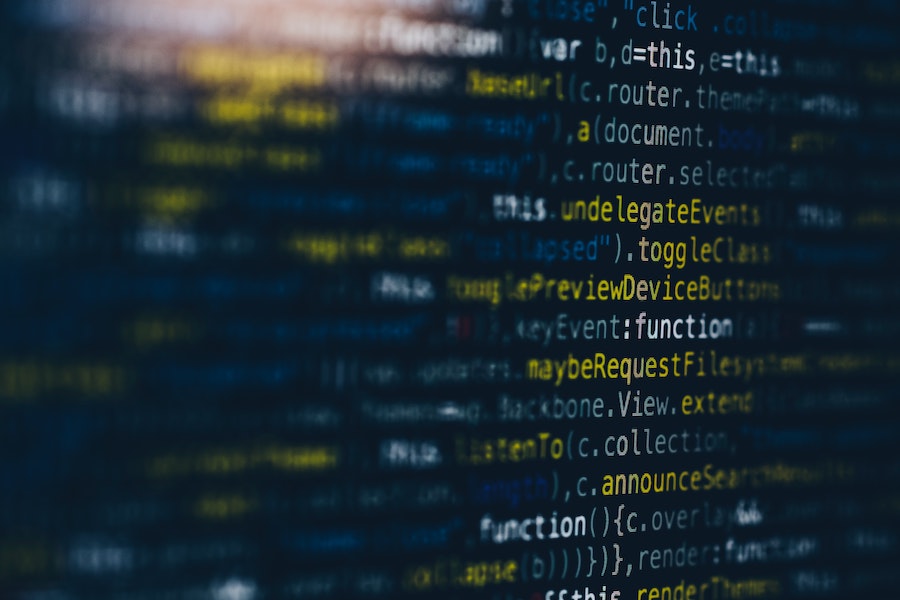 Source: Unsplash
Edge data
Another trend for the upcoming years is edge data centers. These are smaller facilities located close to the users they cater to. Edge data helps minimize data latency and boost processing speeds. Also, it's a cost-friendly way of storing statistics and a more valuable source of IoT insights.
Ops
The XOps landscape will continue to expand in 2021 and beyond. It combines DataOps, MLOps, and AIOps to attain efficiencies and economies of scale. Thus, insights will bode well for automated processes and analytics to drive business value.
Emergence of analytics on Blockchain
Blockchain is mostly associated with cryptocurrency. But thanks to its high levels of documentation and security, it's now viewed as an accurate means of data analytics calculations. In 2021, the investigative blockchain analytics space sees recent additions. Custom data queries and labeling are among the most popular use cases here.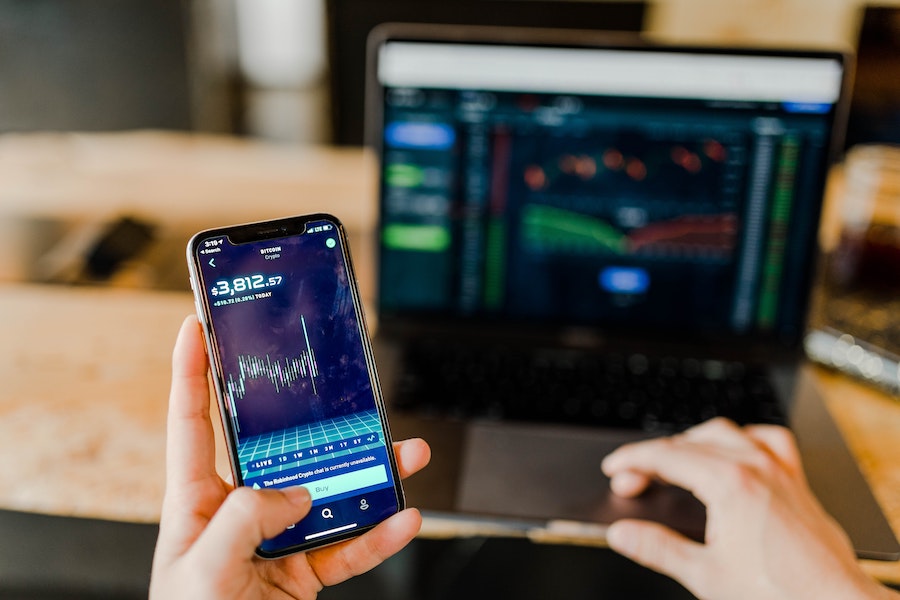 Source: Unsplash
Omnipresence of Cloud
By 2022, public cloud services will become a must for 90% of data and analytics innovation. Hence, big data analytics will fully merge with the flexibility of the cloud soon. Also, cloud infrastructure is more affordable compared with legacy large-scale resources. We've spotted this trend well before COVID-19. But the global pandemic unleashed its potential to the public.
Wrapping up
Companies of all sizes yearn for a bird's-eye view of internal and external business operations. But companies that use Big Data Analytics transitioned from words to actions. One of the major benefits of this practice is its predictive ability. Analytics tools predict the results of strategic decisions, which optimizes operational efficiency and reduces company risks.
Big Data combines relevant and accurate information from multiple sources to most accurately describe the market situation. Today, companies, government agencies, healthcare providers, financial and academic institutions are all harnessing its power to improve business prospects and customer experience.
Still struggling to make sense of your data, and not getting insights out of it? Contact our data analytics company to help you with that.