In a fast-developing and dynamic reality, everyone strives to complete the maximum range of tasks as quickly as possible, while at the same time not neglecting the results of the performed activity.
For this reason, nowadays artificial intelligence is widely used in a great variety of industries and affects almost every aspect of our lives. The list of companies operating in the field of artificial intelligence is constantly growing, but not each of them has enough competence and experience to stand out among the others.
Recently, InData Labs has been listed among the top best promising AI companies by Software Testing Help. The company has succeeded in drawing public attention to its activities due to its client-focused policy, highly-qualified employees, outstanding achievements and innovative solutions.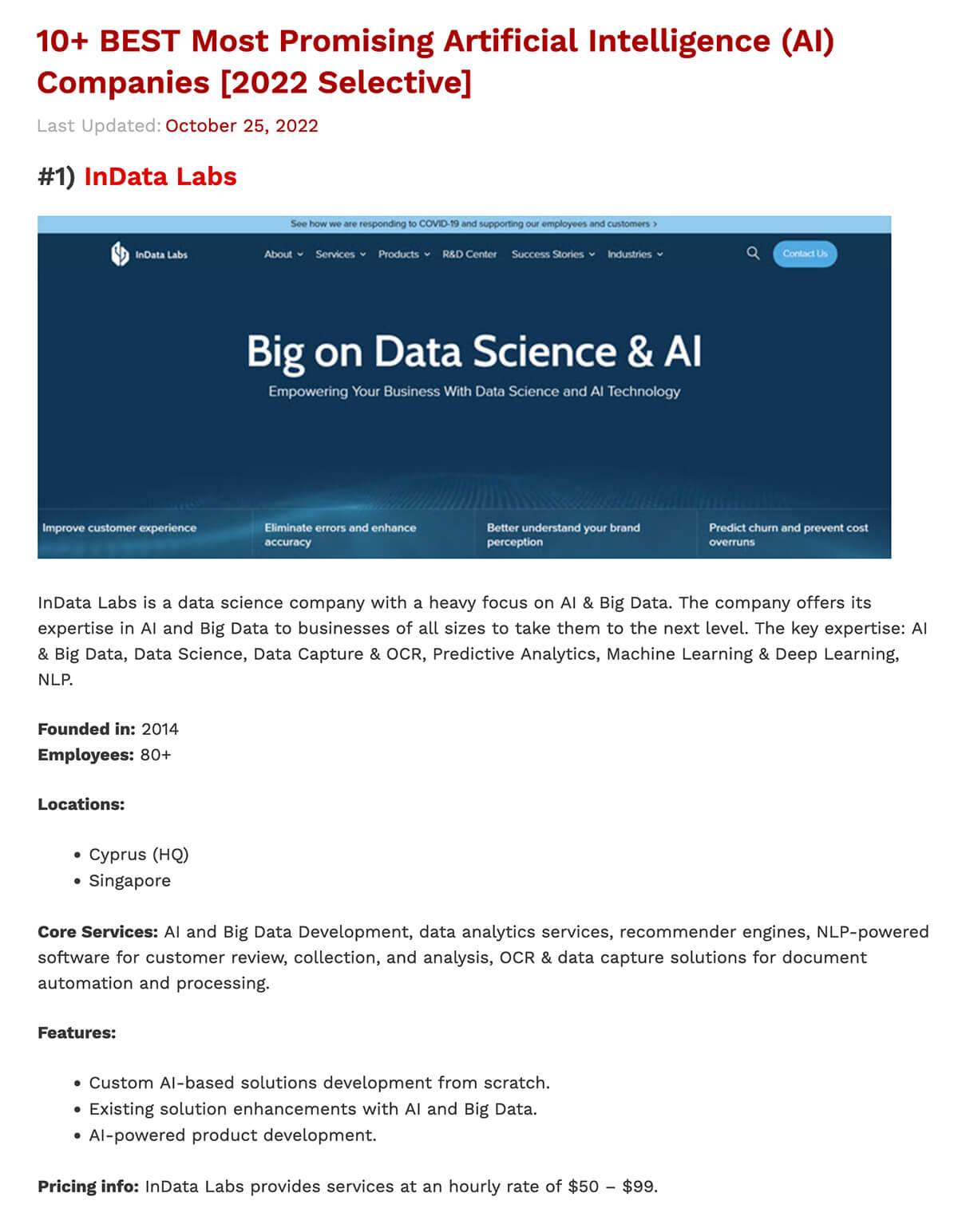 About InData Labs
InData Labs is a fast growing data processing and analysis company that was established in 2014, but has already risen to become a leader among the rest. The company specializes in AI & Big Data, Data Science, Predictive Analytics and NLP.
Multiple positive feedback from the clients demonstrate that during these 8 years InData Labs managed to create a sustainable business, gained a vast number of experience essential for the further evolution and improvement of their professional skills in this area.
About Software Testing Help
Software Testing Help is an informational web portal that provides the most relevant software development news. Due to the listings of the top-rated data processing and analysis companies, you are able to choose a team that will satisfy all your needs.
Software Testing Help publishes a sufficient number of informative articles and software testing tutorials, which not only expands your outlook, but also helps to receive some basic knowledge in the field of software development.
We are grateful to the Software Testing Help for their interest in our company's operations, as well as for their willingness to boost the public engagement in this particular sphere. We will continue to upgrade our business in order to be on track with the times and to stay ahead of the game.