Artificial intelligence software development becomes increasingly widespread, and at the current stage adoption of top-notch technologies is one of the essential elements of a successful enterprise. Such automatic intelligent programs dynamically fulfill labor-intensive tasks, processing the required data and information as well as promoting time-consuming automatization of a variety of business activities.
The implementation of up-to-date technologies contributes to the growth of labor productivity, improves income and decreases expenses. The number of AI software development services is gradually increasing, but not every organization has the capability to create high-quality software independently.
Nowadays, the partnership with tech companies is the most effective and advanced business model, which promotes higher revenues and increased market share. During the era of technological revolution any company is aware that B2B software solutions are the backbone of any fast-growing business, and it is absolutely impossible to maintain the level of competitiveness of the organization without the implementation of such a model.
Recently, InData Labs has been listed among the top 2022 Lithuania service providers by Clutch. Without any doubt, InData Labs stands out from the endless number of B2B companies precisely because of its client-focused approach, the implementation of the latest technologies and its partnership with extremely qualified experts.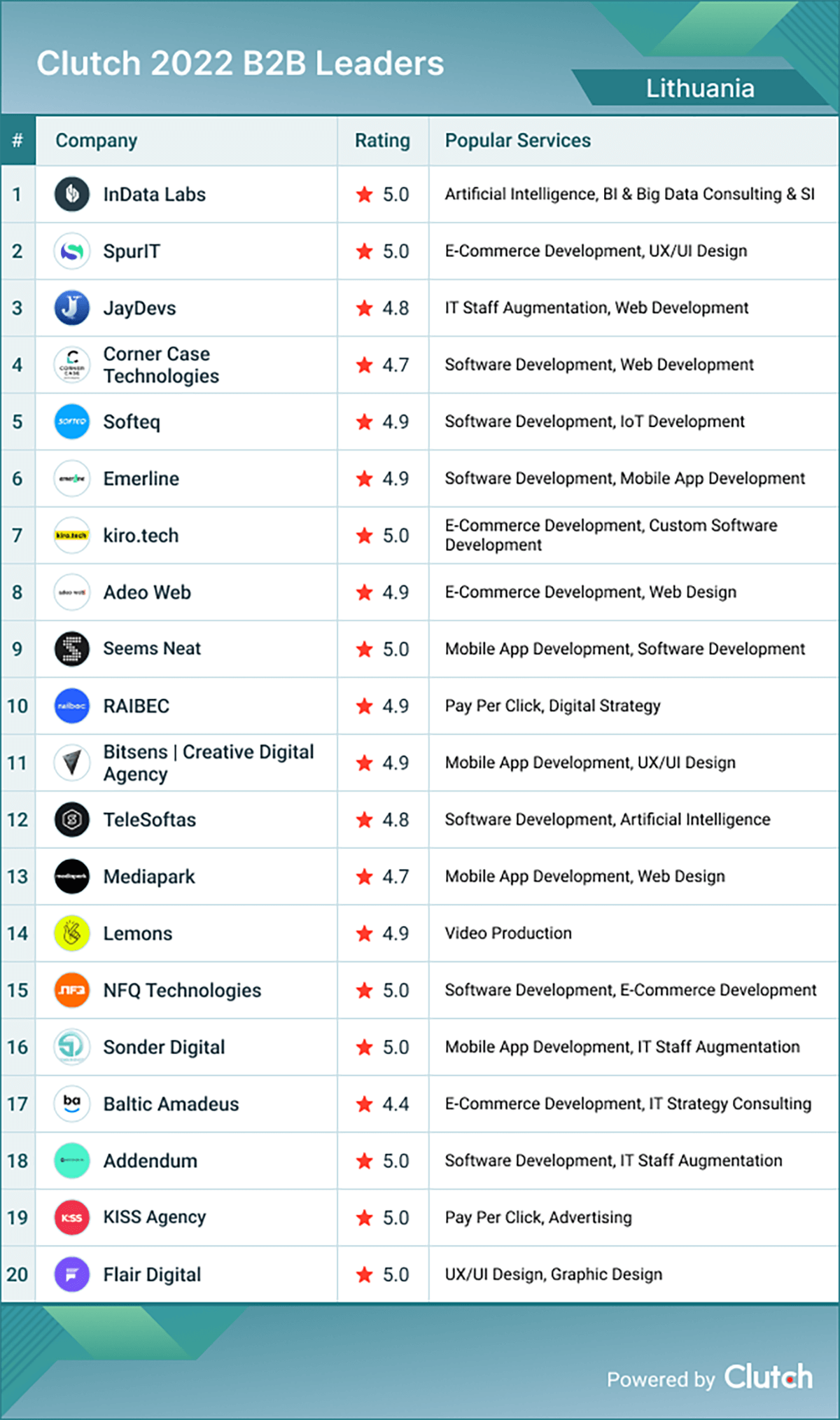 About InData Labs
The company InData Labs was established in 2014, and even during such a limited time, it has been able to achieve multiple remarkable achievements, as well as to establish a stable and steadily evolving business model. The company focuses on such fields as data science and AI, Big data, predictive analytics, computer vision and NLP.
About Clutch
Clutch is the leading online platform which analyzes the activities of a wide range of B2B companies and provides relevant statistics that let you choose a top-rated company that matches your personal needs. The data given by Clutch allows you to view each representative in detail, thereby dramatically reducing the time required to search for the most appropriate company.
We would like to express our gratitude to our clients for their positive feedback and high appreciation of our activity, which has set us apart from the rest of the organizations. We also want to thank Clutch for ranking us among the top B2B providers and for expressing their attention toward our company's outstanding success. In our turn, we will continue to modernize our business and strive to go from strength to strength.