AI in Business and Best Examples of Its Usage
24 November 2022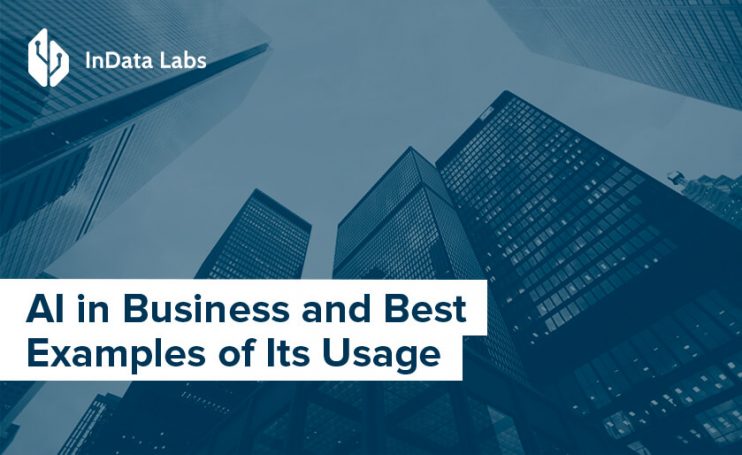 Artificial intelligence (AI) has quickly paved its way into all human life domains, seizing to be a purely technical concept. The benefits of AI in business are becoming obvious every day, with many organizations adopting this technology to achieve greater automation, conduct precise data analytics, and improve their supply chains. AI-based business product and service offerings have become commonplace, with both organizations and users appreciating its business applications' benefits.
Here we suggest the review of the pros that using AI in small business offers to all stakeholders. Besides, we'll look at the top four business applications of AI strategy that have caused significant improvements in the companies' performance and customer experience.
Stay tuned to find out how AI can be used in business and to see how you can tailor the gains of AI technology for your entrepreneurial success.
Artificial Intelligence: Role in Business
The essence of applying AI and machine learning in business is to help organizations do more with less by attaining greater efficiency and automation levels. It saves your company time and money while giving better business insights with the help of accurate, predictive big data analysis. Experts point out the following sizeable benefits any organization can reap quickly upon the application of AI:
More efficient data mining
Operational automation
Cost savings at all levels
Predictive analytics
Real-time help to staff and customers
Better customer service
Unrivaled personalization of services
Thus, the data science and AI meaning in business can hardly be exaggerated, with so many improvements at all levels suggesting much better operational capacity, financial management, and resource control along with the customer experience transformation. According to this article, In the past 4 years, AI application has grown by 270%, with the global intelligence market expected to reach $267 billion in seven years. Click To Tweet Besides, speaking about the modern reality of AI in business, 2020 has proven to give a new power boost to AI business technology, with so many operations transferred online because of the COVID-19. As a result, AI projects are rising in scale and number, painting a new picture of contemporary business.
Pros of AI in Business
As with any new technology, AI conceals specific pros for business owners wishing to integrate it into their business operations. There is much hype surrounding the application of AI today, so let's start by looking at the advantages of its use.
Faster Online Search
One of the ways AI assists businesses and users alike is the improvement of online search processes. Amazon was one of the pioneers that adopted visual search. They added an image search and detection tool into the app, so the users could enjoy the shopping experience. Using the tool, users can upload a photo of the product they like and get relevant results. Using images instead of keywords makes search faster and easier. It in turn boosts customer experience and increases loyalty of the client.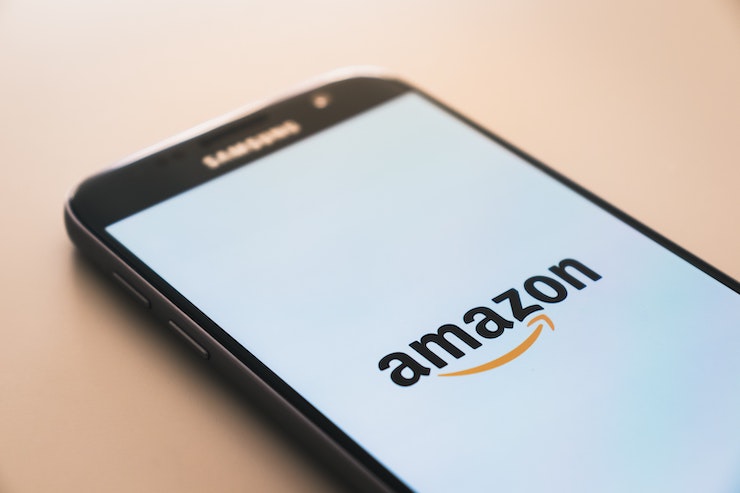 Source: Unsplash
More Relevance in Customer Interaction and Experience
The best contribution of AI use in business is the ability to create much better user experiences. Communication takes place much more promptly using smart bots, and clients receive timely and competent help in multiple languages, with the company not needing to hire dozens of call center employees. Take Starbucks. They've been using AI-based chatbot for a long time. The brand lovers not only can order coffee but ask any questions related to the order or service. There's no need to spend long minutes queueing in the shop, when the bot texts users when the coffee is ready to pick up. And it couldn't have been possible without a smart chatbot integrated into the app.
Website support is also AI-powered, allowing merchants to customize the search results and expect the users' purchases by analyzing their on-site behavior.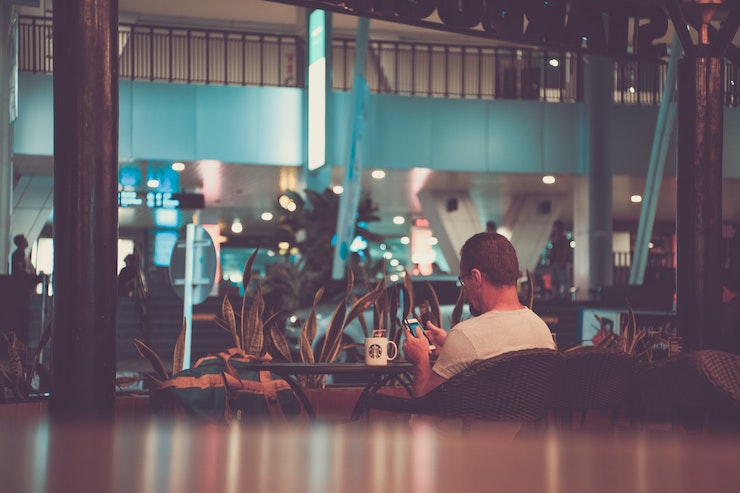 Source: Unsplash
Better Content Marketing
Another benefit of AI and machine learning in business is to produce human-like content automatically, in large volumes, and without considerable quality compromises. Amazon and Alibaba are among the largest users of AI-generated content because of the immense number of product items they host. While the AI-produced content is still far from human language, deep learning systems work relentlessly to improve the quality and cohesion of produced texts.
Enhanced Security
The learning models adopted in the AI systems can learn by analyzing the data input and refining their decision-making ability. Thus, smart customer profiling and credit scoring projects based on the latest AI technologies allow many business owners to make wiser decisions. These features are specifically relevant to financial businesses, e.g., loan or insurance organizations, and merchants that need to conduct the Know Your Customer (KYC) identity checks. All these operations become way easier with AI.
Robust Financial Controls
Complex and time-consuming accounting operations, invoicing, procurement, and financial audits can take a lifetime to complete. But with AI, these procedures are developing into simpler and more automated activities, sometimes not even requiring an accounting professional to run smoothly.
More Effective Job Interviewing
Artificial intelligence in business is not only about process automation; it can even assist with the hiring processes. There is no more need to keep a large HR department to meet your company's staffing needs; AI programs can analyze the resume databases to weed out non-suitable candidates. As a result, only the most relevant contenders get to the last stage of job interviewing, saving tons of time for the recruiter. Mya System's chatbot utilizes AI to help staffing agencies and companies like Deloitte and Hays. The chatbot goes from candidate search to onboarding. When searching for candidates, it uses semantic parsing and intent classification. For keeping up a conversation, it uses dynamic dialogue management. The solution is perfect for HRs, because it eases their workload.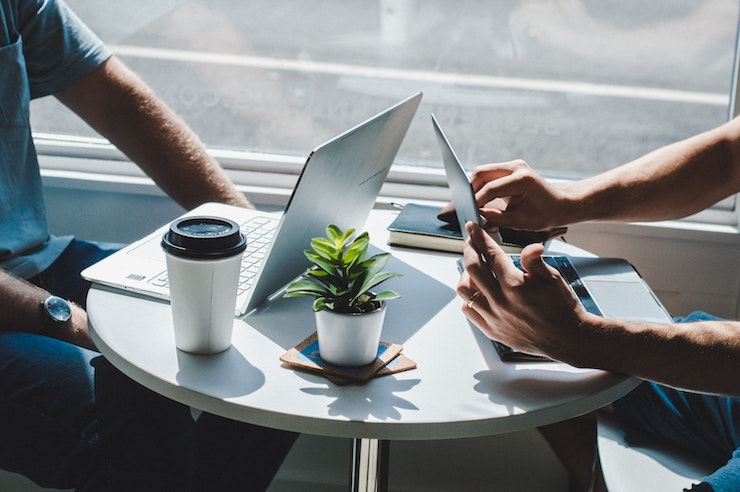 Source: Unsplash
Greater Personalization
A transformation of user experience is one of the most clear advantages of artificial intelligence in business. Because of AI systems and machine learning in business, entrepreneurs have satisfied their clients' needs quickly and competently and expect the customers' wishes. Amazon's famous adaptive search system allows the retail giant to provide the most relevant items the client is most likely to buy and even send out the purchases before the client places an order.
How to Implement AI in Your Business? Best Examples to Draw Inspiration
From driving cars to processing your orders, AI assistants now come in handy in virtually any human activity. Here is the list of top 4 applications of AI in the business industry that may inspire the startup owners for greater automation and business productivity.
#1 Smart Virtual Assistant
It is a good example of the use of AI in your business. Virtual assistants can be used on your website, in your application, or also in your gadget like Apple's Siri.
Virtual assistants apply different functions – answering questions, booking, searching for something, etc.
Also, with the help of them, you can save your and your customers' time and simplify the use of your website, app, etc., and improve customers' experience.
#2 Team Management Smart Tool
If you have a big team and it is very hard to manage everyone – check the progress, check deadlines, give bonuses, sign documents, notify about changes, events, etc., give weekends or vacations – team management smart tool is a great fit for you.
Such a tool will automatically do all these tasks, and you, as CEO or founder, can check all data once a week or month.
#3 Smart Content Analysis
The smart ways of content analysis now are used by many leading companies, and it is the most impressive case of artificial intelligence in business. If you have a huge mass of content published on your website/app every second (f.e. different social media tools, chats, review websites), no team of humans can censor the content well enough to weed out hate speech, spam, advertising, bullying, 18+ content and other forbidden content. Smart Content Analyzer can help automate such monotonous processes and simplify your work.
#4 Smart CV Analysis
For recruitment agencies or outsourcing companies, smart CV analyzer is something really helpful. It can automatically process candidates' resumes and find suitable and unsuitable ones, if you do this manually you can spend all day long or even a few days.
Also, if you improve this technology, you can even create something like a smart virtual recruiter that will search for suitable candidates on special platforms.
How to Use AI in Your Business?
Now that the real-world examples of business technology use have been discussed, the question arises, How can you implement AI in your business? Approaches to AI use vary and depend on your budget, the type of business in which you're operating, and the long-term goals you pursue as an entrepreneur. Some of the easiest ways to use AI include:
Integrating voice or chatbot assistance on the website
Providing smart search tools
Implementing financial control systems powered by AI to save costs
Create mobile AI apps
Using AI-powered security applications to make your website a safer place for clients
Summing up the discussion of AI implementation in business, we'd like to point out that technology adoption may seem a complicated and costly process. However, the long-term gains from AI use are indisputable, no matter what hardships you may come across at the beginning. AI is a promising transformative technology with vast potential, so using it is always a wise investment in sustainable business growth.
Start Your Breakthrough AI Project with InData Labs
Have a question? Contact us at info@indatalabs.com. We'll gladly discuss the opportunities for cooperation.