Anti-Counterfeit Platform for a Scientific Organization
6 August 2020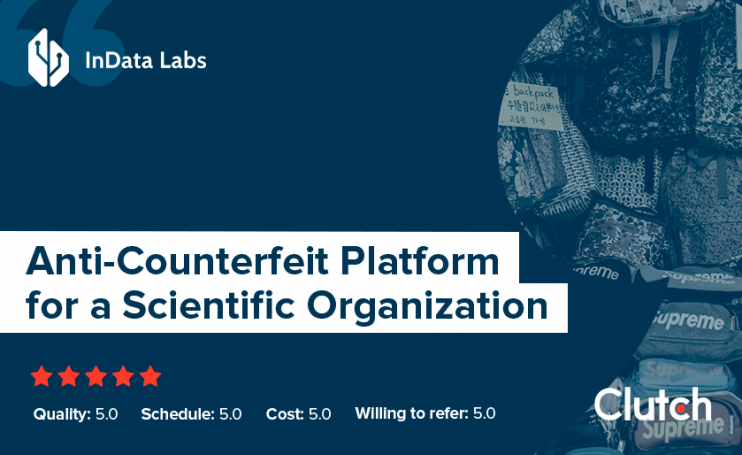 Background
Please describe your company and your position there.
I am the CEO and co-founder of a spinout from the University of Copenhagen that is commercializing a novel anti-counterfeiting technology.
Opportunity / Challenge
For what projects / services did your company hire InData Labs?
Following an initial application development by the university research team to support the publication of a number of research papers, we sought the services of InData Labs to help us develop a technology demonstrator.
What were your goals for this project?
Our goal for the demonstrator was two-fold: first, we needed a credible way of showing potential customers that the anti-counterfeiting technology was highly performant and easy to implement. Second, we needed to provide a convincing show of the technology to potential early-stage investors.
Solution
How did you select this vendor?
InData came at the recommendation of an experienced consultant with in-depth knowledge of the Eastern European outsourcing landscape.
Describe the project and the services they provided in detail.
InData assisted us with the following deliverables:
A backend service which could register new anti-counterfeiting tags
A pattern-matching algorithm which could validate a given tag against a tag in the registry
A mobile app which could scan a tag
Application hosting during our early ramp-up phase while we lacked IT support staff of our own
Development and deployment of a web presence for commercial purposes
What was the team composition?
The InData team included data scientists and a small app development team supported by a PMO and Strategic Account Manager.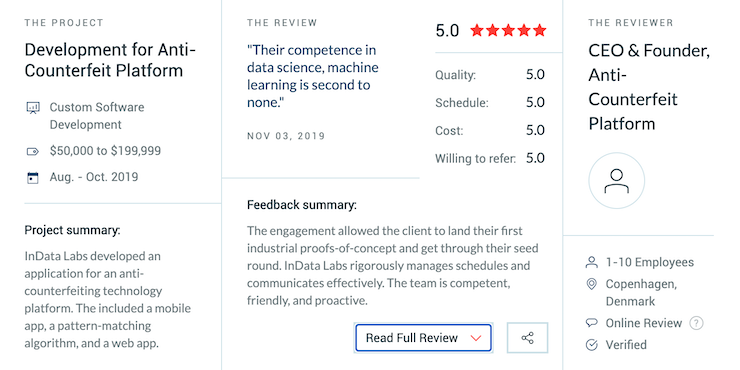 Results & Feedback
Can you share any information that demonstrates the impact that this project has had on your business?
Our ability to close our seed round and land our first industrial proofs-of-concept were made possible through the assistance of InData Labs. They have been invaluable partners throughout the process. Specifically, the pattern matching algorithm performance targets that we set out at the beginning of the project were absolutely outperformed by the product delivered to us by InData Labs. We set out with an expectation that the demo would at least outperform our research algorithm, but we received an algorithm with verifiable industrial-grade biometric performance.
How was project management arranged and how effective was it?
We had a PMO manager and Strategic Account Manager at our disposal throughout the entire project. Our timeline was rigorously managed and regular touchpoints & demos were scheduled regularly. I normally received a response to my emails during work hours within an hour and the team made themselves available for meetings usually within 1-2 business days' notice.
What did you find most impressive about this company?
Their competence in data science, machine learning is second to none. The algorithms and methods were extremely well-explained and documented. We were likewise impressed by the friendly and proactive engagement we got from every member of the team. We're a very small organization with a limited budget, but they always treated us like our problems and our business was of utmost importance. In short, we got the same level of service that a company 1000x our size would have gotten.
Are there any areas for improvement?
It's difficult to pick any faults with our engagement with InData Labs. If were to state any shortcoming, it's that their relatively low profile doesn't align with their high level of technical competence. Click To Tweet This company really deserves a lot more attention than they've had so far. They're the data science industry's best-kept secret!

Have a Similar Project Idea in Mind?
Contact us at info@indatalabs.com. We'll gladly discuss the opportunities for cooperation.