AI Search Engine for Branding Services Company
7 July 2020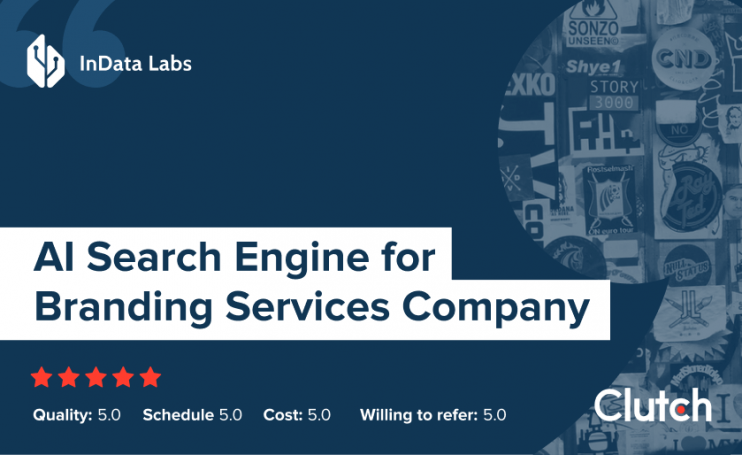 Background
Introduce your business and what you do there.
I'm the CEO of naexasCompass Group.
Opportunity / Challenge
What challenge were you trying to address with InData Labs?
We were trying to develop a trademark search engine. They help us build the AI component of our search algorithms.
Solution
What was the scope of their involvement?
InData Labs runs four different projects with us, each focusing on a different search target. One looks at similar device marks, such as pictures and logos. Another transliterates trademarks from one language to another.
We explained what we wanted to do over several meetings. InData Labs then developed the AI components in the first round development. Once they had a proof of concept, we made some adjustments. We have monthly or biweekly talks where we feedback. Now InData Labs is improving the algorithm.
What is the team composition?
There are 2–3 points of contact depends on what we talk about. Olga (Strategic Partnership Manager) is our main point contact now, but I've also met their CEO in Tokyo by accident once.
How did you come to work with InData Labs?
I found them on the internet. I called them and spoke with Olga, and she explained what they do very well. We had a trial period, which went really well, and we went from there.
How much have you invested with them?
We've spent $80,000–$150,000.
What is the status of this engagement?
We started working together in December 2018, and it's still ongoing.

Results & Feedback
What evidence can you share that demonstrates the impact of the engagement?
InData Labs develops important parts for our software. What they've done is really good so far. We hope to keep working with them and improving our software.
How did InData Labs perform from a project management standpoint?
They give us regular updates through comprehensive PowerPoint presentations. They're also very flexible to adjust to our needs. When I need to talk about project management or finance, I talk to Olga. When it concerns the project, I talk directly to the developer. It's very transparent.
What did you find most impressive about them?
It's been very pleasant working with them. They do deliver results.
Are there any areas they could improve?
No, they're handling things very well.

Have a similar project with AI Search Engine in mind?
Contact us and we'll gladly discuss the opportunities for cooperation.