Great Ideas of AI-Powered Mobile Apps You Can Develop in 2020
11 June 2020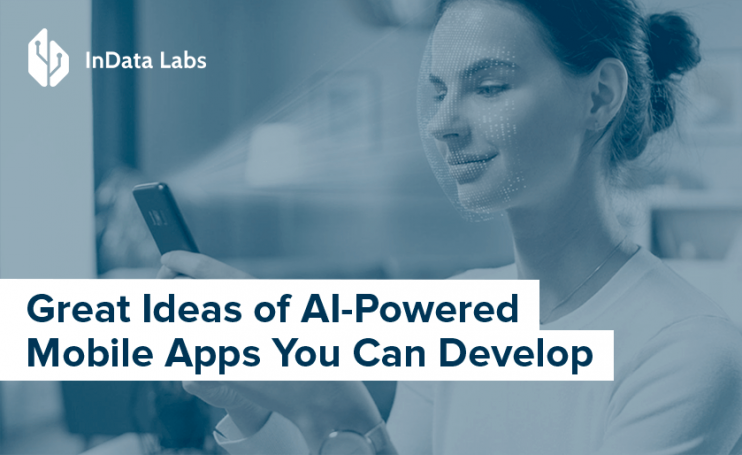 Artificial intelligence has come a long way and now is after mobile app development. With the wealth of technology advances, the era of generic mobile apps is waning. App complexity is the new trend. The reason behind that is mobile disruption, complex business processes mobile apps have been developed for, and the end-users' tech-savviness.
What is clearly understood is this: both clients and end-users want to get out-of-the-box solutions fueled by the latest technology. User-centric experiences, content personalization, accuracy and speed – and all rolled into one. This is how global tech leaders and trendsetters paint a picture of a modern successful mobile app. The question is, how to create an app with features that will separate it from the rest of the apps in the mobile app market? The answer is – develop an AI-powered mobile app. AI (Artificial Intelligence), as a disruptive technology, proves useful to mobile app development. To get a grasp of how technology can empower your mobile app in 2020, let's dig a little deeper.
Why Use AI in Mobile App Development?
The world is rapidly changing, so as the technologies are. What was on the hype just a few years ago, today is a thing of the past. The same can be said about mobile apps, too. To put it succinctly, if your mobile app is nothing out of the ordinary, it neither will reach the top charts nor increase your revenue. To get users hooked on it and get profit from downloads, use the power of Artificial intelligence.
Personalization Engine
The user-centric approach and personalized services are the basal factors for the success of any AI-powered mobile app. Thanks to the potential of AI, the personalization of user experience is becoming easier. Based on user preferences and previous history, the personalization engine delivers highly customized experiences catered to the specific users in real time. AI gears up cross-channel data analysis for greater content personalization and in-app product recommendations. AI-powered mobile apps are prone to create custom visuals and messaging depending on each user's behavior and the history of transactions. These are the factors that not only curate perfect user experiences but retain users and boost purchases. If used wisely, they can make your mobile app impossible to put down for users, and prosperous business for you.
Recommendation Systems
With the global market in need of predictive solutions, AI technology comes to the fore. Today, recommendation systems are a must-have component of any successful mobile app in the market. 'Other Movies You May Enjoy' on Netflix and 'For You' on Apple Music, 'People You May Know' on LinkedIn – these are the famous examples of recommendation systems in use. And there's more to it. Depending on the industry, recommendations may come in different shapes and sizes – from recommending 'Books You May Like' onto suggesting the user browse further or not. The latter often comes as 'Genres and Moods', 'By Category', 'On-Sale Product Recommendations', 'Movies of the Day', and more.
Source: Shutterstock

Considering the ever-growing demand for recommendation systems in AI-powered mobile apps, they are highly unlikely to be out of fashion soon. So, if you put personalized experiences first, you should give a recommendation system a go.
AI-Based Search Engine
Visual search coupled with system recommendations offers plenty of opportunities to serve the user better. Visual search engines focus on the searcher's needs and show the user products they are intent on buying, while recommendation engines offer products they might like.
If you want to create an app that scales, make a shift from text search to voice search. It is fast, convenient, interactive, and saves plenty of time. Using speech recognition technology, the user can play their favorite songs, order food or medicine online near them, check on air traffic, set reminders, and many more.
Both visual and voice searches are the ultimate game-changer in mobile app development, and it is here to stay. So, leveraging this technology might be a great investment in your AI-powered mobile app.
Image Recognition Technologies
Image recognition, another important tenet of artificial intelligence, makes it possible to identify objects or people in a picture or a video. Today, computer and machine vision are a catalyst for successful app development. Both technologies help develop AI-powered mobile apps with fast and accurate image recognition.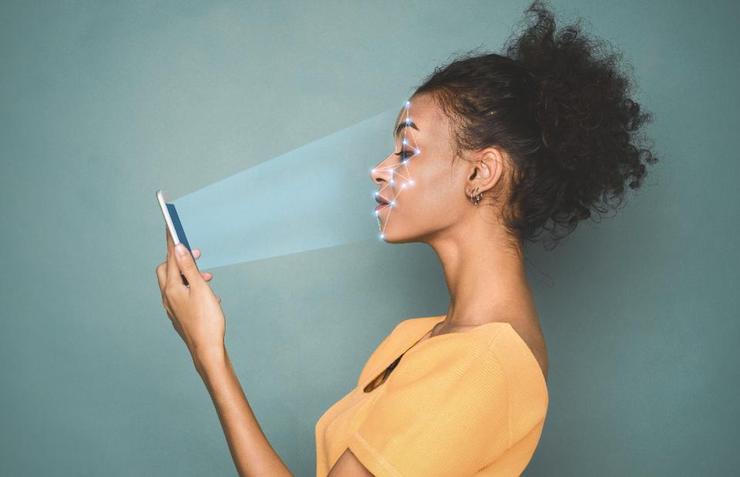 Source: Shutterstock
From Entertainment and Retail to Sports and Healthcare, image recognition technology has flattened it all. And it has great potential to transform the mobile app market, too. If you want to bring your A-game, try implementing face or object recognition into your app.
User Data Extraction and Analysis
Any app that has something to do with data, is ripe for AI. A great number of mobile app development companies and marketing agencies already utilize the power of AI to extract and analyze large amounts of user data. What does AI in mobile technology mean to them? Pretty much everything. Having tons of data in place is like having a Swiss Army knife in your pocket. Just imagine that you don't have to spend your time understanding user behavior and transactional data on your own anymore. With the help of data extraction and analysis, it will be easier for you to get a grasp of what your users are passionate about, gravitating towards, and simply can't stand.
The take away from this story is that If the user data is dealt in the right way, it results in enhanced customer experiences and greater sales.
Ideas for AI-Driven Mobile Apps
Remember, when was the last time you spent a whole day without your phone? From setting morning alarms, paying bills to doing shopping online, and ordering medicines from an online pharmacy, our life happens in a few clicks now. And it all can be done with the help of AI and its impact on mobile phone technology.
The global mobile app market is estimated to reach $407.31 billion by 2026, growing at a CAGR of 18.4% from 2019 to 2026. Click To TweetAnd in the realm of mobile app development, coming up with an app that is useful yet 'addictive' is a real challenge. Fortunately, artificial intelligence and machine learning can turn mobile app ideas into real projects. That's why we suggest you note down some of the greatest AI mobile app ideas to turn into reality in 2020.
Real-Time Fitness App
According to Statista, the total global mHealth market is expected to reach nearly 100 billion U.S. dollars in 2021. That would be a fivefold increase from around 21 billion dollars in 2016.
These statistics give a strong hint that your mobile app development idea might transform into a successful business.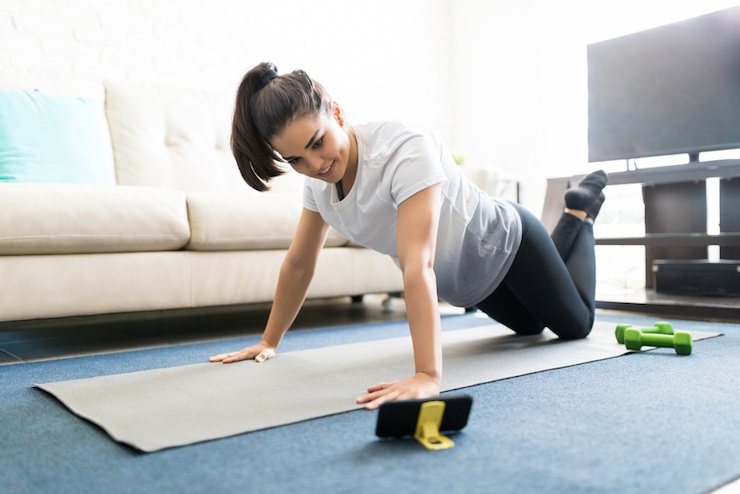 Source: Shutterstock
If you want to reach top rankings and increase your mobile app ROI, develop a real-time workout app. Equipping your app with a few fitness plans, you'll target diverse audiences from the ones who want to slim down to those who need to build up some muscle. Empowering your app with an AI solution like pose estimation, you help users get their sweat on but in the right way and with no injuries involved. The technology analyzes the way the user moves and gives them live feedback on how to exercise the right way.
Symptom Checker App
Emerging mobile technologies are taking the healthcare sector to new heights. Consumers are going digital with the intent to keep an eye on their health. Using mHealth (mobile health) consumers can collect, analyze, and share their health-related information with providers.
With more people wanting to address their wellness goals, it is safe to say that health and fitness apps will be gaining momentum in the future.
Can't think of a good mobile app development idea? Give a chance to a predictive analytics app that would collect data from the user's logs, analyze it, and draw valuable insights. The more data it collects, the better predictions it makes. From mental exhaustion and anxiety attacks to lactose intolerance, PCOS, and skin conditions, symptom checker apps can diagnose it all.
These are a few artificial intelligence mobile app ideas you can turn into real businesses:
Period and ovulation tracker
Mental health app
Sleep tracker app
Nutrition app
Diabetes tracker
Memory loss app and more
Developing a health-related project, you can save yourself a digital space in the growing mHealth market and start getting value from it.
Scan and Shop App
Already have a few apps under your belt and now looking for a new project to invest in? Help your users shop smarter with a shop and scan app. With this app, perfect shopping starts in a few scans. The user only needs to scan desirable items and find them in online shops to order them instantly.
These days, getting medicine at the doorstep becomes pretty common. Think of how you can take advantage of that. For example, you can go the extra mile developing a pharmacy ordering app that'll surely pay itself off in the future. The idea of snapping a picture of a prescription into an app and having your medicine delivered at home feels tempting, doesn't it? There is no surprise that more and more people are making a shift to online shopping. So, enabling fast and smooth shopping, the app will be quick to climb the Apple Store and Google Play charts.
Recommendation App
Recommendation apps are gaining popularity. Be it a vacation or a movie app, it'll be warmly welcomed. All you need to do is just to come up with a unique mobile app idea and empower it with a robust recommendation engine.
Recommendation apps collect data, analyze user preferences, and come up with the best suggestions on what to watch or read next. These kinds of apps win the hearts of the audience by driving highly personalized content and saving plenty of their time.
AR Beautification App
The days of #nofilter are gone. The era of extraordinary selfie filters and online beauty retouch has just begun. And it is here to stay a little longer than expected. Today, beautification apps offer not only a suite of diverse filters but a whole a lot more. In fact, they have got plenty of things to do to photos – from brightening up your eyes, slimming cheeks, whitening teeth to trying on amazing makeup, and hairstyles.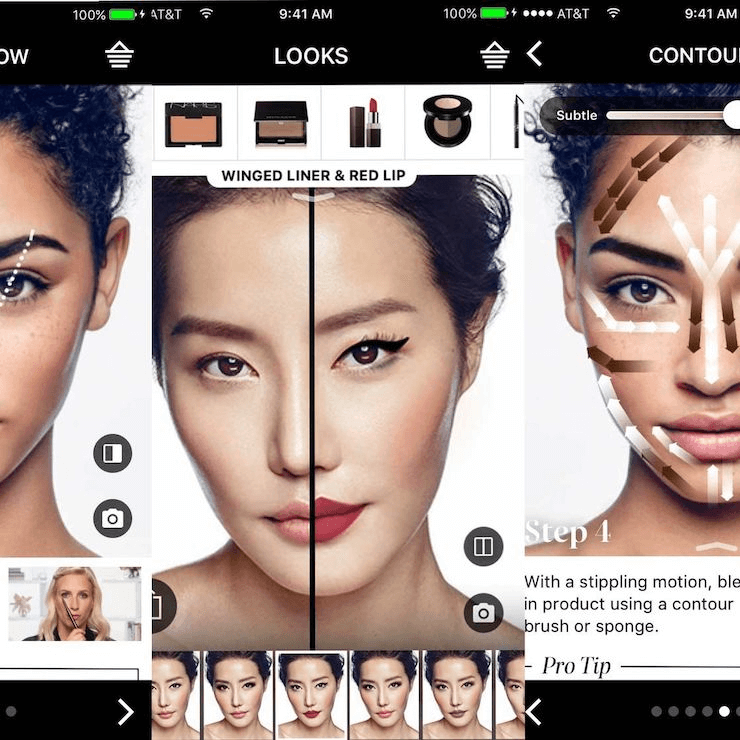 Source: TheVerge
Since AR (Augmented Reality) and AI work wonders for mobile apps, most of the companies take note of that and deliver apps that go viral and get millions of downloads. If you'd like to take part in this race, start by developing a face recognition app. The technology enables fast and precise face landmark detection and tracking. In simple words, it makes your phone capture and recognize your facial features – eyes, nose, chin, and lips.
To beat up the hostile competition in the market, enhance your app with custom filters and AR 3D masks. According to the eMarketer recent research, 83.1 million of people in the US will use AR at least once per month in 2020. As AR and app development go hand in hand, it is worth investing money and time in this technology.
To Draw the Line
If anything lasted in this digital world later, that would definitely be mobile phones. And considering the ever-growing mobile app trend, developing an AI-based mobile app seems like a pretty good investment. In this blog post, we've come up with some great ideas to kick start your AI-driven business in 2020.
Once you settle for a perfect project idea, you'll want to get consultancy from a senior-level AI team on how to develop an app that will take your business to the next level.
Have a question? Contact us at info@indatalabs.com. We'll gladly discuss the opportunities for cooperation.