Everything you need to know about AI in food production
9 November 2021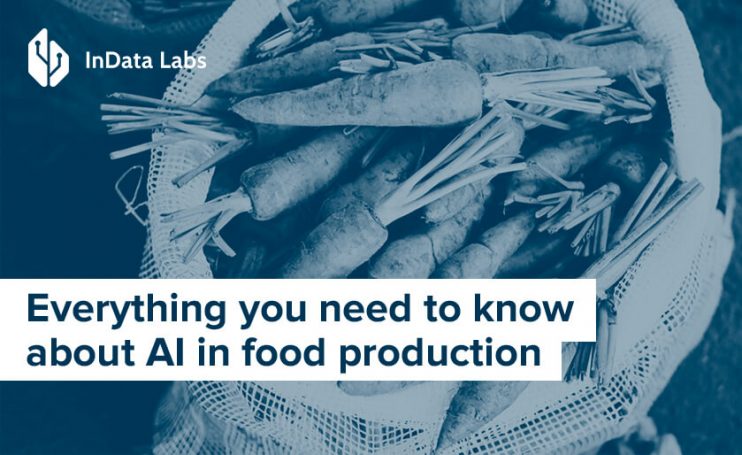 From a historical perspective, technology has never been strongly associated with the food industry. However, AI in food production has reinforced the importance of food tech.
The evolving demand-supply relationship has also contributed to introducing more advanced production processes. As of today, the food industries cannot maintain the expanding demand-supply chain and are also bad at food safety.
Artificial intelligence in food production can improve food safety by making a more transparent supply chain management system. Coupled with data science, AI in food industry can promote the quality of eateries. Besides, food companies can also implement machine learning algorithms at scale to optimize production.
Artificial intelligence in food industry: the state of market
The meticulous adoption of AI in food industry will fast forward to a bright future. The future where the agrifood sector is sustainable, safe, and relies on smart farming, robotic farming, and drones. With that said, let's where we're at with food product intelligence. This post will also go over the main applications of AI in food processing and how it can ease the strain on our natural resources.
Food processing and handling is a challenging sector. It includes a multi-step process of food sorting, machine maintenance, and shipping. Before shipping, food is monitored for quality and greenlit when it's ready to send. But AI can introduce automation at each of these stages. The market of AI in food production usually goes into Agtech.

However, this growth might not be enough. With the global population to expand to almost 10 billion by 2050, farmers will need to grow 69% more calories than they did in 2006. Not to mention that food production is already wreaking havoc on the planet. Hence, the faster we implement automation, the more sustainable the future is waiting for us.
AI in food processing and handling
From computer vision for agriculture to warehouse robots, artificial intelligence food production fosters end-to-end visibility and ensures food quality. Take a closer look at the real-life applications of AI in food sector.
Maximizing farming yield
Before food products end up on our tables, they have to be grown and produced.

Precision agriculture, connected farm experience, and better farm yield are all the triumphs of smart technologies.
For example, the Taranis ag system shows good results in field monitoring. It is an ag-imagery solution capable of collecting data on plants, identifying adverse influencing factors, and giving recommendations for their elimination. The solution allows farmers to capture multispectral imagery over fields. This way, farmers can avert plant health deterioration, identify weeds and plant diseases.
Other application areas of AI in farming include:

Sorting packages and fresh produce
Growing and harvesting are followed by the sorting of feedstock. Food sorting is a crucial step in the supply chain that presents operational difficulty. An estimated 1.3 billion tonnes of food ends up in waste each year. And food processing companies partake in produce losses unless their sorting line is optimized.
Sorting feedstock allows companies to discard fruits and veggies that don't meet the standards of food safety organizations. However, manual sorting falls short of identifying unqualified produce. This ends in tons of discarded food and costly lawsuits for businesses. Besides, fruit and vegetables vary in size, hence the manual sorting process is time-consuming and ineffective.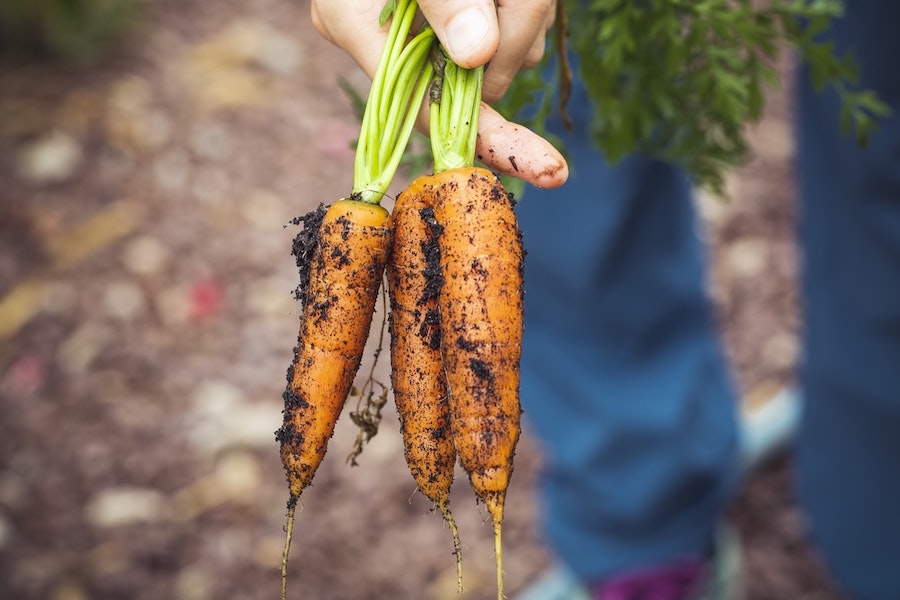 Source: Unsplash
That is why sorting companies realize the potential of artificial intelligence in food industry. In particular, computer and machine vision companies play a crucial role in making autonomous sorting possible. The combination of AI cameras and algorithms allows companies to perform visual inspections. The sorting process becomes hands-free and autonomous.
The autonomous sorting market is already vibrant. Such big players as TOMRA and Meyer drive this market to a revised size of $1.8 Billion by 2026.
Food safety compliance
Food industry machines can also curb the wave of food-borne illness. Not only have sanitary rules become more stringent, but pathogens are now becoming more resistant and pervasive. In particular, spices, cereals, and non-refrigerated foods are the ground zero for bacteria.
A real-world example of AI and food safety is IBM's collaboration with Cornell University. The latter specializes in dairy research. Here, artificial intelligence software development was used to study the genetics of dairy. The research aimed to prevent the global milk supply from being impacted by safety breaches.
Also, artificial intelligence opportunities in the food sector include reinforcing preventative measures during the pandemic. Thus, AI-enabled cameras in food facilities can monitor personal protective equipment.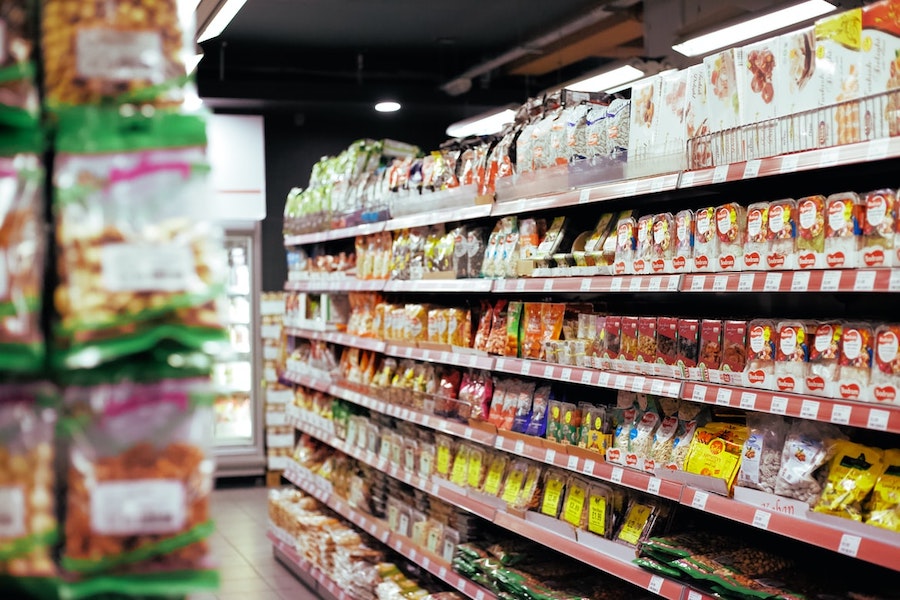 Source: Unsplash
A Chinese company, KanKan AI is a prominent example of AI in food production. KanKan uses camera monitors to identify staff faces and the equipment that they are wearing.
Artificial intelligence in food waste
We all have a part to play in saving food. But machine learning solutions are now playing the lead.

However, cutting-edge technologies can lend a helping hand in waste management. According to McKinsey, Artificial Intelligence offers a $127 billion opportunity by reducing food waste in 2030. And more regenerative farming practices show the largest potential.
Here's how regenerative agriculture and AI can create synergy:
Eliminating the use of herbicides – applying intelligent systems for precise agricultural functions such as fertilizer application or more efficient crop cultivation.
Renovating food supply chains – using computer vision to amplify the food inspection process and reduce the amount of food spoilage.
Intelligent food tracking – AI-enabled software will help suppliers to ship produce before it ends up in bins. Also, Artificial Intelligence in restaurants will optimize delivery times and supply chain management.
All these smart applications will fast-forward a more sustainable future for the food industry. However, there is practically no pure implementation of artificial intelligence in food industry. Typically, it joins forces with other innovative technologies.
With that said, let's see how Data Science and Artificial Intelligence mutually benefit each other.
Data science and AI in food processing
The nutrition sector is a vibrant landscape. It includes an entire chain of producers, distributors, restaurants, and others. All of them came out with guns blazing to get deeper into data science. Thus, the Supply Chain Big Data Analytics Market will climb to $9.28 billion by 2026. Let's see why data science and AI are deemed so beneficial in this niche.
Predicting shelf life
Data science and AI-powered analytics help estimate the shelf life of food products. These may include everything from strawberries to bakery products. According to a paper, the shelf life estimate is based on temperature readings.
The latter is taken at the time of harvesting until the product is purchased by a consumer. The combination of the actual shelf life and the temperature profile helps train and validate different machine learning algorithms.
Marketing and advertising
If a company doesn't use data analytics in its marketing, it'll have to feel its way through the process. On the contrary, advanced analysis allows for performant marketing campaigns.
In particular, a data scientist can shed light on the following core pointers:
Whether your products are relevant,
What your target customers' preferences and lifestyles are,
How often your customers order food deliveries and others.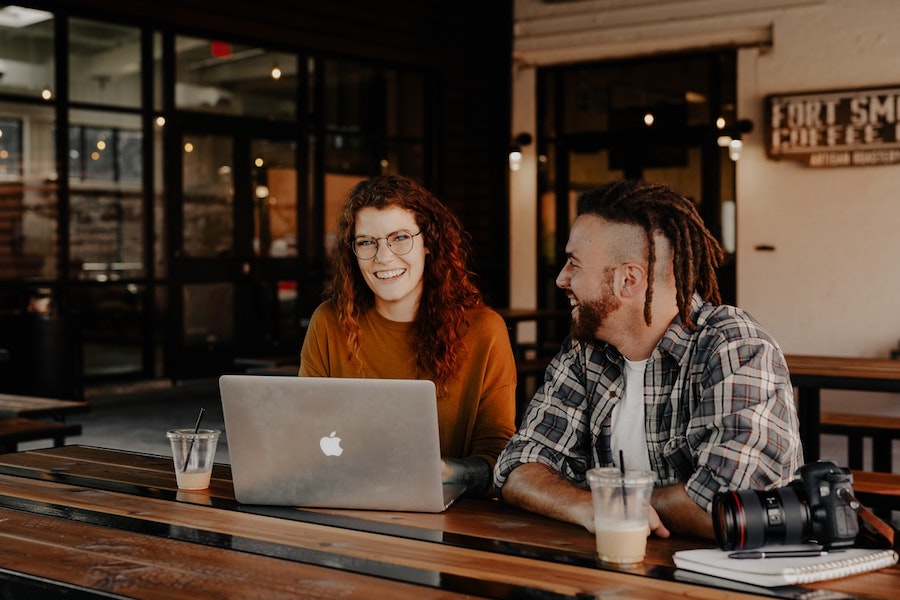 Source: Unsplash
An accurate customer profile can become a life-changer to your eatery business. Data science is also at the heart of successful advertising that piques customers' interest.
Quality control
Intelligent data analytics is also useful in regulatory operations. It can make sure your products are up to particular quality control standards. Hence, by integrating AI in manufacturing, companies can maximize efficiency in quality control.
Thus, data science will identify factors that affect the quality of the manufacturing process. Companies can then use this data to identify improvement areas for product control.
Supply chain transparency
Supply chain data is the core of chain transparency. Within the nutrition realm, visibility is important for customers, since most customers want food quality to be a top priority. Hence, the growing demand for comprehensive information on the product. At restaurants, people want to know what they're ordering. In particular, the data about the origin of the ingredient and harvesting method can play a huge role.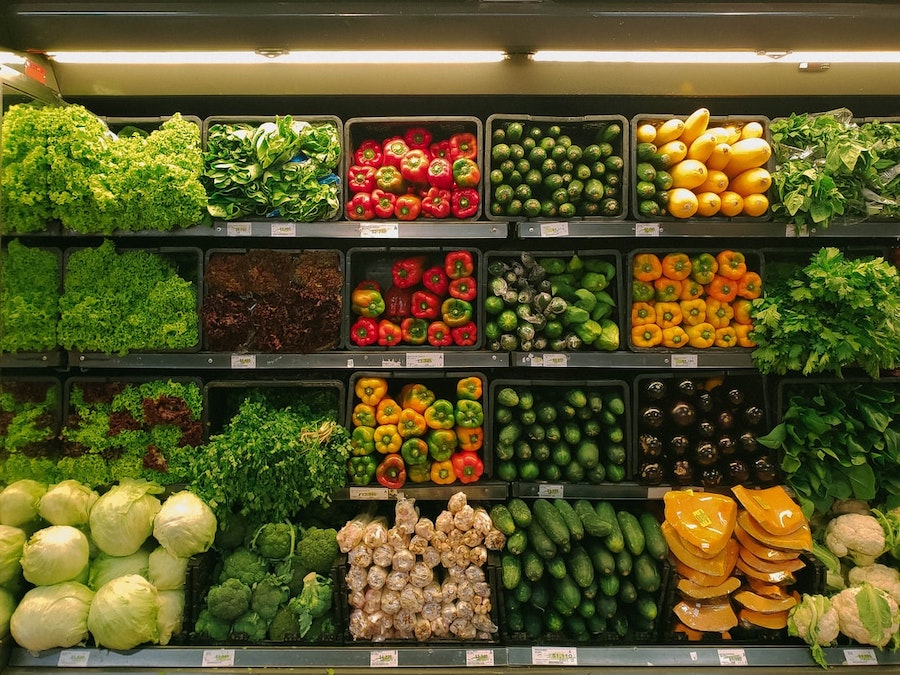 Source: Unsplash
Data-powered operations can offer your customers a granular look at your offerings. Thus, by ensuring the quality and cruelty-free origin of your meat, you can extend your customer base.
Data science for faster deliveries
Another application field of smart technologies is on-demand food deliveries. This aspect of the chain is quite difficult to balance. Restaurants and companies have to find a medium between a satisfying experience and high productivity in delivering orders.
By adopting data science techniques, companies can easily monitor and track orders. This will allow them to provide accurate delivery times to customers. Delivery companies can get insights into the stomachs to optimize recommendation systems.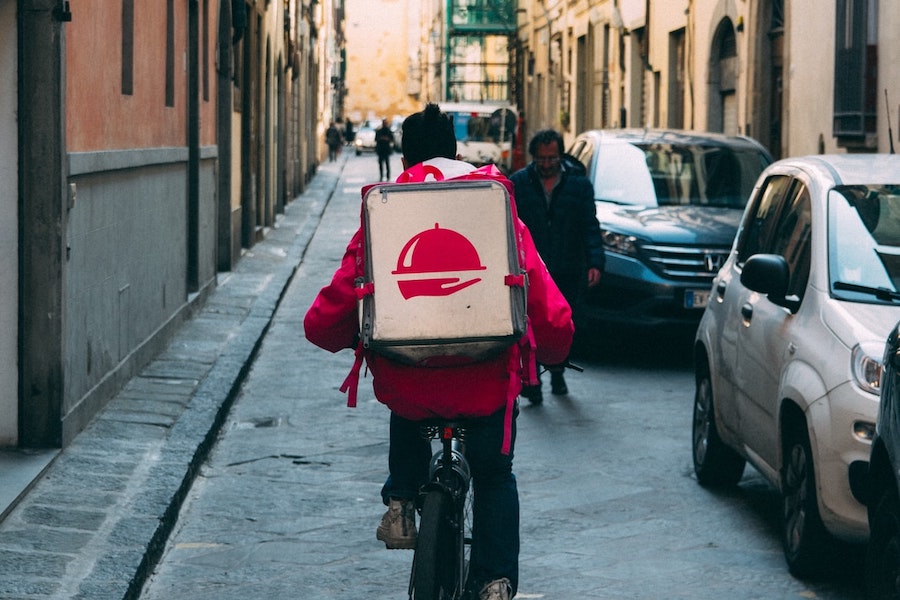 Source: Unsplash
Thus, GrubHub leverages data about millions of orders to help users decide on the right meal from the right restaurant. As a result, the company's revenue grew to $253.9 million from $170 million in 2013.
Preventing food fraud
AI analysis has proved effective in counterfeit modeling. Testing foods for potential adulteration requires a range of analytical techniques and methods. These may come as standard food nutrient evaluations to complex analytical chemistry and genomics. Most often, chemical fingerprinting or gene detection is used to prevent substitutions.
Smart data analytics can help in identifying the intentional misrepresentation of ingredients. An example of this use case is verifying the origin of the product or a certain claimed composition. Let's take butter and margarine.
In this case, data scientists need to build a definition. The latter will stem from how far particular parameters are from the acceptable model domain. The model can also set the limits in order for butter to go into the acceptable range.
As you can see, AI data science shines brightly in the nourishment sector. But there's one specific application that deserves closer attention. And that is the advent of analytics and AI into the eateries.
Artificial intelligence restaurants: future of food industry
The era of technophobia at restaurants has sunk into oblivion. Today, artificial intelligence restaurants have paved the way for a more efficient catering business. Below, you'll find the most extraordinary uses of intelligent systems at eateries.
Voice ordering
With virtual assistants like Siri, voice recognition is a matter of routine. But have you ever tried voice ordering a pizza from Dominos? Their voice assistant, Dom, has been in the game since 2017. The chatbot humorously responds to queries and lets consumers dictate orders via mobile devices.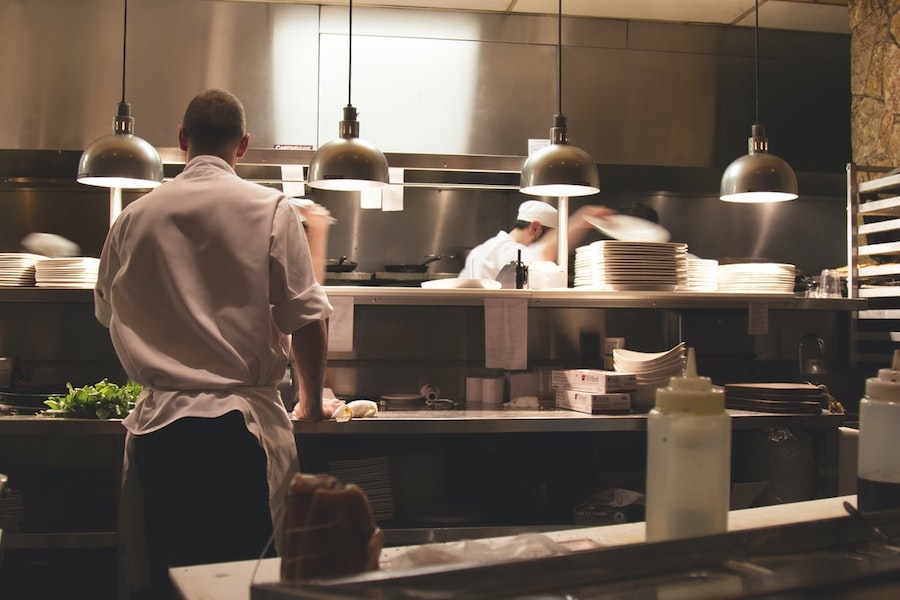 Source: Unsplash
Voice recognition has become the new off-premise ordering channel. However, the use of AI-enabled ordering goes beyond online orders. It also could be in the drive-thru. Customers can place orders with a voice-enabled order taker, and their choice will be transferred to the POS system.
Robot restaurants
Amidst the pandemic, there's a growing interest in food robots these days. Thus, the global food robotics market size stood at $1.9 billion in 2020. By 2026, it will reach $4.0 billion. Labor shortages are also the driving force behind robotics restaurants. The hospitality sector has seen record rates of workers quitting their jobs throughout 2021. Hence, restaurants will witness more foodservice robots among their staff in the coming years.
One such offering is Flippy by Miso Robotics. The robotic kitchen system operates as a fry cook. It can make patties on a grill, flip them on the grill and even place them on the bun.
AI-based restaurant apps
Also, restaurants can boost the revenue of their delivery apps with recommendation engines. Smart systems can assist consumers in choosing meals based on their eating preferences. Also, the content-based filtering method allows the app to recommend restaurants or meals based on users' previous orders.
A prominent example of this combination is Halla. It is a personalized restaurant and dining search engine. Halla company aims to facilitate food delivery. They do it by allowing access to much food delivery applications through one system.
Customers pre-select taste profiles and then get matched with entrees and dining experiences. Halla then uses their preferences and location to connect users with other restaurants.
Bottom line
The impact of Artificial Intelligence in food industry has been tremendous, so far. Its contribution is clear in each aspect of the supply chain. From a single farm to a large eatery industry, AI also accelerates productivity gains and profitability for companies.
Coupled with analytics, smart systems can unearth hidden patterns and align produce with customer expectations. Artificial intelligence restaurants are also gaining momentum and take over the hospitality sector. And with the growing AI market, the food industry is about to experience a technological re-haul in the coming years.
Want to develop an AI food delivery app? Or AI-based nutrition app? Contact us for a consultation.