Important AI and Computer Vision Trends to Watch Out in 2021
30 March 2021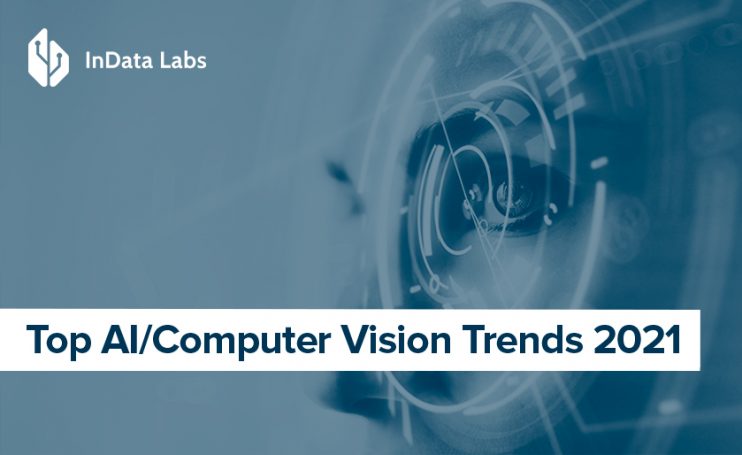 The idea of using Artificial Intelligence (AI) and computer vision trends for the automation of business and its transformation is sweeping the world.
Every year AI and CV are becoming more popular among business owners. Over the past decade, Artificial Intelligence has dramatically evolved within the market and no doubt it will only grow. According to MarketsandMarkets research, the Artificial Intelligence market will grow to a $190 billion industry by 2025.
Verifiedmarketresearch.com states that the CV market is to achieve 24.03 billion dollars by 2027. From Healthcare, Retail, Banking, Sports, Education to Media and Entertainment, and Gaming, it has covered it all. Even now, technology continues to change the way we live and do business, the way we travel, and learn. There were highs and lows, but for now, it is getting more consistent and less challenging.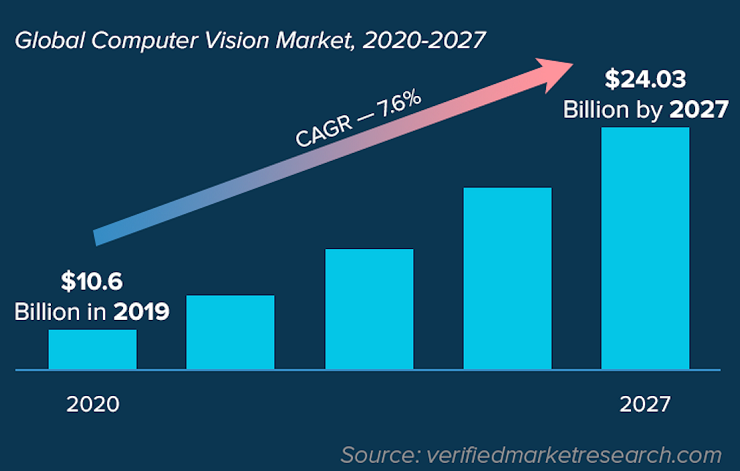 Business owners are curious about the future of AI and latest computer vision trends, and what benefits they can give them in a long term perspective. It is hard to predict what will happen in the next few years, but let us shed some light on where foundations and trends of AI and Computer Vision are heading in 2021 and how they can lead a business into a brand-new level across some industries.
AI and Computer Vision in Retail and E-commerce
AI technology is evolving retail personalization and customer experience. It is no longer a question, but a necessity for this sector. When it comes to making relevant product suggestions, none performs it better than AI does. The more data you have and the more AI analyzes it, the better it serves up the clients in real-time. AI prediction engine aims to recommend product bundles curated explicitly for the client. This high level of content personalization not only improves the customer experience but increases eCommerce and online retail sales tremendously.
Let's move to another advantage AI has to offer online stores – Visual Search, a recent trend in computer vision. The tech allows the client to upload an image of any product they like and then showcases similar items available on the website. People no longer need to find the right words and spend hours searching the relevant things.
Andrei Alkhouski, Machine Learning R&D Engineer at InData Labs, an AI company comments:
'Visual Search is based on Computer Vision technologies. The visual search engines use Content-Based Image Retrieval techniques. Search by example technique helps find images and recognize the similar-looking ones. In the eCommerce world, visual search enables a fast and smooth shopping experience for the client. If the client has no difficulty finding the right product, it makes them closer to buying it.'
Here's a quick overview on how the tech can be applied in E-commerce:

AI and Computer Vision in Banking
Computer vision is a total game-changer in the world of banking. OCR technology, a subset of computer vision, is a Swiss army knife for fast and efficient data capture and extraction procedures. The technology makes it easier for bank workers to manage the wealth of data. OCR technology captures and extracts data from documents of various quality, freeing up employees from tedious and time-consuming tasks.
Have a look at a few applications of the technologies in the banking: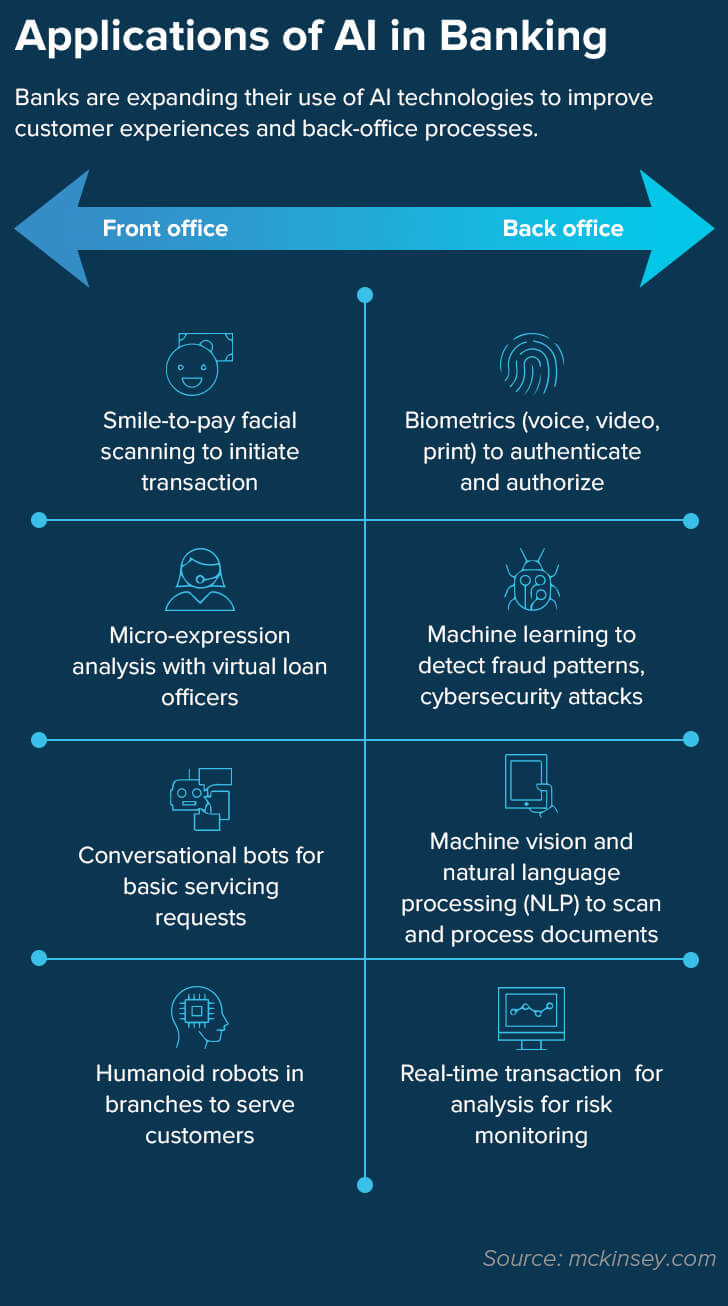 Another trend to follow on the computer vision market in 2021 is anomaly detection. Anomaly detection has proved to be an effective way of identifying inaccuracies in money-related processes. Experts call it a 'computer vision future trend'. If trained properly, machine learning-based models excel at finding deviation within payment operations and prevent any possible fraudulent actions.
Today, anomaly detection provides an additional security layer and significantly lowers the chances of being hacked during payments. It helps not only improve the entire processes but also provide exceptional services to the customers and end-users.
AI in Healthcare
The possibilities of AI in healthcare are endless. Today different AI applications are widely used in this sector, from healthcare institutions to drug discovery. Such time-consuming tasks as health record analysis and review of cases are now being carried out by AI-based assistants. These assistants can analyze thousands of cases and even recommend efficient treatment plans. Utilizing AI-powered assistants can evolve the way diseases are analyzed, treatment plans chosen, and patients treated.
AI assistants have also proved successful in monitoring and analyzing the way patients respond to treatment. Analyzing a lot of data, assistants can not only determine if the treatment plan is working but provide patients with the utmost care. AI-enabled assistants can also help patients follow their health and wellness goals. They can remind them to take medication on time or schedule the next follow-up visit to a healthcare provider.
For fitness and wellness, AI has a lot to offer. Currently, it's used for human pose estimation, real-time pose-tracking, and error detection. Human pose estimation technology tracks and analyzes human poses and movements during the workout and provides prompt feedback based on motion analysis. The primary advantages are injury prevention and personalized workouts catered specifically to the user.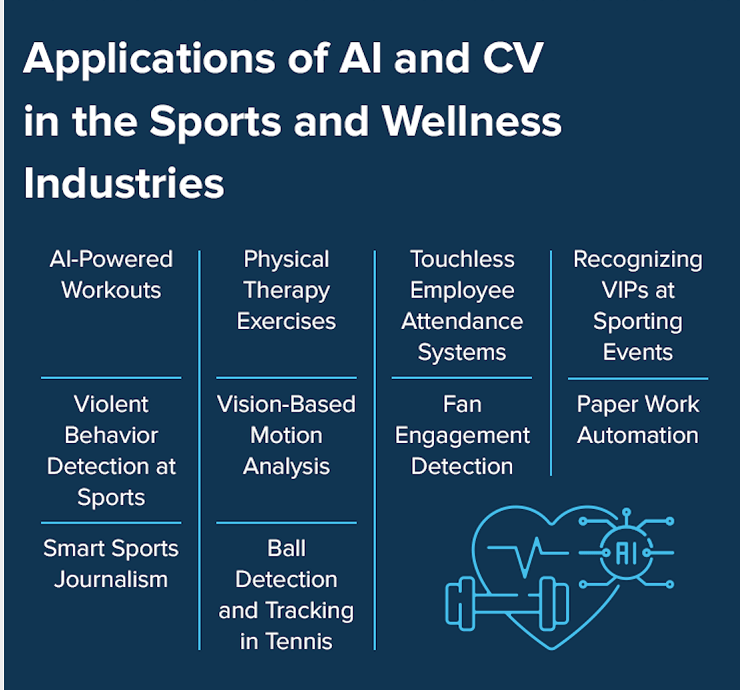 AI and Robotic Process Automation
These days, Robotic Process Automation (RPA) is gaining traction. This technology allows us to configure computer software to emulate and integrate the actions of a human interacting within digital systems to execute a business process. I.e. AI helps robots mimic human actions and then perform it as they do. People can become tired when they implement the monotonous task and, as a result, make mistakes. An RPA software robot in its turn never sleeps and as they work on mathematical algorithms and calculations make zero mistakes. By introducing AI-powered robots into business operations and workplaces, employers get a lot of benefits. First of all, robots free up employees from tiresome work. With this work given to robots, the overall productivity in the workplace increases, and the error rate reduces. Second, by implementing robotic automation, employers reduce man-hours and cut costs significantly. It's safe to say that this computer vision technology news is moving us from 'make-believe' to reality.
These are the tasks robots can perform efficiently:
Log into any application
Connect to systems APIs
Copy and paste data
Move files and folders
Extract and process structured and semistructured content from documents of different formats
Scrape data from the web
Make calculations
etc.
Summing It Up
A few decades ago, Artificial Intelligence and its applications were considered nothing, but something from science fiction books. Today it's our everyday reality. For the last few years, we have witnessed the exponential growth of AI and Computer Vision technologies across the globe. With all things mentioned above, it looks like 2021 will be a great year for both of them. They have already been adopted by a great number of companies, they both can provide enormous opportunities and also give extra advantages to leave the competitors far behind, and it's only the beginning. We predict that they will keep on bringing about changes to many industries benefiting them in various ways.
Find out the benefits of implementing computer vision and AI in your business for better efficiency, less operational costs and greater revenue.